A reader asks for specifics about Martin wood grading.
I've seen it written "higher grade rosewood and spruce. But Martin does their grading solely on looks" on your website and other places. 
How do you know this is the what Martin does? How many grades of wood does Martin use?
Does it start with the Road Series being the lowest grade, then 16 series is next, then 18/28, then 35, and the 40+ gets the top grade of woods?

I read somewhere that the HD-28 had a better top than a D-28. is that correct?
Spoon writes:
It is true Martin only grades wood based on how it looks. However, the debate will remain forever as to whether visual appearance can accurately suggest what a piece of wood will sound like once it is on a guitar.
There are many who believe that perfectly quartersawn wood is not only a safer bet when it comes to long-term strength and stability, but that it is also more resonant or simply "sounds better" than flat sawn wood. Others dismiss such claims based on their own experience. And the same can be said for other visual clues from cross silking, bearclaw or haselfichte markings in spruce, to quilting and other exotic figuring in tonewood like mahogany or maple.
When it comes to customer orders at Martin, for instance from the Custom Shop, wood like Madagascar rosewood used for back and sides or Adirondack spruce used for tops, receives a designation of either "Standard" or "Premium."
According to one veteran employee deep in Martin wood lore, "Premium means we sort through all the available 7 – 8 tops to pick out the best."
A number grade like 7 or 8 is part of the internal grading system. There are usually two grades of wood for back and sides, and eight grades for spruce tops.
This is based entirely on what the grader decides looks the best, cosmetically. It is not at all about visual clues relating to sound. Anything like grains per inch, and so on, was already a moot point, since no wood gets to this grading stage that wasn't already deemed within acceptable specifications to be used on a Martin guitar.
As for how they grade, someone stands in front of a long table stacked with recently milled wood and segregates them into the various grades, based on grain and coloring. They have examples on the wall in front of the table with suggestions of what to look for, both in terms of good things and bad things.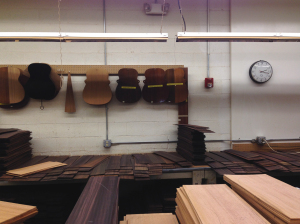 Back and sides of Indian rosewood for dreadnoughts is graded as either D2 or D4. Sides are graded in a similar fashion and matched to the backs, based on overall aesthetics.
Grading of spruce tops is more involved. There are always exceptions at Martin, especially when it comes to limited edition models, and so forth. But when it comes to the main series of Martin guitars, the grading works like this:
All "styles" have rosewood back and sides and spruce tops, except where noted.
Grade 8 – Style 45, which has abalone pearl trim around all edges of the top, back and sides, and sound hole rosette.
Grade 7 – Style 42 and 41, which have abalone trim around the top and rosette only.
Grade 5-6 – Style 28 through Style 40, various non-pearl trim, with Style 40 having a pearl rosette.
Grade 3-4 – Style 21 and 18, Style 21 is the lowest priced rosewood style, Style 18 has mahogany back and sides.
This is the case for all Martin guitar series like the Standard, Vintage, GE/Marquis, Authentic series. The various species of spruce are graded the same way, but prices vary. Grade 5-6 Adirondack spruce costs about as much as Grade 8 Sitka spruce, for example.
Until a few years ago, the grade of a top was written on the underside and was often visible inside the finished instrument, with the help of an inspection mirror and flashlight. That is why some people speak with authority as to the grade of spruce on a particular Martin.
Today the top is marked with a "shop number," and usually outside of the pattern, so it is not included in the finished guitar. A shop number is a production order number. Every shop number generally consists of 7 to 10 guitars of a specific style. This has to do with their computer system. A shop number batch of guitars will be in the same style, so the tops will all be within the grade designated for that style.
But as with most things Martin, nothing is as simple as all that.
Grade 8 is the highest grade. It is officially reserved for Style 45. An 8 would have very even grain, or at least the grain would be nicely bookmatched between the two halves, with very little in the way of run out, and an even color across the entire top.
But there are many Martins made with Grade 8 tops that are not 45s. For example, the OMC-28B I once owned, the Brazilian rosewood Laurence Juber model, had clear markings that read "8A LE" written on the underside of the top, which I assume stands for "Grade 8 Adirondack, Limited Edition." I have never seen that exact grading before or since.
Grade 7 is designated for Style 42 and Style 41.
But most 40s Series and special editions getting spruce of the highest grade are actually designated as Grade 7 – 8. I guess that is because different people do the grading based on work shifts and perhaps one man's 7 could be another man's borderline 8. I have seen OM-42s and D-42s with tops that appeared flawless to my eye, so why they were not an 8, or if they were 8s that ended up on a 42, I do not know.
When it comes to custom orders, the Custom Shop employees have more time and leeway to think about a specific guitar and what top they think will look best with the overall aesthetic design. But they are still expected to stay within the grades meant for that style, unless the customer has requested and is paying for "premium" woods. But custom Martins seem to end up very good looking tops more often than not.
Grades 6 and 5 are designated for Style 28 on up to and including Style 40.
Although sources inside Martin will say a D-28 and an HD-28V will both be spec'd for a Sitka spruce top of Grade 5 – 6, regardless of the series, my experience showed me that Style 28 guitars in the Vintage series had tops with so much cross grain it looked like woven burlap. However, that effect could have been intensified by the "aging toner" applied to the spruce to make it resemble a top that has aged for decades. There is still plenty of woven fabric looks to other 28s out there.
I have also noted that a higher percentage of Standard D-28s have various anomalies in the grain of the spruce tops, compared to HD-28s or D-35s. And by that I mean patches where the grain swerves, or has the odd bearclaw mark, etc. But even then we are talking about high quality spruce and many people like having some sort of unique figuring that gives their guitar a one-of-a-kind appearance. But this could all be due to a relatively small sampling. Across all D-28s and HD-28s made in the past five years, there may be as many anomalies seen on the one model as the other.
Grade 4 and 3 is designated for Styles 21 and 18.
Before the Second World War, rosewood backs and sides with grain patters that the conservative Martin guitar company deemed too flamboyant or unusual to put it on a Style 28 guitar was used on Style 21. And as the least expensive rosewood style, 21s were given the same grade of top as a mahogany Style 18 guitar, even though a 21 had fancier trim and fret markers. By the mid-1950s, Style 21 was simplified so that the newly released D-21 was basically a D-18 made with rosewood.
In modern times the tops on guitars made in Standard Style 18 or 21 and a those from the Vintage series were officially spec'd for the same top wood, even if the Vs often seemed to have better looking tops, to my eye.
But today the Standard D-18 is the D-18V, only with the V neck replaced by Martin's new high performance neck. And the top on the one I own looks great and sounds even better. I have yet to see a modern OM-21 alongside the new OM-28 that replaced the OM-28V, so I cannot comment on whether there is an obvious difference in the look of the tops.
Martin does not have a Grade 2 or 1.
Anything like the Road Series you asked about gets Sitka spruce tops that are not given specific grades, but fall outside of the level used for the Standard Series and above. But again, we are still talking about a level of quality above and beyond what most of the industry uses for their guitar tops.
And it is true various people own Martin guitars with visible grading marks under the top that suggest a higher grade than that style was supposed to get. I own one of them, a custom ordered 000 based on the 000-18GE in terms of size, neck and string spacing, but made with Madagascar rosewood, maple binding and the Vintage Style 28 used on the Laurence Juber models.
I did order it in person, at the Martin factory, from the head of the Custom Shop at that time, and I believe it is the first custom Martin made in Madagascar rosewood. But it cost so much I did not fork out for premium grade Adirondack. So it should have been a Grade 3 – 4 top.
Under the Adirondack spruce soundboard is written a "7" along with a very small "000" a little ways off from it.
I guess somebody up there likes me.
And that is one man's word on…
Martin Wood Grading