Among the new and very cool NAMM items, I am most looking forward to the latest edition the CS Series, the Martin CS-??-14, which will be unveiled at the NAMM show, January 23, in Anaheim, California.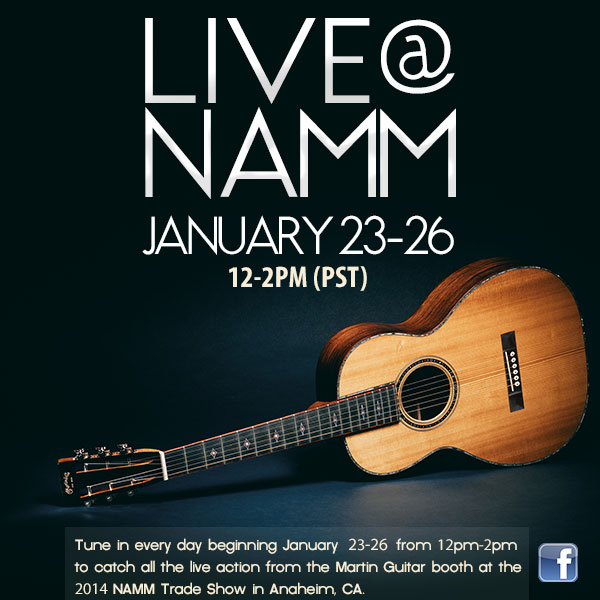 Just as I was about to post a news item with some details of this and other new and exciting guitars, I received a gag order from one of my sources on my revealing any details. Sigh.
So I am replacing the intended news with this report for now, mentioning but one of the new Martins on the verge of release, and I shall replace the ??'s in due course, should details come out through other sources before the show opens.
This latest model continues the new tradition of luthiery offered within this series of unique guitars, each made by the Martin Custom Shop, combining vintage vibe with cutting edge features as designed by Fred Greene, Vice President of Manufacturing at C.F. Martin & Co.
The new model has features that appear on previous CS models, like the CS-OM-13, and the CS-D18-12, among others, but also significant features never seen on a Martin before now. Chairman of the Board C.F. Martin IV has been quoted publicly mentioning the fact his company was on the verge of introducing one such feature, so it will not be too big a surprise for some people.
An anonymous source within Martin's highest executives went on record to say "…it is very different from anything we have done before." And since those with a keen eye for detail may already have some knowledge of this model, I am prepared to come clean with more details, should other media sources or Martin Guitars publish such details first.
But for now, I shall simply remind people that some CS models were limited to specific build totals the moment they were announced, while others were not. So someone interested may not want to wait too long before deciding upon a purchase in the near future.