Under an Indigo Sky under review – a "late-night" album of fingerstyle artistry
From the first nine notes of the opening tune, Cry Me a River, Laurence Juber sets the mood for his latest album, "Under an Indigo Sky."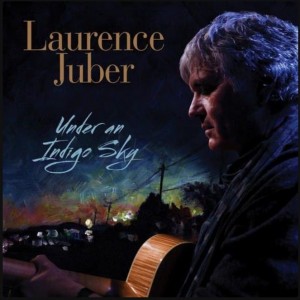 The pong of a warm harmonic sounds and sustains. Like a lone, hanging chime, it focuses the listener's attention. Then, four descending notes step down a slow arpeggio, triggering a hesitant whisper of a treble note that wavers on the edge, before a triplet of bass notes tumble down into the first full but effortless chords, like the surrender heard in a tension-releasing exhalation.
Languid, lovely, evocative, this is a 3-minute melt into a sumptuous sofa, and the sonic equivalent of isolated pools of low light playing off facets of cut crystal and opulent aperitif, close sensuous voices, soft laughter bittersweet with memory at the end of an evening. A warm, layered and very human scene painted entirely with one acoustic guitar drenched with resonant chords, clear and unhurried melody lines, and shadowy blue bass notes that rise or fall in pitch or pace like a melancholy pulse. An exquisite piece of music played on an exquisite guitar, exquisitely.
Here is a slightly faster, live rendition you can listen to, while you read the rest of the review.
(From LJ's YouTube page)
"Under an Indigo Sky" is Laurence Juber's 23rd album, if you only count the ones with his name on the cover. His career has gone from arena rock, to Hollywood soundtrack specialist, to A List session player. Although millions have heard him on electric guitar as a member of Paul McCartney and Wings, or playing the action theme behind the exploits of James Bond, it is his true musical love, solo fingerstyle steel string guitar, which has veterans of the guitar world proclaiming him one the best guitarists of his or any generation.
The fourteen cuts on this album offer a fine assortment of the kinds of music he has put out during the twenty-first century. Here is new original music of quintessential Juber and that which shows the influence of his recent forays into jazz music. And here are new arrangements of pop and bluesy jazz standards reaching all the way back to between the World Wars. Each of them recorded and mixed with expert precision, making the spontaneity and dynamics of the performances all that much more spirited.
Some were conceived to capture the flavor of the original version, like the righteous rendition of Del Shannon's Runaway, and the jaw-dropping All the Things You Are, which glides in on a slow swing syncopation before kicking into overdrive with a lively counterpoint running nonstop in the bass, under the single note melody line, like something out of Bach.
Other arrangements are more stylized, like his creative and animated take on Paul Simon's Mrs. Robinson, and some start out true to the source material only to evolve toward in-the-moment improvisation, as in Juber's version of "As Time Goes By," which breaks into a bendy blues outro.
One Guitar, One Tuning
The entire album was recorded with one guitar, a C.F. Martin OMC-44K LJ, the latest edition of his artist signature model. This one is made in Hawaiian koa wood known for its unique combination of clear trebles, warm harmonics, but a more open mid-range compared to other rich tonewoods like rosewood. It was built to be the lightest, most responsive Juber model to date and the artist takes every advantage of that on this recording. (To learn more about this guitar, go HERE)
Every selection was arranged in the Celtic DADGAD tuning – a first for a Juber record. A true master of the guitar, Juber often employs DADGAD, but turns to keys like Bb or Ab, way outside of the usual D or G Major most people resort to when arranging in DADGAD. And the arrangements are so varied on this record that I would have never thought they were all performed using the same tuning.
While non-musicians may never fully understand the degree of difficulty involved in a solo guitarist realizing such multi-part arrangements of well-known melodies, one thing is obvious. This is truly beautiful music.
A Jazz-y Touch
After nearly 50 years as a recording artist, LJ continues to look for new ways of exploration and artistic expression. "I wanted a bluesy semi – late night mood" is how he put it, when I asked the guitarist why the specific selections were made.
"Some tunes I've been playing in concert. Others are favorites from way back." While there are a fair amount of upbeat numbers, most are on the mellow side. Many allowed him to stretch out beyond the intricate, written-out arrangements that earned him so much reverence.
There is a good deal of improvisation on this album, but the producer (Hope Juber, his wife of 31 years) "kept the jazz element under control so it didn't get too 'jazz-y'."
After a series of records focusing on either original, contemporary fingerstyle pieces or exhilarating solo arrangements of well-loved pop tunes by the Beatles, and Wings, Juber turned his ample prowess toward the even more challenging harmonic structures of jazz.
He did a solo guitar record of Harold Alren songs (If I Only Had a Brain, Stormy Weather, It's Only a Paper Moon) followed by an acrobatic arrangement of the Pink Panther Theme, by far the best track on the compilation record "Henri Mancini: Pink Guitar," which earned him his second Grammy. I even saw him tearing up the strings of a candy apple red Gibson Les Paul when he took center stage for a night with the surviving members of Les Paul's band.
"Under an Indigo Sky" brings various music styles together, but the arrangements of standards and originals all benefit from his fresh, jazz-y sensibilities.
Just when I thought there was no reason for anyone to redo Autumn Leaves after Chet Baker's sublime renditions, here comes Laurence Juber to breathe new life into the embers with a bluesy slant to jazz that would have earned him a deepened-brow nod of approval from the likes of George Barnes.
And the Jubers' original co-composition Juno has such a timeless, swingin' lilt to it that Barnes might have offered one of his colorful expletives in exuberant appreciation. It comes off like a classic jazz standard one has just now discovered.
Barnes and Juber have several things in common. Both men mastered their instrument at an early age, as well as being superb and meticulous arrangers, and their artistry continued to improve like fine wine as they grew older. Both spent considerable time as top gun session men for an astonishing array of popular music, sometimes greatly outside their personal musical tastes. And both displayed the most refined and impressive musicianship when it came time for their own name to appear on the marquis.
Other Juber compositions on the record include the title track, which brings its own noir feeling of mystery but in a contemporary fingerstyle vein. Twilight in Montreal on the other hand has a spicy, sultry feel and a funky urban beat in its bass. And The Other Side of Midnight has a slinky shimmy to it, and a down and dirty bluesy quality that would fit the rolling credits of a gritty detective drama.
While the video above actually features his older, mahogany signature edition, this one shows the actual guitar used for the record. Here is Laurence Juber tossing off a version of The Other Side of Midnight as part of a promotional piece he did for the album.
(Much thanks to the LJ for sending us the link, and to Guitar Player Magazine for sharing it.)
State of the Art Recording and Grammy-Winning Skills
As nice as that might sound, the audio quality of the CD is superior. Juber used a pair of Schoeps CMC5 mics in the ORTF configuration, which has the mics 17 cm apart, pointing in opposite directions, to simulate the hearing pattern of human ear, and he recorded the guitar through Neve mic pre-amps.
"The big difference is that it was mixed to tape by Al Schmitt at Capitol and mastered at 176.4K/24bit sample rate with a subsequent downsampling for the CD. If it's played back on a HDCD compatible system, you can turn off the +5db volume boost. The vinyl release was direct metal mastered from the hi-rez source with no EQ or compression." Schmitt has won 19 Grammy Awards to date, including the Lifetime Achievement Award in 2006.
On the CD, the slightest string vibration, creak of the guitar's hide glue joints, or wave of Juber's "virtual whammy bar" technique used to coax out every drop of resonance is heard clearly and in three dimensions. The vinyl version must be breathtaking.
As impressive as the vibrant playing is, it is the more languid performances, such as Cry Me A River with its sustained chords and un-struck string glides that truly show off the mastery of the engineer and the exceptional qualities of the guitar. While both the mellow and the vigorous selections reveal the mastery and exceptional qualities of the guitarist.
The other cuts on "Under an Indigo Sky" are Nobody Does It Better (The Spy Who Loved Me,) Raining in My Heart, Don't Let Me Be Misunderstood, and Charlie Chaplin's Smile. And each one of them so well-rendered as to be definitive versions, at least as far as solo acoustic guitar renditions may go.
At first, I wasn't sure how well these collected tunes would work together on a single disc, given their various styles and historical points of origin. A week into it and it is already one of my favorite guitar albums in any genre.
Although the range of tempo and intensity of some selections reach a bit outside of Juber's original concept, the overall mood fits quite nicely as a late night album to put on and savor along with a favorite companion, in human or liquid form. When I sent off an email implying as much, LJ wrote back to concur, "Definitely goes with a nice single malt whisky."
Of course, he knew I was likely to agree.
And that is one man's word on….
Solid Air recording artist Laurence Juber's new CD, "Under an Indigo Sky"
You can purchase this CD HERE
You can visit LJ's website HERE
And you can see him live in concert at any of the following venues – check his webiste for updates!
| | | | | |
| --- | --- | --- | --- | --- |
| Date & Time | Venue | Address | Phone | More Info |
| Sat-Sun May 25th-26th | Abbey Road On The River | Louisville KY | | Saturday 6pm: Ali AuditoriumSunday 12:30pm: Ali AuditoriumSunday 10:30pm:Archibald room – Galt Hotel |
| Wed May 29th 8pm | The Cutting Room | 44 E. 32nd St. New York NY | 212-691 1900 | $20/$25 |
| Fri May 31st 9pm | Bridge St Live | 41 Bridge St. Collinsville CT 06022 | 860-693 9762 | $17/$27 |
| Sat June 1st 8pm | The Theatre At Washington | 291 Gay St. Washington VA22747 | 540-675 1253 | |
| Sun June 2nd 7pm | The American Hotel | Freehold NJ | | $20 |
| Sat June 8th 6pm | SOHO | Santa Barbara CA | | $15 Dinner show |
| Sun June 9th 3pm | Fiddlers Crossing | 206 East F St. Tehachapi CA 93561 | | $20 |
| Sat June 22nd 4pm | Boulevard Music | 4316 Sepulveda Blvd. Culver City CA 90230 | 310-398 2583 | Workshop |
| Sat June 22nd 8pm | Boulevard Music | 4316 Sepulveda Blvd. Culver City CA 90230 | 310-398 2583 | Concert $17.50 |
| Sat July 27th 7:30pm | Music of the Spheres | Lick Observatory Mt.Hamilton CA 95140 | ticket info | Includes a talk and, weather permitting, stargazing |
| Sun July 28th 7pm | Summer Guitar Fest | Three Stages at Folsom Lake College10 College Parkway Folsom CA 95630 | 916-608 6888 | Concert with Mimi Fox and Pierre Bensusan $12-$39 |
| Thurs Sept 12th | European Street Cafe | Jacksonville FL | | $20 |
| Fri Sept 13th 8pm | Randy Wood Guitars | 1304 US 80 Bloomingdale GA 31302 | 912-748 1930 | $25 |
| Sat Sept 14th 8pm | Six String Social Club | UUMAN Roswell GA | | $30/$35 |
| Thurs Oct 3rd 7:30pm | Grand Rapids Community College | 143 Bostwick NE Grand Rapids MI 49503 | 616-234 4722 | $15/$10 students |
| Fri Oct 4th 8pm | Wells Cultural Center | 638 North St. Lafayette IN 47901 | 765-742 1419 | $15 |
| Sat Oct 5th | Old Town School | Chicago IL | | $13/$23/$25 |
| Sun Oct 6th 7pm | Cornucopia Coffee Company | 210 E Lincoln Way Valparaiso IN 46383 | 219-405 1454 | $20/$25 |
| Thur Oct 10-Sun Oct 13 | Rock'N'Roll Fantasy Camp | Las Vegas NV | 888-762 2263 | |
| Thurs Oct 24 7:30pm | American Sound Recording | 2231 R St. Bakersfield CA 93301 | | $30 |
| Nov 7-8 | Germany | | | TBA |
| Nov 13-16 | Czech Republic | | | TBA |