There is a lot of news from Laurence Juber
New Juber album with new tunes, new custom Martin guitar, new strings endorsement deal, and a new video interview at Fretboard Journal
I bumped into Laurence Juber as he was coming out of the artist's lounge before his recent gig at the Cutting Room in New York City. We shared some opinions on torrefied tops, "moon spruce" and caught up in general.
He gave me a copy of his recently released album filled with new tunes, and the first recording of a new guitar. And he has another even newer one soon to be under construction in the Martin custom shop. He also told me he that he was sitting down with Jason Verlinde for a video interview and performance recorded live and unplugged at the offices of Fretboard Journal, which may now be viewed at the bottom of this review.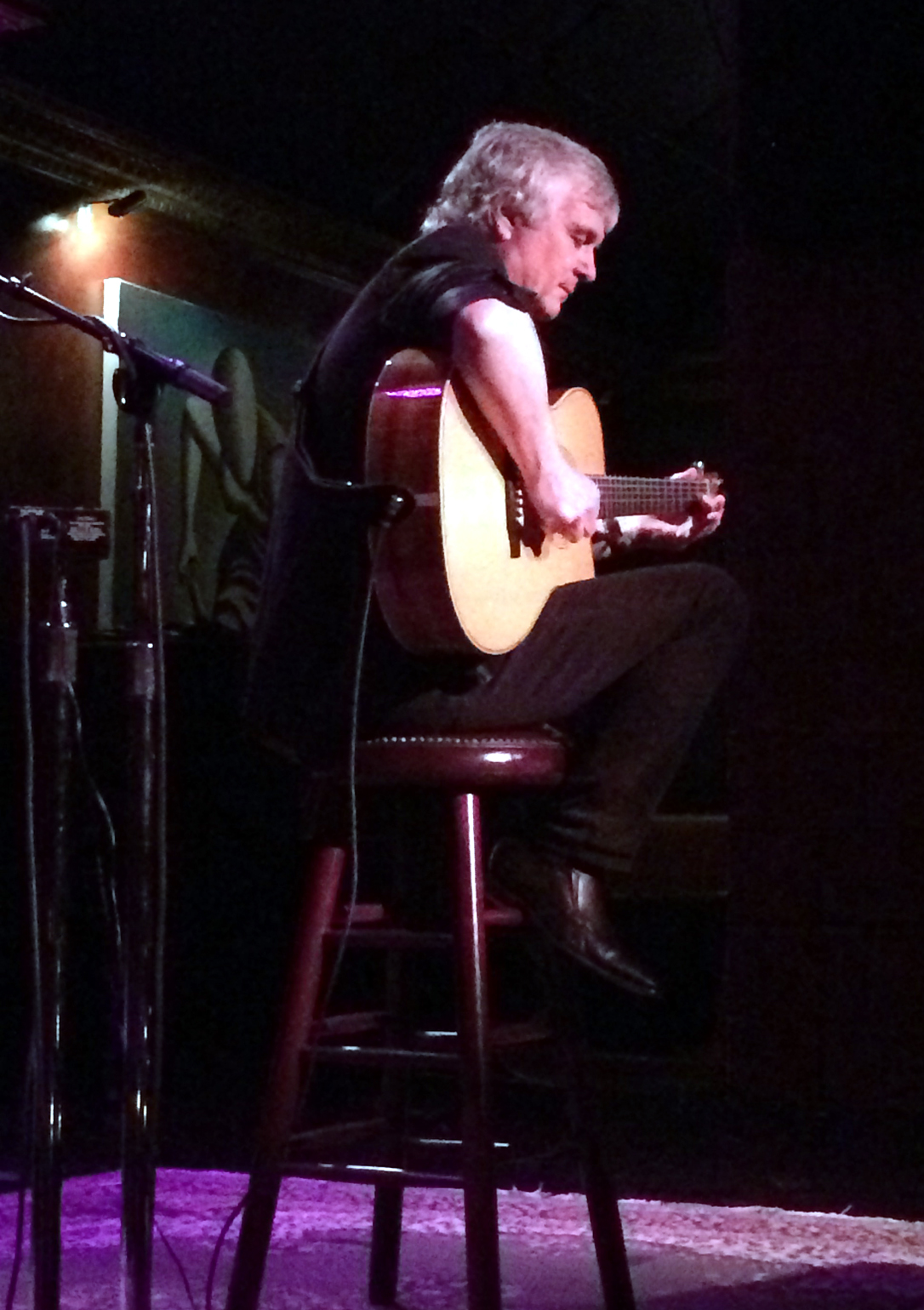 The name of the latest LJ release is Fingerboard Road. I had noted that very name on street signs during my recent trips to Mandolin Brothers, and thought it a more appropriate address for one of the great guitar stores than their actual location on Forrest Avenue. It turns out Laurence came up with the title after seeing the highway off ramp to the same Staten Island thoroughfare as he drove from Newark Airport.
As he put it, Fingerboard Road seemed a fitting title for the journey that has taken him from music school in adolescence across half a century of guitar playing, and the earned renown as one of the most respected and advanced master guitarists of his era. I have been listening to the record ever since I unwrapped it.
If memory serves, this is Juber's 25th album released under his own name. And like many of them over the past 15 years or so, it includes an array of inventive arrangements of well-known tunes from other writers, mixed with impressive original compositions. As outstanding as some of his earlier endeavors have been, he just gets better and better in both modes.
When I immerse myself in an artist's latest release, the cut that I end up hearing as I walk down the street or start whistling in the grocery is often one that seemed the most unassuming during the first hearings. And in this case it is "Go Now."
A 1964 R&B hit for Bessie Banks, most people associate the tune with the lush version by the Moody Blues. LJ's solo guitar rendition pares it down to the bare bones soul of the piece, which starts with a bended string lick, tense and twangy, and then gives way into a moseying time signature. With strums filling out the piquant melody lines, rather than a pounding piano, it sounds more like a lonely cowboy waltz than a processional Baptist march. Languid yet evocative, it seems simpler than many Juber arrangements, until one focuses on what is really going on to achieve the overall performance.
That also holds true for two of the strongest covers on the album, "I Only Want to Be with You" and "Angela," which seemed so much like the theme to a TV show that I was not surprised when I realized it was in fact the theme to Taxi. Both of them make for surprisingly excellent guitar tunes, certainly when transposed into an arrangement that Juber would call guitarastic.
Someone at the NYC show put her finger on a significant difference between his original compositions and his cover tunes. "His own compositions are every bit as impressive musically, but we are so used to hearing the Beatles tunes and other covers played by a whole band, and here Laurence Juber is performing all the parts on one guitar, including the vocals, bass, drums and sometimes even a string section." An astute assessment.
And the maestro's prowess as an arranger for solo guitar of complex cover tunes is exhibited all over this new record, including a peppy, stylized version of Steely Dan's "Peg," a sublime rendering of Hoagie Carmichael's "Georgia On My Mind," and an out of this world nailing of Pete Townsend's "We Won't Get Fooled Again" replete with the synthesized organ intro part, and wall of sound chords worthy of Townsen's own 1959 Gretsch electric guitar. In fact, the first time Juber performed his version of this number was at a Pete Townsend tribute concert with the legendary songwriter front and center. The venerable rocker loved it.
The original pieces on the record include the title track, which is an acrobatic jaunt that could be at home in the era of the Charleston and Fox Trot, and a live performance of an earlier Juber tune called "Love at First Sight," dedicated to Mrs. Juber.
All of the music on this record was recorded with his Brazilian rosewood Martin signature model, the OM-28B LJ, except the opening track. Entitled "Without Annette" and composed by LJ for the theatrical play of the same name, it was recorded with a Martin guitar made in the custom shop, similar to his signature models, but with some notable differences.
We had been sampling some single malt scotch in Pennsylvania, when Laurence first told me of the special guitar he had just ordered from Martin. It has mahogany back and sides, extra thin finish, hide glue construction, and a top made of "high alpine lunar cut 'moon' spruce" from Switzerland.
While I heard reports about the guitar once he took possession, this single track on the new record provided my first chance to hear it. It is marvelously resonant, with an otherworldly shimmer off the high end and considerable depth across the whole voice. The night of the show he told me that it has astounding personality for being so new. I look forward to hearing more recordings made with this very special instrument in the future.
As his Brazilian Martin recovers from a refret, Juber has been touring with another special Martin, that has koa back and sides and an Adirondack spruce top. It was made expressly to be as lightly constructed as possible for maximum response, so it is a bit less throaty and thick in the bottom end than a typical Juber model, in exchange for the openness and definition normally associated with a vintage Martin OM. And that is very apparent on the album Under the Indigo Sky, recorded entirely with this one guitar. It was available for sale for a short time as a limited edition under the name OMC-44K LJ.
Laurence is currently working out the details of a new custom shop Martin. Also made with hide glue, it will have Guatemalan rosewood and a top made from the same Swiss spruce as his new mahogany guitar. And there is some discussion of possibly offering a model with the same specs for wider release. Yum.
He has also put his name on a set of Martin Retro strings, which come as a mixed array of medium gauge strings for the e (.13) b (.17) and E (.56) and light gauge strings for the G (.24) D (.32) A (.42).
I have been after Martin to offer strings with these gauges for years, as they are ideal for DADGAD tuning. Now they finally have, thanks to LJ. Martin Retro strings are made out of Monel, a patented alloy with high nickel content.
Below is the interview at Fretboard Journal, which features live performances on his koa guitar of selections from Fingerboard Road, as well as a wonderful rendition of Harold Arlen's "Only a Paper Moon." While there are other videos of him performing this tour de force, they are usually heard via a pickup and PA system. Here he is playing unplugged, captured by a good microphone.
~
And that is one man's word on…
Laurence Juber on Disc, Stage, Video in 2015