An Insider Look at the 12th Annual Martinfest, August 2 – 4, 2013
Held in Nazareth, PA, home of Martin Guitars, by the members of the UMGF, home of Martin lovers everywhere
Martinfest is the yearly gathering of the Unofficial Martin Guitar Forum, found online at umgf.org, where people from across the country and overseas meet to share their love for music and acoustic guitars, especially those made by the oldest guitar manufacturer in America, C.F. Martin & Co. They declared Martinfest 2013 one of the best yet, because of the sunny weather, cheerful camaraderie and all those fine Martin guitars.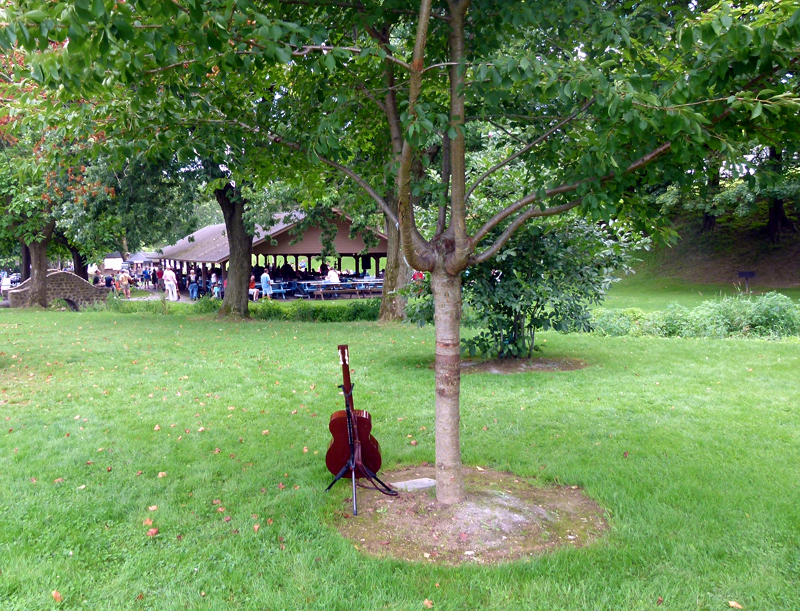 While "the forum" boasts many thousands of members worldwide, only a small percentage of the nine-hundred or so regular participants make the trek to eastern Pennsylvania to take part in Martinfest, over the first weekend in August, or sometimes the second weekend, depending upon the year. Those fortunate enough to do this once usually return again and again, as they have developed an emotional attachment between themselves that goes beyond the sort of connections typically made through the internet. It is a rare bonding similar to that reserved for old army buddies, or the lifelong friendships formed during one's college years. They sometimes find it hard to explain to their spouses or family and friends back home, so they will bring them along and let them see for themselves. As one member put it, "Music is a unifying force that reaches across many boundaries and brings people together in very deep and lasting ways." Martinfest is living proof of that.
Given the scope of folk, country, rock, and bluegrass music associated with steel string acoustic guitars, it is not surprising that the demographic found at Martinfest is primarily white and middle-aged, although this is by no means entirely so. In fact, the population at Martinfest is surprisingly diverse. There one will find people from just about every age group, region of the country, walk of life, level of musical ability, and from almost every social tier and point of view. Some of the most unlikely companions met at Martinfest and became the best of friends.
It Takes All Types To Make A Family
There was a set of three brothers in attendance, and a set of three sisters with their own brother. Initially, one pioneer came to Martinfest and then convinced their siblings to join them and their extended musical family. In any given year one may hear a truck driver raising their voice in song with that of a fireman, a physician, a factory worker, a school teacher, and the managing partner of a major law firm. And accompanying them on guitars may be a Baptist engineer, a Jewish home improvement contractor, an Anglican priest, and an atheist scientist or two. Meanwhile, across the room, a Franciscan friar with a humble ukulele may be sharing a joke with a disc jockey known for more opulent instruments and much more colorful humor, along with the retired Navy captain unashamed of his own deviant predilection for the banjo. Away in the song circle room, a songwriter with gold records will happily wait their turn while someone debuts the first song they ever wrote, and out in the hallway a Grammy-winning studio musician joins an impromptu blues jam with a shopkeeper, a college professor, and a traveling salesman.
Republicans room with Democrats, liberals stay up till dawn with the conservatives they looked so forward to seeing after a year apart; even Yankees fans find themselves warmly embraced by fans of the Tigers, Orioles and Red Sox. From the Oscar winner to the homemaker, the CPA to the MBA, all and all, they have found common ground in this most unpretentious celebration rooted in the love of music and Martin guitars.
While other brands have their loyal fans, none seem to evoke as much reverence and affection from their admirers as Martin, and this has allowed people from greatly diverse backgrounds to find they share an affinity that transcends their many differences. Conversely, few brands evoke as much derision as Martin, whose detractors say they ain't like they used to be, or simply prefer other types of guitars while resenting Martin's prominence. Since the company's founding in 1833, Martin invented, inspired or influenced most every acoustic guitar design seen today, at least when it comes to flattop guitars (as opposed to the archtop guitars prevalent in traditional Jazz music.)
The list of major recording artists and concert professionals who have played Martins extends into countless thousands. Even those stars known for other makes of guitar have often owned Martins. But it is more than just tradition, or the association to a celebrity and their much-loved record albums that has so many everyday pickers and strummers playing Martins. Martin makes outstanding guitars. And over the past decade they have extended their offerings to include both exquisite reproductions of vintage Martins from their golden era of the 1930s and progressive designs featuring the latest onboard acoustic-electric technology favored by cutting edge artists in today's youth movement. So their fan base is expanding right along with their product lines.
| | | |
| --- | --- | --- |
|   |   |   |
|  Park Open Mic | Martin On Main | Martin Factory Visit |
Deep Roots
The UMGF was founded in 2001 when a physician's assistant and former combat medic from Texas started an online bulletin board for anyone who liked Martin guitars. People from all over the world signed on, including a lawyer from New Jersey who was on a first name basis with certain employees at Martin. Some 60 members showed up at their first get-together a year later.
The initial Martinfest consisted of people meeting for a Sunday afternoon of music making at a small cabin in Nazareth's scenic Boro Park, and the next day they took the tour available weekdays at the Martin guitar factory. Over the years the gathering grew in sophistication and in the number of those taking part, and Martin has gone out of their way to accommodate such loyal fans whenever they could.
This year there were three official days, with 181 people registered to attend from more than twenty states, and as far away as Italy. It was considered one of the smaller crowds in recent years. Some arrived up to three days in advance, to extend the experience as long as possible. The majority of those taking part have always stayed at a particular Comfort Inn, in nearby Bethlehem. The hotel management provides considerable leeway in terms of public rooms to gather in, etc. and the revelry extends to the earliest hours of the morning. But the primary daytime events take place in Nazareth.
For the past six years, Saturday has consisted of a street fair in the heart of town, put on by the UMGF, the Nazareth Chamber of Commerce, and Martin Guitars. Known as Martin on Main, it offers fare from local vendors, food wagons, a hands-on collection of Martin guitars, and live music on three different stages. The main stage is peopled by UMGF members, usually with a special performance by a guest artist. For 2013 it was Richard Smith, an Englishman who makes his home in Nashville and who is a phenomenal acrobat of the fretboard in the tradition of Chet Atkins. Previous years have featured the likes of bluegrass hot-hand Clay Hess, bluesman Kenny Sultan, and fingerstyle master Laurence Juber.
Sunday the UMGF members gathered at a large pavilion in beautiful Boro Park, to take turns checking out each others' favorite guitars. Some folks just relaxed and took in the unusually perfect summer weather – high 70s with low humidity under baby blue skies. Others took part in the morning worship service, the afternoon open mic, or the auction of small, music-related items donated by members to help pay for the forum's Martinfest expenses.
On Monday those who could stay the full weekend returned to the park, where Dick Boak of Martin Guitars gave an informative talk on current affairs at one of America's oldest family businesses. Boak has appeared at all 12 Martinfests, usually just to hang out or play guitars, and in previous years Chris Martin, the CEO, has given similar informal talks. The remainder of such days was spent how else? Playing Martin guitars.
Several of Martin's rank and file employees, and former employees, are signed up as UMGF members online, and some join in the Martinfest events each and every year. And it is those official events during the weekend days and the nightly trips to local eateries, plus the all-night jamming at the hotel that make Martinfest something people look forward to from the moment they get home from the last one – if not before.
Traditions Take Hold
Welcome Party

The Martin guitar factory is closed on weekends, so some members arrived during the week to take the famous factory tour and visit the Martin Museum, which always prove to be an informative and enriching experience. Martinfest itself starts on the eve of the first official day, with Laura's Welcome Party in the hotel lounge.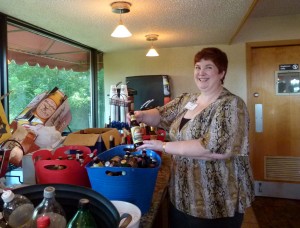 That would be Laura Voorhis, a high school biology teacher from Washington Courthouse, Ohio. She is a member of the 12 Year Club, who have been to every Martinfest. What was once a wine and cheese mixer in her private room has grown into a pot luck of many foods and drink that are set out in the hotel lounge for all to enjoy. It is also an opportunity for first-time participants to meet and become acquainted with the people they have previously known only through words posted on an internet forum. Such newcomers get a green dot on their name tag. And veteran attendees seek them out and make them feel at home.
On Monday, Voorhis purchased a new Martin, at the local dealer, Nazareth Music Center, to add to her small but impressive guitar collection. She is rarely seen playing a guitar, but that doesn't mean she loves fine musical instruments any less than more extroverted musicians. This year she brought her custom OM-45, with the fancy abalone shell inlay, which a few lucky guitarists were able to visit in Laura's room. Her new custom shop Martin is a 12-fret 00, a grand concert size instrument with a slotted headstock reminiscent of a classical guitar but with steel strings. It has figured birds eye maple back and sides, and an Engelmann spruce top, and was more prominently displayed than the pearly OM, earning many votes as one of the best guitars of Martinfest 12.
The Morgan Room
Guitars appear just about everywhere, night and day, and not all of them are Martins. It is an inclusive group.
At the hotel, the Morgan Room is transformed from a conference room to the location of the song circle, where people take turns, and everyone listens. Sometimes original compositions are performed. More often, someone shares a number from one of their favorite songwriters. Every night the list differs in terms of which folk songs, country songs, rock songs, just about any sort of songs that normally features guitars, are offered up before the group. People are welcome to sing along if they know the words or play along if they wish to add some improvised accompaniment.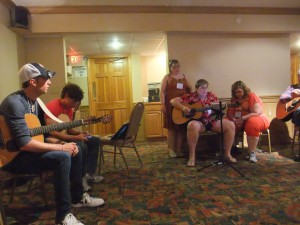 Some choose to park themselves in the Morgan Room each and every night. Others drop in to listen or take part for only an hour or two before seeking more boisterous entertainments. During one pass around the circle, songwriters like Woody Guthrie, Paul Thorn, John Lennon, Paul Simon, John Stewart, Townes Van Zandt, John Prine, Tom Waits, and Stephen Stills were all represented, as well as a very funny parody of Carrie Underwood's "Before He Cheats", which was transformed into a song about guitars doing things behind their owner's back.
Many a shy person has sat in the Morgan Room and found the wherewithal to attempt a song in front of strangers for the first time in their lives, some while sitting right next to a published songwriter. Here they receive such enthusiastic encouragement that most return the next year quite eager to take their seat and share more of their music with all those people who are now their friends. Bob Sutton of Knoxville, Tennessee is one of those brave souls. He started to learn the guitar in his mid-50s, and he remembers the nerves that accompanied his first song in the Morgan Room like it was yesterday. Now, he is as accepting and encouraging to other newcomers as those who applauded him that first night. And this weekend, he actually performed two songs on the main stage at Martin on Main.
Group Jams
The hotel lobby and the lounge both serve as the location of impromptu group sing-a-longs, sometimes in twos and threes, on up to 30 or 40 people all joining together to play their favorite songs, or enjoy songs they normally never listen to. Even the front walkway leading to the hotel door is peopled with guitarists and their friends, playing music outside, under the summer moon. Classic rock, folk, and folk-rock from the 60s and 70s are mainstays, with the Eagles, CSNY, Bruce Springsteen, the Beatles and various British Invasion bands conjured up nightly, as well as many others. But the country and bluegrass players also make a fine showing, as do the players of fingerstyle instrumentals. Those in their twenties take part with the elders, or congregate in their own circles, playing the latest songs, and seeking out the lyrics on phones and iPads.
In any case, those who do not know how to play such songs often know the lyrics well enough to join the group singing. A long string of songs from TV and movies sprang up in the lounge on Sunday night. The fact so many were known among the general player population surprised most everyone there.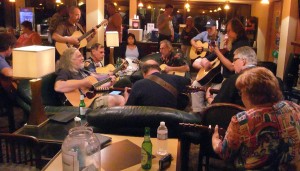 In the center of the sing-a-long were two Martinfest veterans: Mike Buono, a former police detective from New Jersey, and Paul Ukena, a retired Broadway actor from New York City. Ukena performed professionally in a bluegrass band, before he began his long career in the theater. He joined the forum looking to sell his old Martin guitar, which he no longer played. He did sell it eventually, but only after becoming a regular contributor to the UMGF, and acquiring other guitars. The online forum revived his musical interests and now he is regularly performing with two guitarists he met there. He seemed pleased that many people fell in love with his latest Martin, a D-28 Authentic 1931, one of the first examples of this new model to be purchased.
Ukena expected to spend one day at his first Martinfest, but extended his stay, exclaiming, "I haven't laughed this much since college!" He has been to every Martinfest since. Buono and his wife Diane have been to all of them. "The first year, we weren't checking into the hotel until after we went to the park. We had no idea what sort of weirdos we were meeting from the internet." Today, he describes the core Marinfest attendees as family. And indeed, some connections forged at Martinfest have led to years of close relationships beyond the shared interest in guitars and internet forums. Some forum members spend their family vacations visiting people they met on the UMGF, and others have crossed state lines to sit at the deathbed of someone they first met face to face at Martinfest.
Sharing More Than Guitars
Such intimacy is not shared by all the membership. But one intimate location where such bonds develop is found in the main stairway leading to the second floor. It has a nice natural reverb, so there are usually people found there, teaching someone a song, rehearsing the next day's public performance, or getting a bit of quiet alone time with some spectacular guitar borrowed from its owner – often it will prove to be a priceless pre-war Martin.
Many people would never let their expensive vintage Martin out of the house. Martinfest seems to attract a more generous sort of person, like Bob Hamilton of Ephrata, Pennsylvania and Mac Carter of Cokesbury, New Jersey. Each has brought multiple vintage Martins of the highest caliber to every Martinfest and they encourage any who wishes to play them to do exactly that. They understand how much it can mean to a Martin fan to have such an opportunity, and they also enjoy hearing their exquisite guitars played by accomplished musicians, of which there are many.
Given that the resale value on a pre-war Martin D-28 or OM-28 can reach upwards of $50,000, most guitar players have only read about such legendary instruments. Martinfest gives many their first chance to hear them in person, and actually sit down to play one, or several. And this particular Martinfest also had pre-war Gibsons well represented by an Advanced Jumbo from 1937 valued at over $60,000, and a mandolin made during the tenure of the immortal Lloyd Loar, worth considerably more.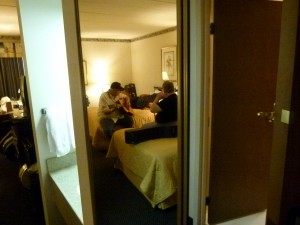 Behind the closed doors of numerous hotel rooms, similar instruments come out of their cases. Some feel that certain ones are too precious to bring to the crowded common areas, where guitar collisions are known to happen. Others withdraw to such inner sanctums simply because that is where they will be able to spend unhurried moments exploring the subtle qualities of a world-class guitar, which can get lost in a crowd. Once there, many Martinfest attendees catch up on the life and times of close friends they get to see but once a year – in person, anyway.
People exchange lengthy hugs as they leave the hotel on their way home, and voices call out, "See you on the forum!" And on the forum, in the section dedicated to their annual gathering in Nazareth, a thread has been opened by Mike Buono, entitled 362. The countdown of days has begun that leads to next year's Martinfest.
Membership in the UMGF is free and one does not have to own a Martin guitar to join or take part in the annual weekend of guitar playing, feasting and general merrymaking. Musical aptitude is also not required, and it is not uncommon to find seasoned expert guitarists happily playing the same song with others just learning how to strum the basic chords. For those who might find such things fun or worth their time, the place to find out more is umgf.org.
And that is one man's word on…
Martinfest 2013
In memory of Laura Voorhis and David Drucker. Love you.
Photos provided by various UMGF members.
Here is a video sampler of Martinfest activity from previous years: