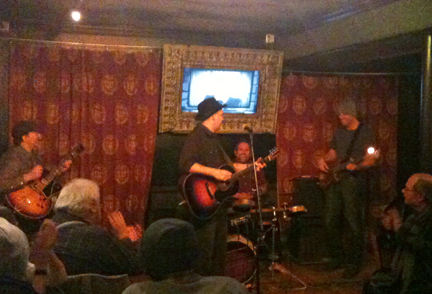 February 4, 2011
Brooklyn, New York

Last night, after seven months of anxious anticipation, the lucky, invited crowd reveled under Bowery copies of Tiffany-style lamps, that hung from the relief in the barroom's tin ceiling. Wooden booths were full and the luxuriously long bar was lined with swarming faces waiting for a drink or just to shake the hand of an old friend pulling the taps or ringing up a register.
Many simply shared laughter while watching one of the flat panel TVs showing the hilarious and often macabre video art of Donald O'Finn, the bar's manager and principal owner. These hypnotic videos are culled after countless hours, sifting through ancient film footage – campy and bizarre – and then juxtaposed by his wickedly brilliant editing.
The bar's lighting is cave-like, so that many pieces of artwork, both clever and strange draw the curious toward the back recess or into shadowed corners where confidences may be exchanged amidst the clink of glasses. There is even a small patio out the rear exit, full of chilly smokers.
In the backroom, Pinamonti & Co. lit it up for those fortunate enough to fit into such an intimate space. Notably smaller than at the old Freddy's, it has a great vibe and should soon regain its place as one of the favorite small rooms in the New York City music scene.
The original Freddy's was near the Atlantic Center until it was confiscated in May, 2010 through shifty misuse of the city's Eminent Domain laws and torn down to make way for a billionaire's pet construction project. After Freddy's wake, Mr. O'Finn gathered some of his staff  and they set out on their own. With the blessing of the retired owner, they have planted Freddy's banner at a new location, 627 5th Ave between 17th and 18th Street, in Brooklyn's South Slope.
I caught up with Donald outside the front door, as he was walking up the wheelchair-accessible ramp.
"Out of death and destruction comes rebirth" said a weary but elated O'Finn, seemingly oblivious to the icy wind. "I haven't had a day off since the day the old place closed."
"But it has been worth it." he added, during a sporadic stream of well-wishers while he observed the labor of the exterior decorator and her workman, who at 10 PM were finishing a paneled
façade
and what are expected to be flower boxes.
"Geraniums." said the spunky but earnest woman, as she looked up at manager O'Finn, seemingly twice her own height. "I woke from a dream and said 'Geraniums!' They don't need to be watered."
That brings up one bittersweet note; the watering hole voted "Best Dive Bar in New York City" for years beyond count is a dive no longer. Rather, it is smart new venue haunted by the ghost of a Gilded Age saloon, larger than the original and with modern facilities, even if the graffito remarks already share the same obscene bent.
In one respect the patrons feel like they never left; this is one large, cozy comfort zone. In other ways, the absinthe has been sweetened by the absence. That and by seeing what a wonderful new space has been transformed into the one-of-a-kind universe that is Freddy's.
On Tap: A decent array of domestics with some foreign agents of note. I started with a Guinness that was every bit as fine as before. But I was delighted to find Fuller's London Pride on tap as well. Then I tasted it with some disappointment.
At first I thought Fuller's had chosen to Americanize the version sold in gas kegs to the US. Then it struck me; it was ice-cold! That will eradicate the subtle nuance of English ale, which really should be drank at 45o F.
It was okay enough to drink three pints, but a far cry from that found in Blackstock Road, I can tell you.
I shall have to see if they can get something from up Burton way, like Marston's Pedigree. That is arguably the best bitter  made in England and finally available in the States. (hint, hint.)

Freddy's new address is 627 5th Avenue, between 17th and 18th Street.  Very near the Prospect Avenue stop on the R line. That's one short stop past 4th Ave/9th St. where the R and F connect.