The Martin d-boak "Inside Out" Special Edition
Celebrating the career and art of Dick Boak
This preview of Martin's new d-boak Inside Out Special Edition is the first in a series of interviews and articles with Dick Boak, the illustrator, luthier, author, historian, musician, archivist, and woodworker who will be retiring from Martin Guitar in January 2018, after a long and storied career reaching across four important decades that saw many changes and innovations at one of America's oldest and most celebrated family businesses.
click photos to enlarge
The d-boak Inside Out model was designed as a collaborative effort between Dick Boak and other veteran staff members, including Tim Teel, Director of Instrument Design, and CEO Chris Martin. It has solid, genuine tropical American mahogany back and sides, and a soundboard of solid Sitka spruce from the Pacific Northwest. And it features visionary artwork across the entire soundboard, with Boak's neoimpressionist rendering of ocean waves, birds, and Martin's historic North Street factory, in combination with what appears to be details of the guitar's internal structure showing through the solid spruce top, as if by some sort of X-ray vision. Truly, it is a most extraordinary effect.
I caught up with Dick in the stairwell at the Martin Guitar Factory, when he was between morning meetings. And he shared some of the more fascinating details about the project.
OMG: When did you first start to work on the Inside Out model, and how long did it take to reach the final prototype stage?
DB: I had the initial artwork done in mid-2016. But I had no idea what it might end up being used for, exactly. I set it aside and got busy with many other things. A few months ago, I was having lunch with Chris (Martin) and artist Robert Goetzl, who did that wonderful mural in the Visitor Center's lobby.
We were discussing an upcoming guitar that will feature some of Robert's new artwork, when Chris said, "We should do one with some of Dick's artwork."
I said, "I actually do have something I've already been working on. But I don't know what you will make of it."
So I dug it out and showed it to Chris, and he was like [eyes getting wide] and off it went. I was very pleased at how quickly it all came together after that.
The model is making its public debut on July 13, at the Summer NAMM show, in Nashville, Tennessee. There it will be exhibited as Dick's personal salute and so-long to his friends in the industry, and also as a tribute to the man who has long been the most affable public face of the Martin Organisation, and the Company's good will ambassador to the world's biggest stars and the humblest front porch musicians alike.
The existence of this instrument is due to two related things, the high-tech Mimaki printer purchased by Martin to transfer all sorts of graphic imagery onto the surface of a guitar soundboard, and Dick Boak's return to drawing detailed illustrations. It is something he has done very well for a very long time.
While many people are familiar with his illustrations relating to Martin guitars, few are aware that his interest in the art form predates his tenure at C. F. Martin & Co. In fact he was originally hired by the late C. F. Martin III as a draftsman. He went on to wear many hats at Martin and is now the Company's chief archivist and Managing Director of the Martin Museum.
OMG: Your interest in drawing was revived quite recently. Was it not?
DB: I got back into illustration after buying some Derwent Graphik pens. And I grew enthusiastic about drawing again as a result. After completing a couple of things for my own enjoyment, I imagined something that could be used in conjunction with the Mimaki, possibly for some future Martin guitar model.
The Mimaki printer has greatly expanded Martin's design options for their musical instruments, in terms of cosmetic beautification. No longer is such artistic embellishment restricted to guitar tops made of manufactured materials, like the resin-infused wood pulp High Pressure Laminate used for their budget X Series guitars. Now, the superb solid spruce that is the primary tone-producing element of their very best models can be thus decorated.
OMG: How did you settle on your subject matter?
DB: I hit upon the "Inside Out" concept soon after considering the Mimaki's capabilities. It is a futuristic technology, and I am a traditionalist at heart. And I love the masterful craftsmanship that goes into our traditional acoustic guitars. But one of the most beautiful features of our benchmark models literally goes "into" the guitar. So, few people ever get to see it or barely remember it is there.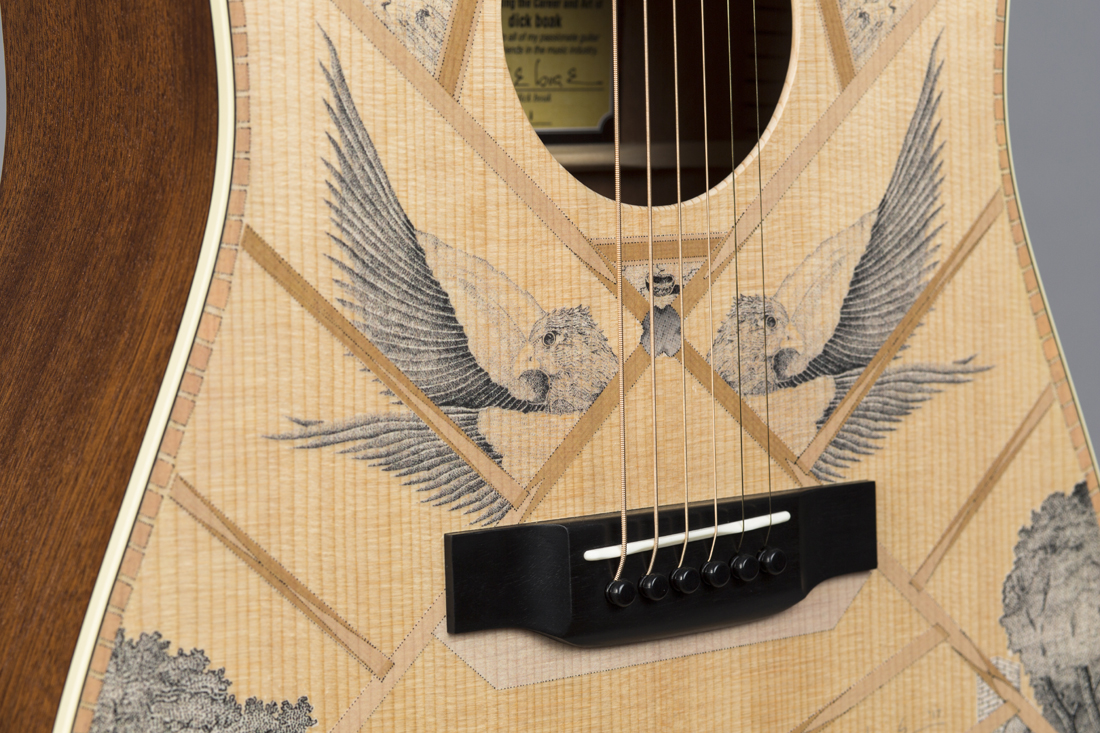 I am talking about the hand-carved scalloped X-bracing that was invented by C. F. Martin Sr. around 1843, and became one of the most important innovations in the evolution of musical instruments.
And I wanted to use this ultra-modern imaging device to bring into the spotlight our classic scalloped braces, like that used on the modern D-18s. I really like the current D-18 a lot!
So, just as I drew the outside of a D-28 back in 1977, I wanted to reveal the inside of a D-18 from 2017 in a stylized manner, or the same forward-shifted scalloped bracing of a similar Dreadnought-size Martin.
After I got it all just right, so everything was in the exact position where it's found inside an actual guitar, I began to think about adding some other illustrations, which might appear as if they were on the spruce soundboard behind that bracing.
The cloud-like waves and beautiful rending of birds are from that D-28 pen and ink illustration, while the depiction of the original Martin factory is from a drawing he did in 1983 for the Woodworker's Dream, a carpentry supply shop once housed at the North Street factory location.
The expansive piece of art gracing the d-boak's solid Sitka spruce soundboard was drawn entirely by the hand of Dick Boak, using Pointillism, a technique that produces recognizable images created from a vast number of precise points. It is not that different from how a photograph is reproduced in a newspaper. But it takes a lot longer to do one dot at a time, with only the naked eye and a pen with a very fine point.
So, the defining characteristics of everything you see in the artwork is created by carefully placed dots of ink – very small dots, in very large numbers – except for some slightly longer line work here and there, like in the trees and shrubbery outside of the pointillist drawn building.
And for those with keen eyes, they may just espy a very small Dick Boak with a very big smile, peering out from the windows of that miniature factory, with a Martin guitar in his hands. It is just one more example of the artist's intricate attention to detail, found in the various images in and around those illustrative braces, which often provide the illusion of being three-dimensional pieces of wood.
But then, a lot of special attention was paid to replicating the bracing, and it turned out to be quite an endeavor. Getting the footprint of each brace, tone bar, bridge plate, etc. in the correct location was only the beginning.
OMG: How did you achieve the color of the various woods that make up the inside of a Martin guitar?
DB: By scanning wood.
First, I scanned the artwork at a super high resolution, so that I could manipulate it in Photoshop. And then I scanned examples of the exact wood species used inside a Martin guitar. And from them, I selected specific pigments to incorporate into the artwork.
There was mahogany for the end block, maple for the bridge plate, and cedar for the kerfing, even the "gun wad" [a swatch of muslin cloth glued down at the center of the main X brace.] And for the spruce bracing, I ended up using two different shades to represent the scalloping. There's a darker shade of beige that I used for the peaks and higher points, and a lighter hue for the areas that have been carved down lower. And I experimented with different shades of off-white for the main background. [Some of which may be seen via the link to the full photo album below.]
I used a Wacom illustration tablet to do much of the rendering once the high-res wood and illustration scans were in place. And there was a tremendous amount of Photoshop layering involved, much of which had to be carefully prepared before it was ready to go to Tim Teel and become part of the actual guitar imprinting.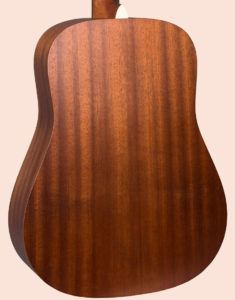 OMG: I thought the mahogany blocks at each end of the illustration were actual mahogany! But there really is plenty of actual mahogany used for the back and sides.
DB: I love genuine mahogany [Martin's contemporary term for the mahogany species Swietenia macrophylla, native to the American tropics, and used for guitar bodies at Martin since the early 1900s.]
I love the weight of it. I love the feel and smell of it, and I love the sound of it. I call it "glassine," that breathy clarity in the sound of mahogany topped with a good piece of spruce.
It was explained to me early on in the process that this guitar had to fit into the overall catalog at a price point with a certain amount of affordability. While I understood that, I was earnest in expressing my desire to have it made from genuine mahogany. And I was granted that.
 And the light satin finish used on this model allows the grain of the mahogany to stand out and reflect light very nicely, and it also allows the wood to respond and resonant freely.
OMG: And from the R&D photos and prototypes, it looks like they have used some very nice Sitka spruce for the tops. But to go back to the 2-D wood replication for a moment, what can you say about the interior label?
DB: The label means a lot to me. And I scanned in a good piece of spruce and some figured Brazilian rosewood at a very high resolution to achieve the look. But it is also a message of my gratitude and best wishes to all the industry people and guitarists I have had the pleasure to meet during my time at Martin. I hope they like the guitar and that it finds its way into the hands of those who appreciate it.
Well at least one sale was committed to thus far, by a major Dick Boak fan, Rock n Roll Hall of Famer Steve Miller, here seen on his tour bus with a d-boak Inside Out prototype.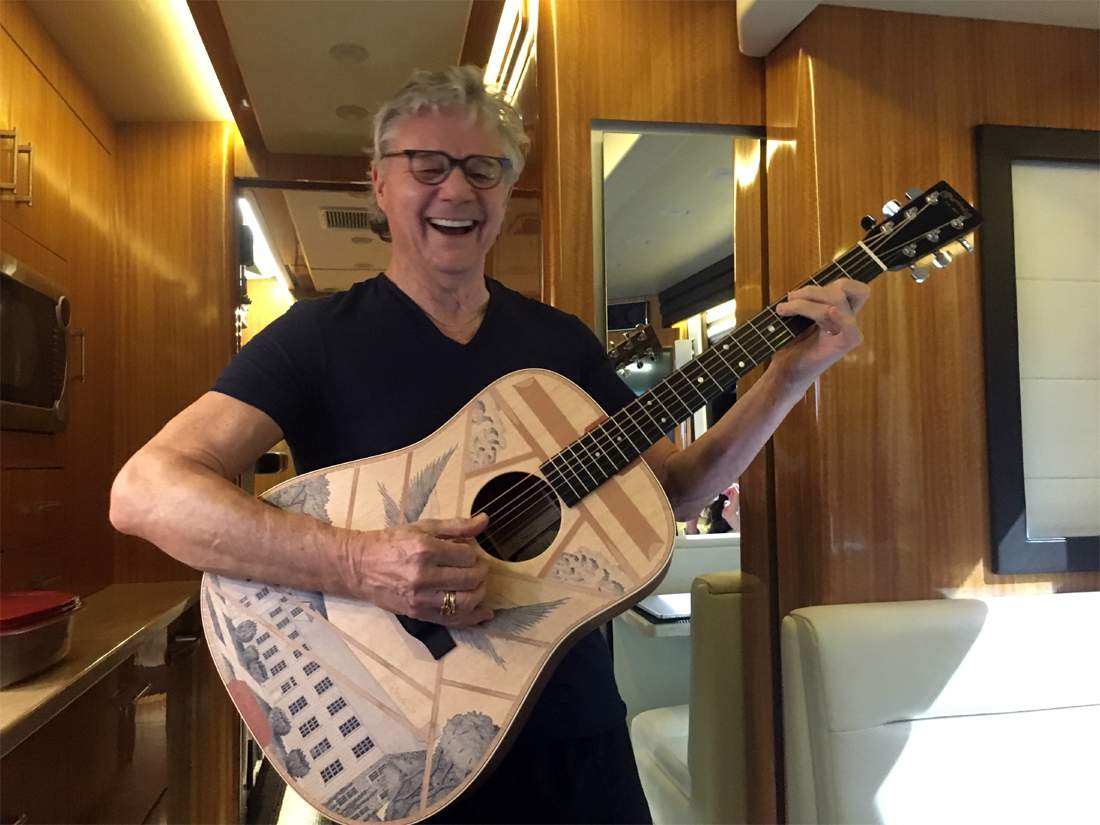 And that's one man's preview of…
The Martin d-boak "Inside Out" Special Edition, "celebrating the carrier and art of dick boak."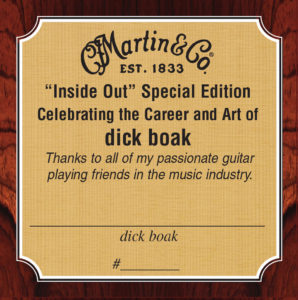 Our review with video of the new 2017 d-boak Inside Out Limited Edition will appear later this summer, along with reviews of the many new Martin guitars officially debuting at Summer NAMM on July 13, 2017.
Part Two of the Dick Boak Interviews, featuring tales from his years overseeing the creation of many celebrity artist Signature Models, will also follow in the coming weeks.
Related Reading:
Summer NAMM Martins Announced!