Boo Reiners visits the Martin Factory
(From the Archives, January 2011)
Nazareth, Pennyslvania – While I was visiting with friends in the lobby of the Martin Guitar factory who should appear but Bluegrass bad boy Boo Reiners, pulling into Nazareth to have some work done on his spectacular Brazilian/Adirondack banjo killer that was converted from a 1960s D-21. It is the guitar heard all over The Demolition String Band's new album, produced by three-time Grammy® winner Steve Rosenthal.
After meeting with the Repairs Department Manager, Lon Werner, Boo took some time to hang out, chat a bit about his guitar and check out some of the new Martins.
Several years ago, Boo had brought the old D-21 to the factory to see if it might be salvageable, given the sad shape of the top. This was during the brief window when Martin was experimenting with taking such wounded solders from the 50s and 60s and turning them into vintage-style canons for their owners, by installing Adirondack spruce tops, scalloped braces and the like.
Dick Boak looked the guitar over and felt it was a great candidate for such a conversion. He was right, this thing is one sweetheart of a Brazilian-Adi dreadnought that has a muscled underbelly, angelic highs and is just plain loud – with a pistol shot chime when under a hard, Old-Timey attack.
Although it retains the D-21 stamp along with the original serial number, it now has the specs of the vaunted D-28 GE model, with a 1-3/4" Modified V neck, the long-pattern diamonds and squares on an ebony fingerboard, matched by an ebony bridge set off by herringbone purfling and grained ivoroid binding tracing the Adirondack top, which is supported by forward-shifted, scalloped Adirondack braces. It also has some old growth Brazilian rosewood the likes of which is never seen on the later Golden Era reissues and perhaps coolest of all, it still has the original Style 21 backstrip. He has since dubbed it "the Grainiac".
Straight off the Inspection Bench at the Martin factory
I first saw Mr. Reiners, some years ago now, when his photo appeared in an Acoustic Guitar magazine article penned by my friend Karen Hogg, on the progressive Bluegrass movement as it was picking up steam in places beyond the banks of the Ohio.
Boo and his partner, Elena Skye head up the Demolition String Band who ride out along the Progressive Country circuit from Boo's homestead near Hoboken, New Jersey. Hoboken has a rich musical history and was once the epicenter for Alt-Rock, when pioneers like the Wygals and R.E.M held court at Maxwell's, where Boo now appears monthly as a member of the 16-piece Swingadelic. Before that it was known as Frank Sinatra's hometown. The scene thrives there still. Hoboken even has its own music awards and multiple venues that cover the entire spectrum of modern music. DSB have left their mark there, along with many stages across the river in New York City.Recently I saw them do an interview for ASCAP, where Elena and Boo spoke of their pedigree, running the Bluegrass jams at Coney Island High before joining the Alphabet City Opry at 9C (now Banjo Jim's), where the named and unknown performed and you were just as likely to see David Byrne on a bar stool as Hank Williams III.
These days the band has moved in a Progressive Country vein that can't quite be pigeonholed, but falls not too far from the Wilco tree. So Boo gets to stretch out the rock roots from his childhood, but he still picks up a banjo or that resurrected Martin and shows how you can take the boy out of North Carolina but he'll never let the Carolina outta him.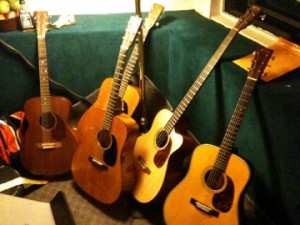 The Demolition String Band has a new album in the oven right now. Produced by Steve Rosenthal, it is currently being mixed at his Magic Shop Studios in New York City. Or it will be, once Rosenthal returns from the Grammy Awards®, where he is nominated for his fourth Grammy. "It has been a dream for DSB to be working with him." said Reiners.
As for the guitars that appear on the record, "We mostly used the Graniac, a pair of D-16A workhorses recently restored by Martin after too many years in the bars (which have bodies made of ash wood and a dovetail neckjoint) and a 00-15 (likewise bar-scarred and repaired at the factory.)" Reiners added that they featured a Martin BC-16GTE acoustic-electric bass guitar, "an instrument that producer Rosenthal specifically asked early on that we use on the project."
The last time I saw Boo and his Martin conversion they were kicking out some unrehearsed standards from the backroom of the trendy
Barbés
bar in Brooklyn, with Bob Jones, who is another top shelf picker, local legend and one of the premier vintage instrument tech gurus in the Lower 48.
Since Bob's workhorse 1942 J-45 was on his workbench for a neck reset, he was picking a borrowed Martin D-1, the early one with the laminated sides. It actually held its own pretty well, if a bit strident and buzzy. But then, many guitars would appear as wallflower sisters alongside that Bluegrass lap piano in Boo's arsenal.
 The melodies of Jimmie Rodgers, Merle Travis, Bill Monroe and Doc Watson were tossed off with enviable aplomb. These two have been picking and singing as the Plunk Brothers for so long, they can meet up after an extended absence and their guitars will finish each others sentences as if they came out of the same case.
Here are Elena and Boo via YouTube, doing their tune Wisteria. I suggest you watch the unplugged version which features Boo's D-21 conversion before turning up the twang and checking out the music video of the same song.