An unlooked for side effect at the dress rehearsal of Don Carlo
ghosts of tech weeks past
As I entered the empty house at the Metropolitan Opera and walked down the aisle, I was hit with sudden pangs of tense anxiety and adrenaline when I saw them. There was the lighting board and stage manager's station set up in the middle of the orchestra. Only now it is, of course, a lighting computer.
I haven't directed a play for almost 20 years, but in an instant I was reflexively steeling myself for the exhaustion of techs and dress.
Without realizing why, I was compelled to walk back out and get a cup of coffee from the hoity concession stand for $5. But really, it was very good coffee.
I quipped that I would probably start having the dreams again too. And sure enough, I had the endless tech rehearsal disaster dream last night.
Times Change and So Do Sets
I must wonder how many of the old opera buffs there were ruffled by the modern sets of the Met's Don Carlo, the tale that answers the musical question, 'Will sacrificing all chance of personal happiness for the sake of duty and honor save you from the Spanish Inquisition?'
They've used these sets for some years now, but it takes a long time for hardliners to except change at the Met as anything but heretical.
I thought Bob Crowley's designs were effective and quite clever, with a touch of Max Reinhardt about some of them, even if I also wonder what the Met's grand old ultra-realistic sets might have been like.
I must confess, some relief came from knowing I had not the responsibility of making sure none those many performers bumped into the furniture.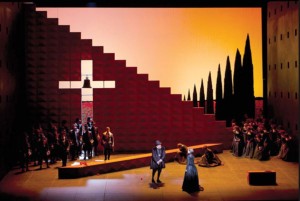 photo: Metropolitan Opera
Tickets for Verdi's Don Carlo start at $27, with 8 performances beginning March 30, through April 25.
Yannick Nézet-Séguin conductor, Nicholas Hytner production.
Starring Carlo Yonghoon Lee and Barbara Frittoli, with Ekaterina Gubanova, James Morris, and Ferruccio Furlanetto reprising his portrayal of King Philip, and a One Man's World special mention for the charismatic baritone Dmitri Hvorostovsky singing the role of the Marquis de Posa.