Behold the world's oceans without water
What a magical, mysterious, and exotic "landscape" it would be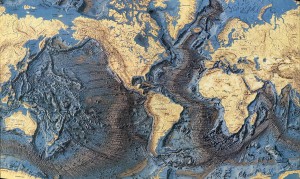 It makes me wonder what the planet may look like after all the water and most of the atmosphere is gone, but without all the dust has filled up smaller crevasses and caverns, as on Mars.
I also imagine taking any square area of the ocean floor from this map and using it as the map of some Tolkienesque fantasy novel, or perhaps a board game or video game filled with exotic humanoid species.
Or simply taking my own journey of 20,000 leagues under the sea.
There is some irony in my finding this map on a website of a science denier, or one more accurately described as a pseudoscience believer. In this case, his claim was to deny continental drift, which has been proven beyond doubt and continues to be measurable today. He also claims the Mid-Atlantic Ridge expanded land mass only once, when it continues to actively spew out the volcanic material that is slowly spreading North America and Europe apart at an average rate of about 2.5cm a year.
But there remain many mysteries of the deep oceans because it is well just so deep. How deep you may ask? Well this video may provide some help in understanding that very question.
See if you can locate the Marianas Trench on the map above.