Slideshow with Narration – Omaha Beach, June 6, 1944
Created for this solemn and historic occasion
Amazing detail created out of Rubber for the D-Day Landings
Utah Beach down the individual house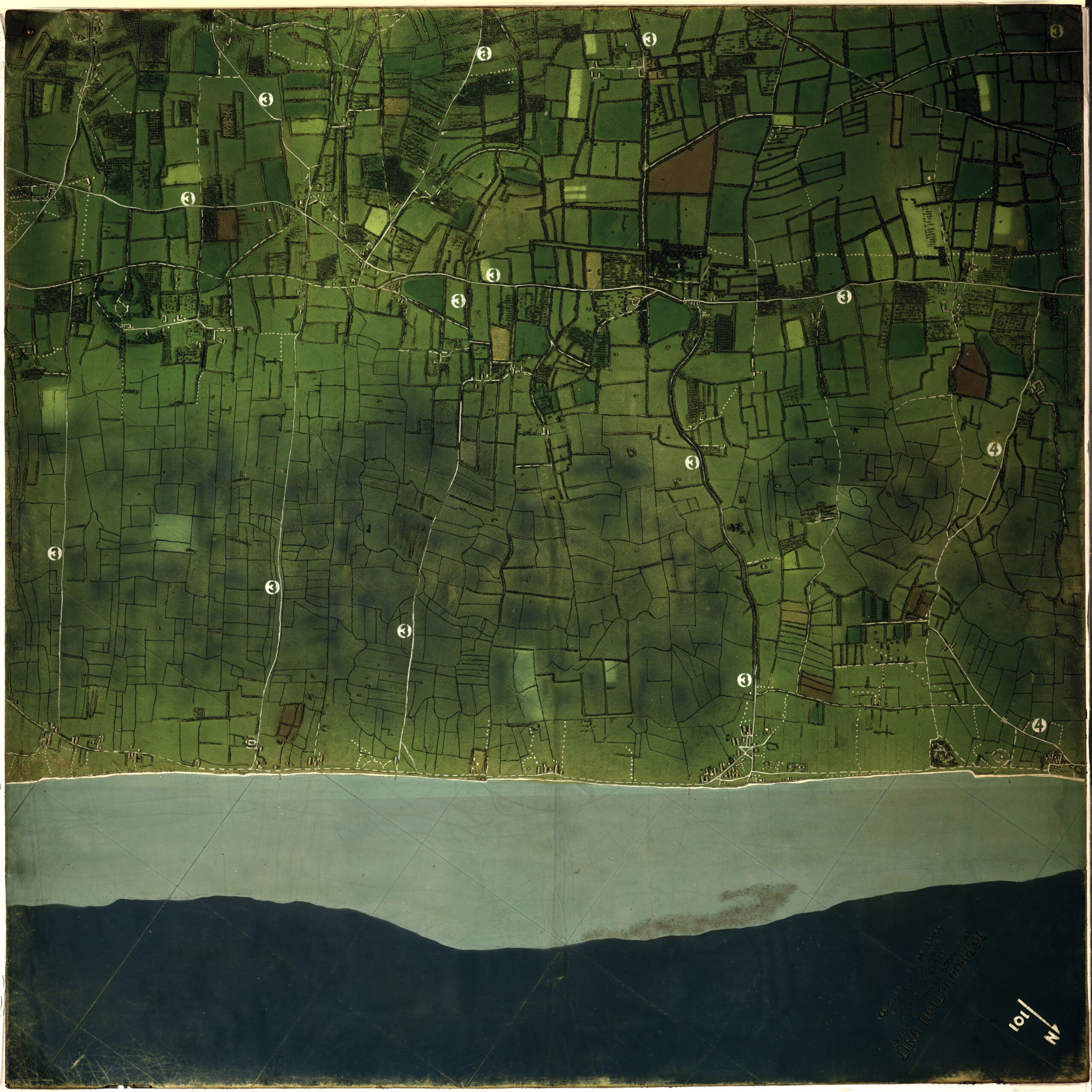 On June 4th, 1944, the day before the original date set for D-Day, a 27 year-old U.S. naval officer stood before this Top Secret three-dimensional relief map  and nervously briefed the top brass of the allied armies, on the upcoming seaboard assault at the Normandy coastal areas code named Utah. His audience included British Field Marshall Montgomery, commander of the entire sea and land assault (Operation Neptune), and American General General Eisenhower, Supreme Allied Commander for the European Theater of Operations.
At that the time it was a brand new technology, created in secrecy and kept that way until after the war had ended. Made at Camp Bradford, Virginia, and completed less than three days before it was flown to England, it was derived from stereo photos taken from reconnaissance planes. The map then went aboard ship after that first briefing, where it was used to instruct of the U.S. 4th Infantry Division that would be making the assault.
That officer was Charles Lee Burwell. He held onto the map and in later years donated it to the Library of Congress. He is quoted as saying he felt it was an important technology, because the 3D aspect of the map allowed soldiers to better know where they were going and what they should expect to see there, in terms of buildings, trees, and hedgerows.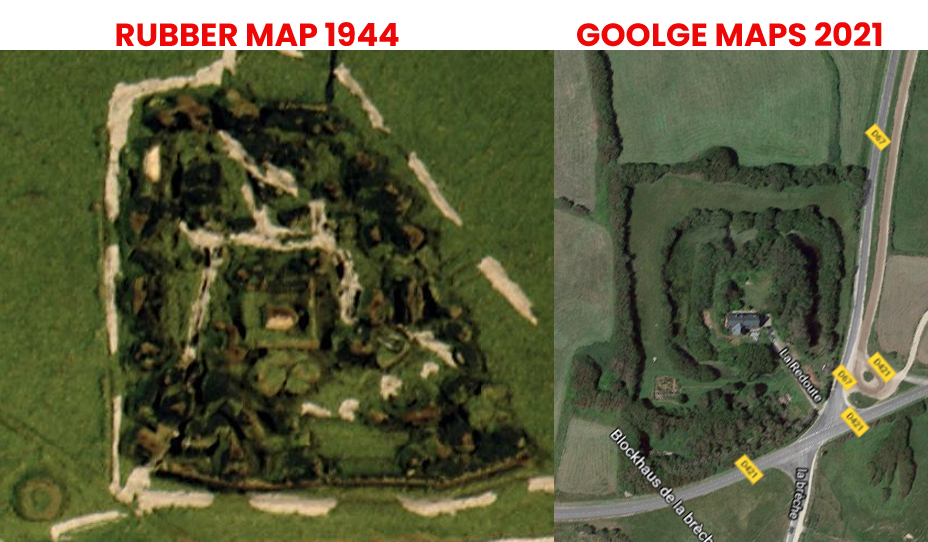 The map consists of two halves, each 4 feet square, made of rubber on top of foam. The numbers on the map correspond with other more traditional maps developed for the invasion. Up close, it reveals tide lines, slope of the beach, buildings beyond the beach, and the location of anti-landing craft hazards known as Czech hedgehogs. The depth of the water is represented by bathymetric tints and the color of the land was approximated from black white photos.
With Extreme Prejudice
This traditional map is code named Bigot, which was the highest level of secrecy possible. Many thousands of lives depended upon the success of the operation – millions in fact, if one considers those suffering and dying under Nazi occupation. Like the rubber map, this tactical map was created in two sections. This one shows the extreme left of the Utah Beach area, but it includes the actual invasion location.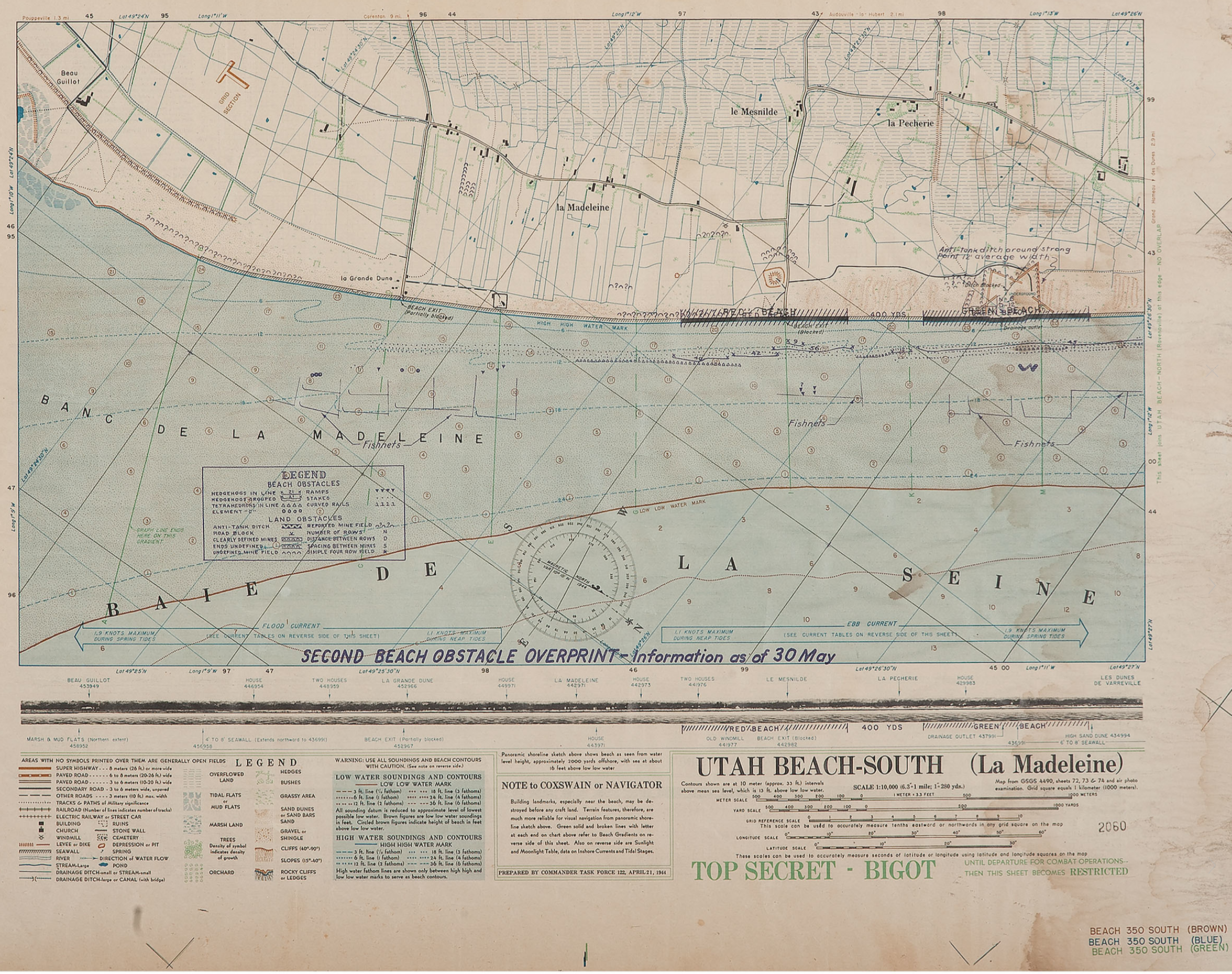 This detail below shows photographic representations of the waterline view of the coast represented on the map. These photos would have been taken from midget submarines with a crew of two, and sometimes four men, at great risk to their lives. These British sailors were among the relatively unknown heroes of D-day.
A Wrong Turn with Destiny
The small inland hamlet of La Madeleine is pictured to the left of the Utah landing areas, code named Uncle Red and Tare Green (designated as Red Beach and Green Beach in the map above.) But the strong tidal currents forced the landing craft more and more eastward, so they actually landed at le Grande Dune on that fateful morning.
Although the First Wave arrived in the wrong place, their commanding officer, Deputy Division Commander, U.S. 4th Division, Brigadier General Theodore Roosevelt Jr., famously decided to start the war from there, and reinforcements were directed to land at his location. This inadvertently saved many lives, as first assault waves would have encountered greater and more deadly resistance had they landed where intended.
Not that they were not subjected to genuine peril. General Roosevelt was put in for the Distinguished Service Cross for his gallantry on D-Day. He lied about his poor health to insure he would be allowed to lead the First Wave, and then repeatedly led troop concentrations off the beach and toward their various objectives, while often under heavy fire from mortars and small arms. After he suffered a fatal heart attack in July, while still in the field, his decoration was upgraded, and he received the Congressional Medal of Honor, posthumously.
Here is an overlay I created, with a strategic map for the 8th Infantry Regiment, U.S. 4th Division, superimposed over the rubber map from 1944.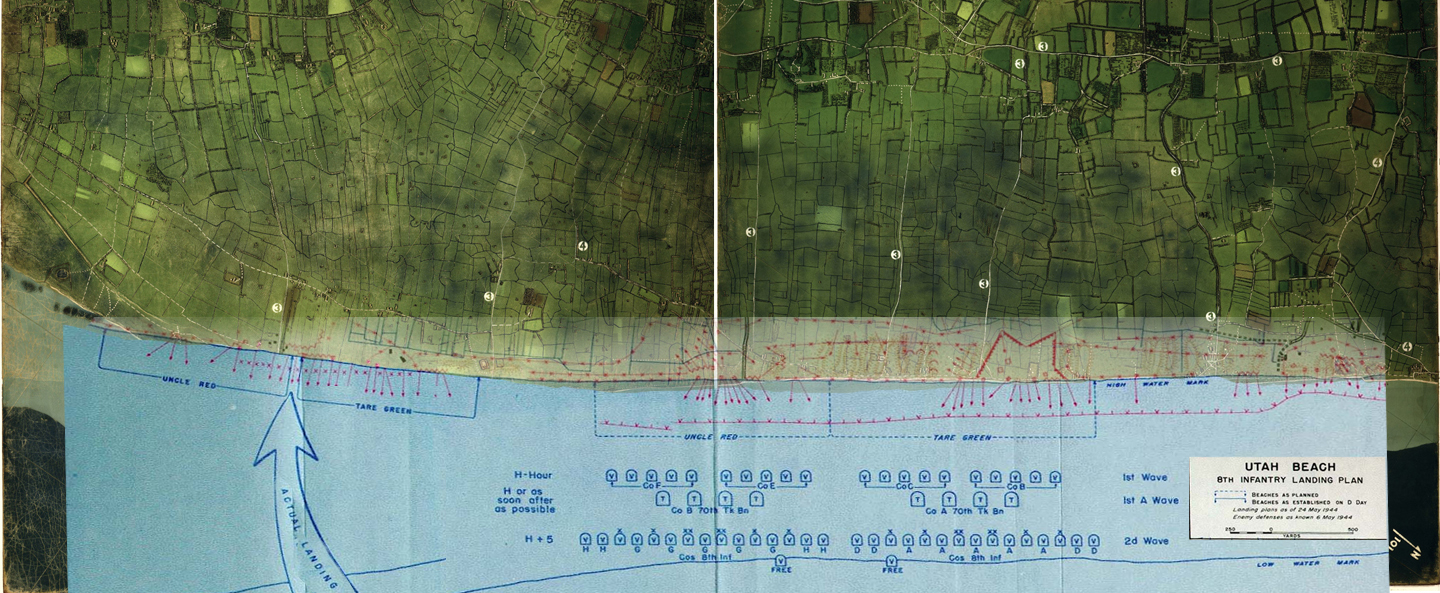 Landing
wave
Time in BDST (British Double Summer Time) and relative to H-Hour
Event
—
00:48
H – 05:42
Paratroopers of the 101st Airborne Division are dropped inland, around Sainte-Mère-Église. Drops continued 00:48 – 01:40.
—
01:51
H – 04:39
Paratroopers of the 82nd Airborne Division are dropped inland, around Sainte-Mère-Église. Drops continued 01:51 – 02:42. These airborne drops were followed by glider landings with support troops and anti-tank guns.
—
04:30
H – 02:00
A raiding party armed only with knives swims ashore at Îles Saint-Marcouf, 6.5 kilometers off the coast, to silence the anticipated German observation post before it can raise an alarm over the approaching invasion fleet. However, it turned out to be unoccupied.
1st
06:30
H
20 LCVPs, Higgins Boats or standard landing craft, each with a 30-man assault team from the 8th Infantry Regiment.
2nd
06:32
H + 00:02
32 LCVPs, each with a 30-man assault team. This included some combat engineers and eight naval demolition teams to clear away underwater obstacles.
3rd
06:15
H + 00:15
8 LCVPs, with tanks bearing bulldozer blades.
4th
06:17
H + 00:17
Mostly detachments of the 237th and 299th Engineer Combat Battalions, to clear the obstacles between the low-water and high-water lines.
By early afternoon, elements of the 4th Infantry Division had moved inland and linked up with elements of the 101st Airborne Division. By the end of D-Day, 23,250 troops and 1,700 vehicles had been safely landed on Utah Beach. Casualties were relatively light on Utah Beach. However, this was due in part to the inland actions of the 13,000 Airborne troops who suffered heavy losses. The 101st Airborne Division lost about 40% of its forces on D-Day.
The above table was found at someone's personal travel website, https://cromwell-intl.com/travel/france/normandy/utah-beach.html
And here is a portion of the rubber map superimposed over a Google map of the same area. Note that just beyond the top of the rubber map is found the location of Brecourt Manner, where elements of the U.S. 101st Airborne destroyed a battery of four 105mm cannon that were firing on the troops at Utah Beach, as made famous in the 2001 HBO miniseries Band of Brothers. This shows just how accurate and detailed the rubber map is and how invaluable it must have been to the success of operations on and around Utah Beach on D-Day and afterwards.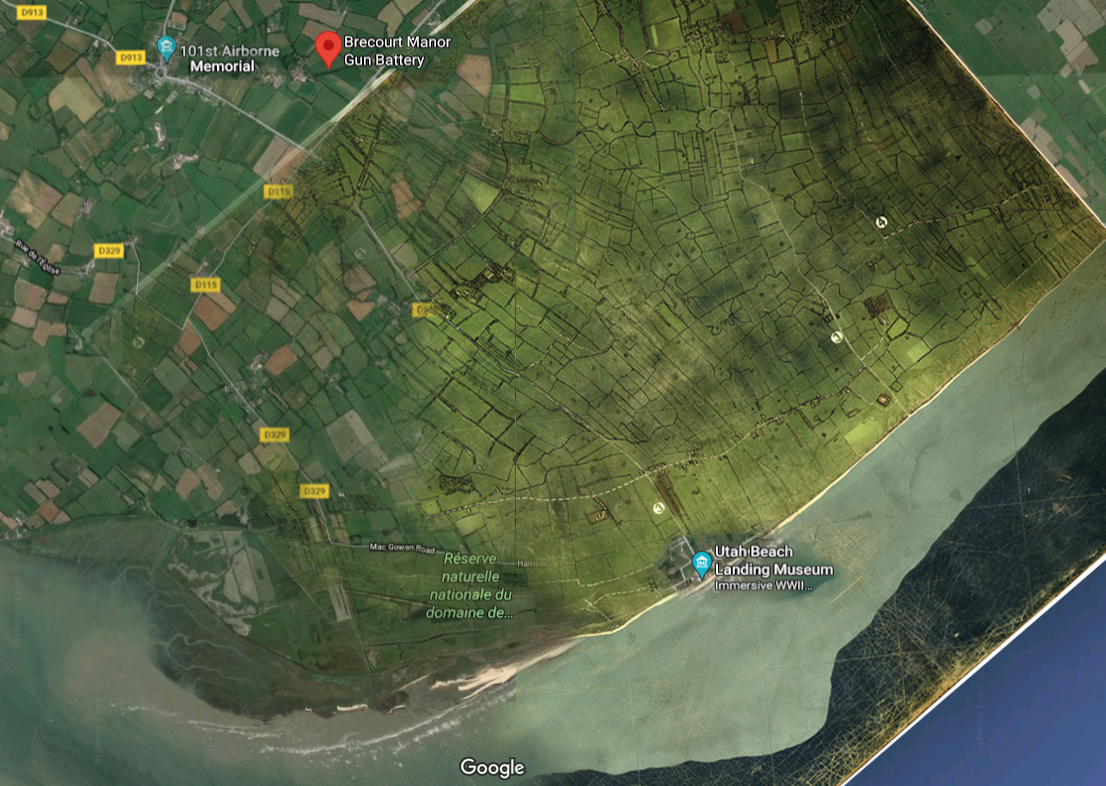 And that is one man's word on…
The Amazing Rubber Map of Utah Beach
Aerial photos from that "day of days."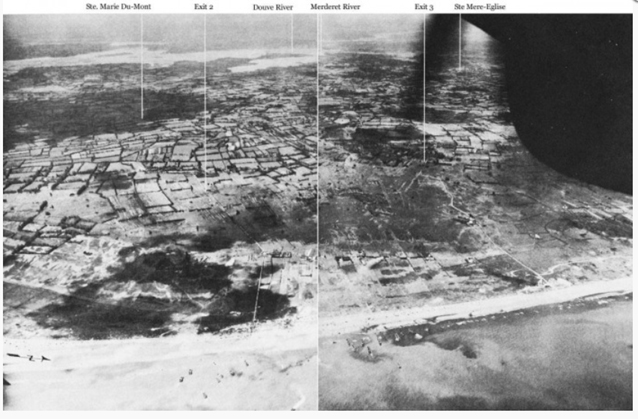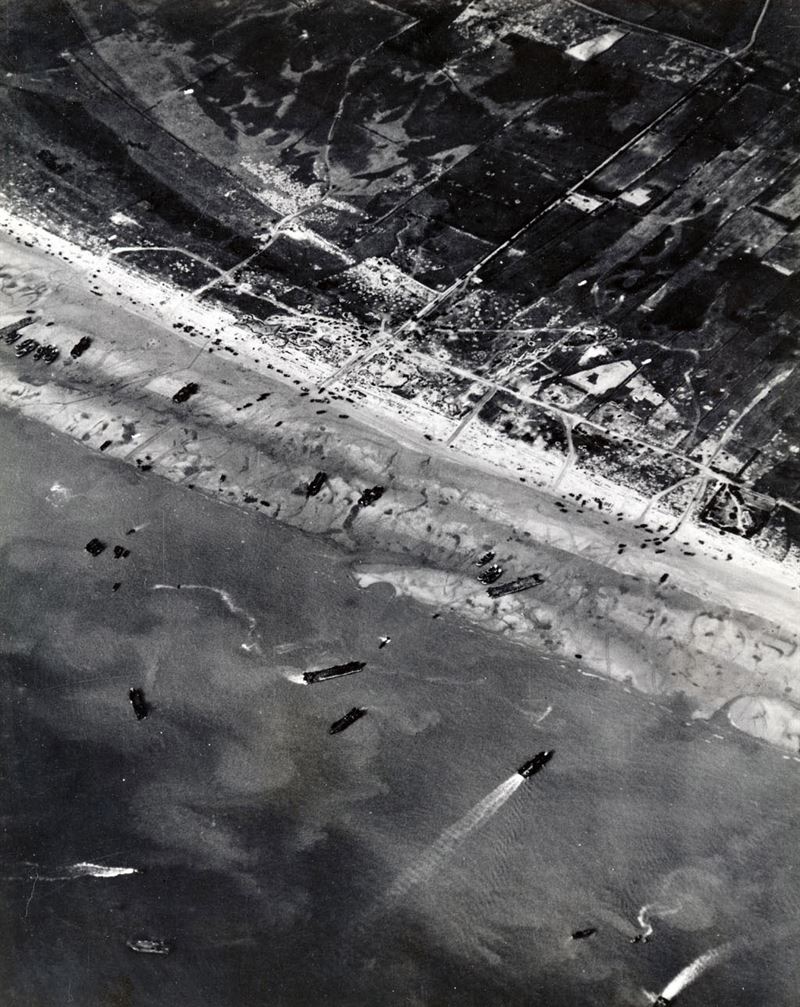 Further Reading
Library of Congress conversation with Charles Lee Burwell
The American Memorial at Utah Beach