It says a lot about Chris Thile as an artist and a man that he is awarded a MacArthur Fellowship "genius grant" in 2012 with the handsome cash prize, and a year later he chooses to get back together with his old band, Nickel Creek, who he first hooked up when he was 8 years old, back in the early 90s, and who provide him more of a team-player ensemble role than any other collaboration he has been involved since.
But there was plenty of brilliance flashing from Thile's mandolins, even if he was content to lace things together more than cover the various tunes in ribbons and bows.
Nickel Creek last toured some 7 years ago, but I guess Thile got the 7 Year Itch in reverse, and from the talk on stage tonight at Brooklyn's Prospect Park Band Shell, this is less of a reunion tour than a new beginning.
Sara Watkins' angelic voice filled the darkened band shell with pure radiance, and her brother Sean's fluid guitar runs with their in the moment crescendos, and the lilt of his high lonesome singing melded with Thile's righteous tenor rafters, so that the trio brought tears to eyes and goosebumps to napes over and over.
But good golly those kids can PICK!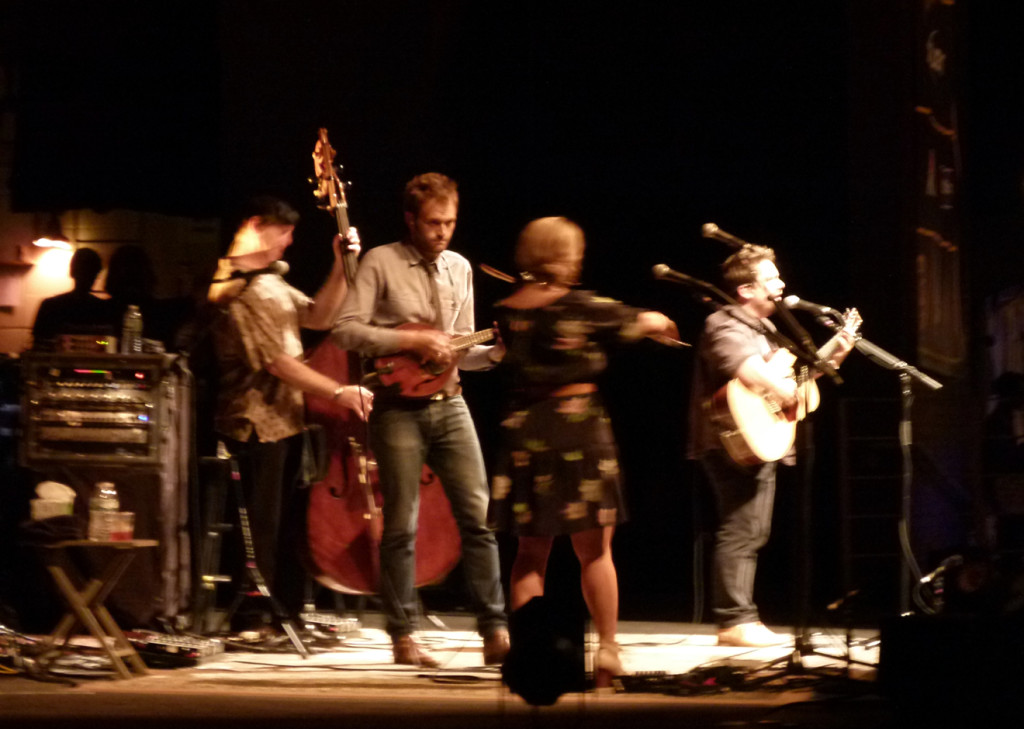 Kids? The Sean Watkins is old enough to run for president and Thile and Sara Watkins will be in a couple of years. And yet, they were fresh as daisies in their sheer joy of lighting up an audience and each other, even if their chops were far beyond their years.
And with Mark Scatz providing a full bodied bottom end on the basement fiddle, they tore it up. But just as often they would hang out in the air, or cast a line out into the audience and slowly pull it in, only to yank it home with a sudden surge or breathtaking downhill slues of three-part, hearts-in-synch daring do.
They have a new album, but they also played plenty of songs from their five Grammy-nominated albums from back in the day.
This lady had a much better seat in Boston than I did in Brooklyn tonight. So check this OUT.

and then