"Yeah, yeah, yeah, yeahhhhh!"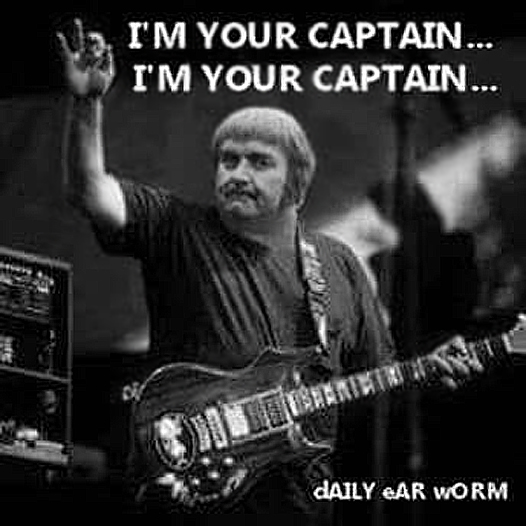 This is pretty darn clever and very funny, if you are familiar with the references here displayed.
First, the words "I'm your captain" come from a 1970 Grand Funk Railroad song of the same name, still played frequently on Classic Rock radio.
But the photo shows the body and guitar of Jerry Garcia, of the Grateful Dead, known to his fans as Captain Trips, because of that band's association with Sixties LSD culture and the musical genre known as Acid Rock.
But the head belongs to actor Bob Keeshan, known to America as Captain Kangaroo, the host of a children's television program that ran from 1955 to 1984.
Depending upon your age, you may not remember Captain Kangaroo.
He most-beloved by most American children. The Walter Cronkite of the pre-schooler set.
But then, if you don't know Captain Kangaroo, you may not know much about "Uncle Walter."
Walter Cronkite was once "the most trusted man in America," trusted by the American people even more than the President of the United States, at a time when that was really saying something.
And during his tenure as the face of American journalism, America went from the idealism of towering figures like Eisenhower and Kennedy to the tarnished figure and flawed ambition of Nixon, who still seems a giant of international diplomacy and political savvy compared to the abysmal abomination we are left with today.
As for Captain Trips, you may not remember him very well either, if all of this is new to you.
But when it comes to far out trips of a musical nature, few compare with the free-form composition "Dark Star," from the 1960s, it is here performed in the late '70s.
But that is a bit much, I have included another video below, of a somewhat more conventional medley performed around the same time.
Peace
Now see? Isn't that meme funny?