The US Department of Labor accused State Street Global Advisors (SSGA), which paid for the Fearless Girl, of not paying hundreds of female executives on par with male executives.
While there's nothing new about that sort of thing in the white collar world, this time it is the company that crowed about their support for women in the workplace, when they commissioned and installed the statue of the Fearless Girl facing off the famous bronze Wall Street Bull on lower Broadway in New York City.
While denying they were not in compliance with specific regulations covering government contracts, the Boston firm State Street (SSGA) has agreed to pay out $5 Million dollars in a settlement stipulated in this USDoL Conciliation Agreement.
According to the story at BBC Business, the settlement also covers the underpayment of 15 African-American employees, compared to their white colleagues. This was all the result of a 2012 financial audit. State Street reportedly said they just wanted to put the situation to rest.
Artist Kristen Visba said that her metal sculpture of the child with arms akimbo as she bravely faces the much larger bull statue represented the future.
Many critics of the installation responded by saying the Fearless Girl statue was nothing more than a marketing stunt, since it was paid for by a major investment firm. Those critics included Arturo Di Modica Di Modica, the artist who made the bull statue, which was unveiled in 1989 in tribute to the American economic recovery following the 1987 stock market crash.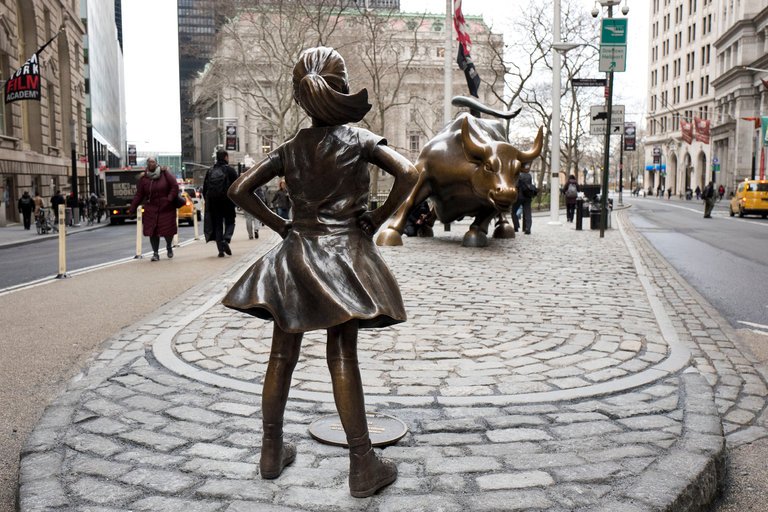 photo: New York Times