Can you find your hometown river on this map of  Untied States, made up entirely by American rivers?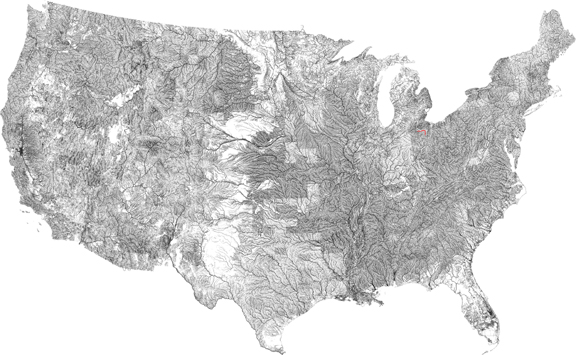 I was able to identify the Continental Divide easily enough. That is where rivers change from flowing toward the Atlantic and Caribbean to rivers that empty into the Pacific. And some of the major waterways are immediately recognizable, as are some state borders created by American rivers. But it is amazing to see just how many individual rivers there are in this one nation on the planet Earth.
It took some scouring of satellite maps, but I was able to find mine own hometown river – the Blanchard, in northwest Ohio. It is highlighted in red, although you may need to click on the map to enlarge it enough to make that out.
Queghtuwa was one aboriginal name for this tributary of the Auglaize, which feeds the Maumee on its way from Ft. Wayne, Indiana to Toledo, Ohio, where it empties into Lake Erie. I must confess, until I saw this map of the continental U.S. made up entirely of rivers, I had no idea exactly where the Blanchard started and where it ended. I just watched it roll by throughout my formative years, when I wasn't swimming in it.
Rivers are taken for granted these days, but they have been at the heart of human civilization since prehistoric times. Where there's water there is life. And where there is a river, there was fish, game, irrigation, and arteries to transport goods and people with relative ease for millennia before airliners and motorways, railroads and stage coaches, or even oxcarts and chariots.
Their earlier importance remains with us today, in all the territorial boundaries that include rivers, as well as all the many names of places and things named after rivers, from the Rhineland, to Thames Television, to the Ebola virus.
Where I come from, Blanchard Valley was used as a title for everything from recreational areas to the hospital where I was born. But one would be hard pressed to find any sign of a valley there. After a glacier sat its keister on the area for several centuries, the highest peak in the county is the man made reservoir. But meandering there through the pancake flat landscape was the most interesting geographic feature, the lazy, brown Blanchard River.
Named after a Frenchman who settled among the Shawnee Indians sometime after the American Revolution, the Blanchard once fed the Black Swamp, which was drained long ago and tamed into fertile flat fields of corn, soy beans, and sugar beets.
In recent years the Blanchard River made the front page of the New York Times, where a photo of my cousin appeared. He was in a small boat traversing his neighborhood, which had been flooded by the Blanchard. His home was flooded twice in three years, when the Blanchard was known for flooding once every thirty-five years. It is suspected that development of outlying areas has filled in or altered the natural watershed of streams and creeks, resulting in undue pressure put upon rivers like the Blanchard.
And at a cost of over $100 million in Findlay, Ohio alone, in just one flood, it is clear that muddy rivers rise up to smite us, when we take them too much for granted.
A massive version of this map can be found at http://bost.ocks.org/mike/us-rivers.png