Earth Day 2018 review of the Martin OME Cherry
Forest Stewardship Council certified woods in harmony
Specs include: All-solid FSC certified tonewoods including cherry back and sides, Sikta spruce top with scalloped 1/4″ European spruce bracing; FSC certified select mahogany High Performance neck with Modified Low Oval profile; FSC certified ebony fretboard with 1-3/4″ width at nut, 2-1/18″ at 12th fret; FSC certified ebony bridge with 2-5/32″ string spacing; FSC certified African blackwood headstock face plate; Gold open gear tuners; Antique White on body and neck; bone nut and compensated Tusq saddle to go along with the Fishman Matrix VT Enhance NT1 electronics

"I found the overall voice delightful. Each two-string register is a thing unto its own… And when the six strings sing together, they form a choir of overtones, fundamentals and undertone that is a joy to behold and be heard."
Sweet Cherry!
The OME Cherry is an Orchestra Model size Martin guitar with onboard Electronics, made with solid FSC certified American Cherry for the back and sides. That means it comes from a forest that is being managed in an environmentally sound manner, as has been certified by the Forest Stewardship Council. In fact, all of the woods used to make this special Martin guitar are FSC certified. This includes the soundboard of Sitka spruce from the Pacific Northwest, bracing made of spruce from the Alps of Europe, and the exotic ebony and blackwood from the African continent.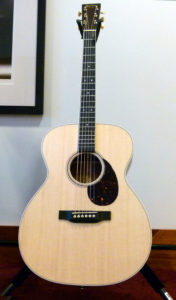 As the CEO of a company dependent upon specific natural resources to create its products, C. F. Martin IV is adamant in his commitment to supporting and encouraging such responsible stewardship of the planet's environment and ecosystems, from the endangered tropical rain forests to the woodlands of his native state of Pennsylvania, from whence comes much of the cherry that has been used for Martin guitars since Chris Martin's early days as head of the family business.
But there is no question in my mind, or ear, that this is the best sounding cherry Martin I have ever played.
Solid notes leap out of the guitar, each string distinct with its unique timbre, no matter if or where it is fretted. The high end is clean and clear, with winking, tinkling harmonics, while the bottom end is righteously round, with a nice throb that remains buoyant yet with depth and body.
I liked the prototype I played at the Martin factory from the first strum. And after I had my few minutes in the sound room to make the video, it was the guitar I kept going back to when I had a chance to be out in the lobby to shoot photos and try to get to know the various new Martins a little better. I particularly enjoyed it when I started in with various fingerpicking progressions, both the snappy-bluesy kind and the breathy, ethereal kind. It sounded new and different, and yet it was right at home with the more traditional Martins surrounding it.
While I try to avoid direct tonewood comparisons, because each tonewood has its own personality, I will venture to say that the OME Cherry, with its combination of cherry back and sides behind a Sitka spruce top that has some added flexibility from softer Alpine spruce bracing, combines the warm yet defined bass of mahogany guitars with the precise treble notes of maple.
But the deepest notes do not have quite the same weight and density mahogany provides, and there is an airy quality inside those rotund bass throbs. Just as there there is a lot of glimmer to the harmonic angels hovering around those tinsely trebles than one usually hears from maple.
I found the overall voice delightful. Each two-string register is a thing unto its own. The D and G strings have meat but little fat, and that makes the midrange straightforward yet rounder and woodier than those steely trebles; but it was the presence and presentation of the massive A and E string at the bottom end that made me smile the widest smiles, over and over. And when the six strings sing together, they form a choir of overtones, fundamentals and undertone that is a joy to behold and be heard. And there is a delicacy to the highest harmonics, like a decorative blown glass egg that surrounds the solid nucleus of the fundamental note coming off the strings. Absolutely lovely.
As far as I am concerned what makes this guitar so much better than earlier cherry models has to do with the construction. The original cherry OM and other similar Martins were made with the old Mortise and Tenon neck joint, and they had simplified bracing originally designed for their first modern attempt at a "budget model," the D-1. Regardless of what Martin said then or now, both of these entities were invented for one reason only – to cut costs. And while they are still nice guitars, they are a bit anemic in the throaty undertone department, when compared to the OMs made with the traditional Martin bracing and the full-size, hand-fitted dovetail neck joint.
In all but the least expensive Martins made today, the M&T neck joint has been replaced by the Simple Dovetail. The name is meant to suggest the large, hand-carved dovetail joint used at Martin since the 1800s. In reality, the robot-made Simple Dovetail joint is more like an improved M&T joint. But it is a serious improvement when it comes to its contribution to tone production via energy transference from the neck to the body.
And when combined with the traditional X bracing under the top, the Martins made with the SD joint have a much fuller, richer tone, with purer top notes that are less strident than any M&T Martin. This is particularly important for woods that do not have enriched undertone and harmonic complexity like the reigning champs from the mahogany and rosewood families.
Those earlier cherry models sound very nice, and their owners are quite fond of them. But none of them have the fullness and richness of tone as this guitar, with its purer top notes, and bottom end depth, and generally more character and charisma. Cherry has reached its true potential in this design.
Granted, my ear is partial to OMs. They are made with Martin's 14-fret Auditorium size, and light 1/4" bracing injected with energy from the extra string tension of a long-scale neck, as opposed to 14-fret 000s that have the same body size, but are made with a short-scale neck and often thicker bracing. The OM design has considerable projection, string to string balance and separation, and an expansive echoy resonance, compared to the more-gathered and straightforward punch of a 000. And this OM creates a spacious soundstage in which to perform its music.
Like all good OMs, the OME Cherry responds marvelously well to light, nuanced playing. The "blooming" of the harmonic resonance is very pretty, and the dynamic bass, with big beach ball notes that are warm yet with a clear, open center, is very satisfying. It sounds so good and is so fun to play that one almost doesn't care at all about how nice it looks, which is very nice indeed.
Click on Photos to Enlarge
Go Figure!
Cherry is much loved for its natural figuring. A chef I know has his dining room set made from cherry for that very reason. And while the grain patterns vary considerably, it always makes for good looking guitars.
The grain on the prototype I played at the Martin factory has an arresting three-dimensionality to the look of the back. At times it seems like draped fabric, hanging down like curtains leading to some inner chamber, or even folds of feathered wings. At other times, it is not unlike an aerial photograph of an arid landscape, where the widest parts have been sculpted by wind erosion into spikey geometric shapes of reddish browns, which stack upwards in layers until they reach the lighter sandy-colored mesas along the shoulders near the neck. But in the center is a straight avenue of narrow terraces that then drop into a deep channel near the center strip. And, given the rusty tints involved, the overall effect is similar to places on Mars where geologists see evidence of prehistoric rivers. And the sides are a very good match, as it looks like they could be a cutaway view revealing the strata of sediment laid down beneath the surface, by the same vanished waters that carved out the center channel.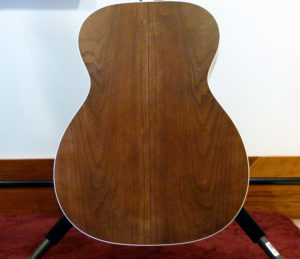 As it turns out, the same example I played was also used for the official photos sent to media and retail outlets. No two backs will be identical, so other examples may not seem like such a Martian Martin. But cherry usually has this kind of layered or feathered geometry to the grain patterns, so it is guaranteed to be interesting to look upon.
Martin has used basically the same color of stain for their cherry guitars over the years, and they like to match it with tortoise bindings. In this case it has white binding, but a sound hole rosette filled with faux tortoise that matches the pickguard very well, which makes it look like the thin black and white rings of the rosette are laid down into the pickguard. A very nice touch, I thought.
Another attractive feature is  that new Antique White binding, which they have adopted as their main binding these days. It has the less-brilliant white of the trim on a Martin that is a few decades old. But here they have also used it along the edge of the jet black ebony fretboard. Bound necks are a hallmark of fancier Martins, and here it gives the otherwise simple OM looks a certain air of distinction, as too does the burnished gold tuning machines offsetting the vintage Martin gold logo, gracing a headstock face plate of dark African blackwood, which Martin does not use nearly often enough.
And inlaid down the fretboard is the long Diamonds and Squares pattern seen on vintage Style 28 Martins, and as of this year on the newly revamped 28s in Martin's Standard Series. But in the case of the OME Cherry, the position markers are made from old timey mother-of-pearl, rather than colorful abalone. This fits very well with the binding and the Sitka spruce left to its natural color. What I have always loved about traditional mother-of-pearl is how the argent white suddenly flickers with blues and pinks, which exist only as a trick of holographic luminescence when the natural light hits the shell just right. It is one reason MoP was considered magical once upon a time.
The neck itself also had very attractive grain. While that will vary from guitar to guitar, they made a point of referring to the fact the necks are selected for their visual prowess, and likely matched to the particular set of cherry back and sides. It has the Modified Low Oval profile of Martin's High Performance Neck, which is a bit rounder than the Low Profile neck it has replaced, while being notably shallower in depth than their vintage-style V necks.
What makes the High Performance neck most different from older Martin necks is the taper of the fretboard, which starts with the 1-3/4" width at nut that has become the industry standard, but it becomes less wide as it moves closer to the body, so it is a sleek 2-1/8" at the 12th fret, rather than the 2-1/4" width of Martin's earlier OM instruments. In effect, there is a little extra room down in the cowboy chords area near the nut, while maintaining a width conducive to modern rock n roll chords and lead guitar playing in the upper reaches.
Hard Wood Realities!
Chris Martin is dedicated to helping change the way people manage the natural resources they depend upon to make a living in societies that had once been cavalier about clearing forests or hunting animals to extinction. He is likewise a realist when it comes to changing the perception of musicians who are set in their ways, when it comes to what they will accept as tonewoods. Since Martins have been made from tropical rosewoods since the mid-1800s, and mahoganies for the past century, they are the woods and sound people look for in a Martin. But domestic tonewoods like maple, walnut, and cherry have always been used for American musical instruments, and that will increase all the more so at C. F. Martin & Co., as the exotic tropical timbers become scarcer and more-endangered.
Cherry was once a very hard sell as wood for acoustic guitars. But many guitarists are attracted by the fact it is abundant and renewable, when so many tonewoods are not. And it has become more and more popular in recent decades, as people have come to appreciate its unique tonal properties. Cherry Martins have always sold well and been enjoyed by the owners, and the wood has proven it deserves to be on a Martin, sustainable wood or no.
The combination of the construction and materials used to create this new model truly make it, arguably, the best-sounding cherry Martin yet created. That is saying something, considering how nice others have sounded. For those who have been thinking of getting a cherry Martin someday, now may be the time, as these will likely sell well, and there is no telling how long the model will remain for sale, as the supplies of FSC certified ebony and African blackwood may not be constantly available, even if cherry Martins will be around hopefully happily ever after.
And that is one man's word on…
The Martin OME Cherry
List Price: $2,499. Call your Martin dealer and ask about their best price!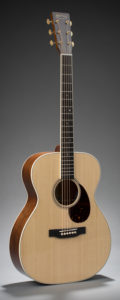 More Photos HERE
Related Reading:
2018 Martins Reviews with Video
2017 Martins Reviews with Video
~