Combining traditional and contemporary features into a one of a kind guitar, a well-thought-out Custom Shop Martin like this OM-42 Deep Body is a beautiful treasure and a magnificent musical instrument.
[Updated, with new video shot in May 2019 with the current mics and mic techniques I use for video shoots at the Martin Guitar factory.]
 "This OM-42 Deep Body is a showcase musical instrument with a sophisticated voice to match its luxurious appointments, combining classic looks of a Style 42 guitar from Martin's 12-fretter era with the powerhouse playability of a 14-fret OM made in an extra-deep body of luscious Madagascar rosewood."
Specs Include: Auditorium body size, 4-5/8" deep; solid wood construction including Madagascar rosewood back and sides; Adirondack spruce top; 1/4″ scalloped braces; one-piece, 14-fret, low profile South American  mahogany neck with slotted headstock, bound in grained ivoroid, 1-3/4" width at nut, 2-1/4″ at the 12th fret; ebony pyramid bridge, 2-5/16" string spacing; Style 30 colored wood back strip; Style 42 high-color abalone top trim, rosette, fingerboard markers; 1920s Style 45 torch headstock inlay; high-gloss nitrocellulose finish including neck; Fishman Matrix Infinity pickup system with discrete volume and tone controls inside the sound hole
The Conception and Formative Years of a Great Guitar
The serial number was stamped into the neck block in mid May, 2010. So, this guitar is turning nine years old and has provided its owner with considerable joy and satisfaction since he first received it from the Martin Guitar factory in Nazareth, Pennsylvania, four months later.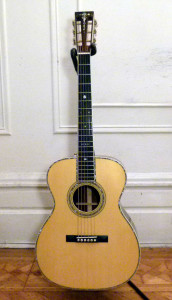 The master craftsman who chose, shaped, and inlaid the beautiful abalone shell appointments has long since retired. So too have the Custom Shop luthiers who built the instrument. The fabled guitar shop from where it was ordered has shuttered and shut, its celebrated owner having passed away. So much has changed in less than a decade, at C. F. Martin & Co., and in the American guitar market, and in the world overall. And yet, nine years is barely the beginning in the life of an exceptional and finely crafted musical instrument. I envy the future owner of this guitar when its age is comparable to the pre-war Martins so coveted today.
The initial design concept for this particular instrument was to combine the best properties of two different vintage Martin guitars: the glittering, ornate aesthetics of a classic Martin 12-fret 00-42 from the 1920s with their 14-fret Orchestra Models that revolutionized the guitar world in the early 1930s. And graced by the torch headstock inlay used for top-of-the-line Style 45 Martins in the '20s and on the OM-45 guitars made only in 1930.
It was to have the advantages of the OM design, while increasing the depth of the sides to effect a larger sound chamber, and create some of the extra volume and fuller bass response that 12-fretters provide. Basically I wanted a versatile elite guitar that could front a band in concert as well as any dreadnought, for vocal accompaniment and lead guitar solos, without the bulky dreadnought body, and still achieve the charming intimacy and resonant responsiveness of an OM when performing solo guitar music.
The results exceeded my every expectation.
But that band also disbanded in the intervening years, and despite giving up vintage V necks for the ergonomic Low Profile of the contemporary OM-42, my old football injuries continued to deteriorate so that I had to convert to narrow necks with a shorter string scale. And this cherished creation and collaboration with old friends at C. F. Martin & Co. is to be sold to someone who can appreciate and make the most of its many special qualities, which remain worth celebrating.
Customizing Guitar Perfection
Searching the world for the right guitar will turn up many instruments well worth playing. Some guitarists find examples to their liking, but wish they had a different shape to the neck, or different aesthetics and so forth. Sometimes they are lucky enough to find a dealer who has ordered a customized guitar to their liking. Others opt for ordering their own custom-made instrument, to have a go at designing a guitar and to insure the exact specs that should meet their heart's desire. And many like the idea of knowing such a guitar was made expressly for them alone.
C.F. Martin & Co. has a long history of making customized musical instruments for discerning guitarists. For most of the company's history they were simply referred to as special orders. Typically, a customer would write a letter to Martin with their request, and the contemporary Mr. Martin would decide to honor the request or not. More often than not, the answer was a polite no.
Special orders at Martin became extremely rare after the Second World War, until they instigated an official Custom Shop in 1979. While the manager of the Custom Shop coordinated customer orders, the custom Martins themselves were built out on the factory floor, alongside the regular catalog models, albeit by veteran employees assigned to Custom Shop work. Martin felt it was better to keep their best craftsmen alongside newer employees, to set examples and be available to answer questions.
Today, the guitar makers of Martin's Custom Shop work in their own area apart from the main line, where they focus exclusively on custom orders and making of the exacting vintage replica guitars of Martins Authentic Series. The wait time for a custom Martin is typically quoted at about six months, but some specs, like pearl top trim or custom inlays can add many more weeks to the actual completion time.
A Special OM Perfected
When ordering a custom Martin, one must choose an existing Martin model as a starting point, and it is wise to choose well, as each spec customized to meet the customer's desire increases the final cost.
This exquisite example of Martin Custom Shop chops was based on the OM-30 Pat Donohue model. Donohue is a Grammy-winning National Champion guitarist who was also a long-time member of the house band on Public Radio's A Prairie Home Companion. His artist signature model was the first Martin offered for sale in the deep body OM design. It was made from Indian rosewood for the back and sides and a top made from high grade Adirondack spruce. It is also the first instrument to appear in Martin's catalog since the early 1920s made in Style 30, which features high-color wood marquetry for the top trim and back stripe.
For this custom shop guitar the customer took the Donohue design and re-imagined it with upgrades and ergonomic features.

Mad About Madagascar
For the back and sides, the Indian rosewood found on the Donohue has been upgraded to Madagascar rosewood. With its reddish tint, often lavish figuring, and wide-reaching tonal complexity, Madagascar rosewood has both a physical beauty and tonal properties similar to Brazilian rosewood, which was the first choice for top shelf Martins until the mid-twentieth century, when furniture makers and clear cut farming along Brazil's coastal lowlands had rendered it all but extinct.
Brazilian rosewood is listed as an endangered species and its use adds thousands of dollars to the price of a guitar, as legal supplies are limited and its trade tightly controlled. It is prized for its attractive looks, but more so for the richness and complexity of its tone.
Madagascar rosewood has received similar trade restrictions, after a political coup d'état in that island nation resulted in an outlaw government that refuses to abide by international environmental treaties. Martin's supply of this rare and uniquely gorgeous tonewood is therefore finite, having been acquired only during the years when it was legally available.
Madagascar rosewood is a bit drier in tone than Brazilian, with a special high-end chime that reminds me of mahogany. But Madagascar is a true rosewood, offering an open yet richer low-end undertone than mahogany. And it has classic rosewood complexity in terms of harmonics, which overlaps with many tonal properties heard from Brazilian rosewood.
While Madagascar is often seen on guitars with wild grain patterns, this Martin has more traditional looking wood, with sides that have very straight grain, much like the quartersawn Brazilian rosewood of bygone days. The back features straight grain as well, but with greater color variation and impressive figuring. It has some long, bookmatched blackish lines, which are even more reminiscent of rosewood from the coastal lowlands of Brazil, while there is some tell tale "feathering" in the grain that gives away its origins from east of Mozambique.
Top Shelf Adirondack
Eastern Red spruce, known colloquially as Adirondack spruce, was the choice at Martin until the post-war era, when wood suitable for soundboards had basically been farmed out, and it was replaced with the more plentiful and cheaper Sitka spruce from the Pacific Northwest. Today, Adirondack has returned to prominence now that sustainable forestry has allowed for trees old enough to supply top wood of the correct size and grain stiffness. And the top on this OM is a wonderful example.
Like other high-end Martins made with Adirondack, this top is straight and perfectly bookmatched with sections of reddish grain lines standing out from a pure and creamy background, each corresponding to the sections of grain lines on the other side of the top. And much like Adirondack found on pre-war Martins, there is a consistent wash of fine cross grain that suddenly stands out when the light hits the spruce just right.
Both the Madagascar rosewood and the Adirondack spruce were selected from the stacks at Martin by one of company's veteran wood buyers, who has many years of previous experience working in the Custom Shop. Although Martin claims wood grading is purely cosmetic, even the lowest grade of wood used to make a Martin is better than most wood found on guitars in typical musical instrument shops.
Gourmet Tone Feast
Adirondack is my favored top wood to match with Madagascar rosewood, as its unique properties of focused, pristine clarity bring out the very best of that special Madagascar musical chime in the trebles, while allowing the optimum definition for increased complexity in that rosewood bottom end.
From the first strum there is a stark ring to the fundamental voice, each note sounding pure but with pronounced substance, clear yet dense, like sonic diamonds. And with each steely note ringing off a string, an expanding reaction blooms from an echo beneath that top voice, and a woody hum is heard deeper down. Up top, a shining choir of lofty overtones comes to life. This guitar shows off the most sophisticated type of Madi-Adi tone.
While dense and smoky underneath, some Martins with these tonewoods come off darker. While woody, some sound more old-timey. This deep body OM has a voice that glints and chimes, and is more the aural jewelry box than the old wooden sea chest kind of Martin. There are finely sculpted top notes, spawning rich but nicely defined sympathics that reflect from the stiff Adirondack, and as a strum completes or a chord hangs in the air, glimmering harmonics form like sprites above a storm, which I often refer to as the Adirondack angels. And that will all increase with maturity.
Braced for Action
The top is supported by the same bracing pattern and scalloping as OMs in the former Vintage Series, as well as the Standard OM-42. This means it has 1/4″ bracing, which help give OMs their unique sound, as they are narrower and lighter than bracing found on other Martins like a dreadnought. But the Standard/Vintage Series OM braces were scalloped with the same amount of wood removed during the shaping of each brace as typically found on dreadnoughts with scalloped braces. The result is an OM that doesn't need to be played delicately to prevent overloading the soundboard. It can take a serious attack from a very heavy hand and respond with great power, simply asking "Is that all you got?" In fact, it loves medium gauge strings. But I tend to use lights due to repetitive stress issues.
So the dynamics are similar to that of the now retired OM-28V and OM-18V, and the Laurence Juber signature models. It has very fat fundamentals with a lot of kick when a player digs in and plays hard. But that Madi-Adi combination allows lightly struck notes to retrain a pure top note surrounded by a host of resonant tone. It is a voice as lovely in its delicacy as it is impressive in its powerful majesty. And that is increased all the more by the special deep body configuration.
Deep Body in Shape and Tone

With its combination of a long-scale 14-fret neck and lightly-braced auditorium size top, the Orchestra Model design introduced in Martin's 1930 catalog ushered in the era of modern acoustic guitars. It is considered by many to be as perfect a guitar design as yet invented.
The extra string tension from the long-scale upon the relatively small soundboard, with a small maple bridge plate and scalloped 1/4″ tone bars to increase resonance, provide the volume, sustain, string to string balance, and added projection thought ideal for playing fingerstyle guitar, which feature multiple parts played by a single guitarist. But that extra power from the long-scale neck makes OMs versatile enough to satisfy strummers and flatpickers, all from a guitar that's compact enough to play comfortably when seated on a living room sofa.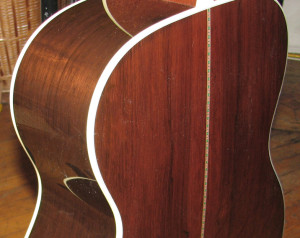 The traditional OM has nearly perfect string to string balance. But compared to extra-large guitars like dreadnoughts and jumbos, the OM just doesn't have the throb at the very bottom that some people crave. One reason for this is that the A (5th) string is actually the dominant bass string, so that low E (6th) string doesn't swell out over the other strings the way it can in larger guitars.
The solution is found in the deeper body. It increases the depth of the instrument's sound chamber 1/2″ beyond the traditional 4-1/8", which in turn increases the overall volume of the guitar, while it also increases the presence of the lowest lows, so they stand out when playing with other musicians, and that low E string is boosted just enough to satisfy an ear that likes the bigger bass of a dreadnought, but not its physical bulk or the shoulder strain that can come from reaching over such a large body. And yet it still sounds like an OM, only more so.
This is an OM that can be turned up to 11, and it tends to cruise with a bit more horsepower. In other words, the overall voice is "bigger" than other OMs, while the extra presence in the low end is notable, but doesn't tilt the balance of the voice out of whack the way a dreadnought does. Rather, it adds just enough to be, perhaps, the ideal non-dread for dread lovers.
With clear and ringing authority, a powerful punch, stellar definition, shimmering overtones, and a resonating undertone of colorful complexity, there is an opulence and sophistication to the overall voice that seems indeed fitting for its ornate appointments.
The Shimmer of 42
Although this guitar is a 14-fret OM, it was made with the pyramid bridge and slotted headstock traditionally found on 12-fret vintage Martins. Scholarship has shown that the very first 14-fret Martin that became the OM design in 1929 had in fact both a pyramid bridge and a slotted headstock. And in the center of this headstock is an exquisite torch inlay, used on only the very best Martins up through 1930. Other features inspired by old high-end Martins include high color abalone shell purfling inlaid around the top and fingerboard extension, and the sound hole rosette, as well as the ornate cats eyes, snowflakes and diamonds inlaid on the ebony fingerboard, in the Style 42 pattern established in the era of the 12-fret Martins.
With the most premium woods, and the ornate inlays and top trim of shimmering abalone shell, Martins made in Style 42 were the top of the line throughout the 1800s and early 1900s. A deluxe version appeared on two 00-42s just after 1900 featuring pearl trim on the back and sides, as well as even fancier inlays. This later became known as Style 45, which remains today as the top of the line from Martin's Standard Standard to their lofty Authentic Series.
Style 42 continued to be made from the best materials, but 42s cost considerably less than 45s due to the man hours involved in that extra inlay. But with the exception of a few special orders, Style 42 remained exclusive to the traditional 12-fret guitars, rather than the 14-fret designs, until the 14-fret 000-42 appeared in 1938. But it too was made in small numbers, until Style 42 was retired with all other fancy Martins in 1942, as America entered the period of austerity that came with the Second World War.
Style 45 was revived in 1968, and Style 42 followed shortly after, which allowed Martin to offer the same woods on a Style 45 guitar at a considerably lower price. While Style 45 used modern trim and large hexagon fretboard markers, Style 42 brought back the fancier trim originally used on those old top-of-the-line 12-fretters.
Pearly Wonder
The glint and glow of the pearl inlaid on this guitar offers every color seen in abalone, with greens and golds, blues and purples, red and magenta, where many guitars only offer but a couple of colors beyond the basic mirrored silver. I particularly enjoy how so much more color comes out when reflecting the full spectrum of natural sunlight.
One extra-lovely touch is the fact the dot markers on the side of the ivoroid-bound neck are also made from tiny bits of abalone that add that much more glittering to the overall aesthetic. But they also serve the performing musician, as they pick up light and reflect brightly when on stage, in otherwise dim light or colored light that normally would render side dots invisible. I have Pat Donohue to thank for this important feature. And there is a double dot at the 12th fret, making that important position all the more obvious.
Ergonomic Playability and Performance Electronics
The Pat Donohue model was made with an extra-wide 1-13/16" neck width that had a modified V profile at the back. This custom OM-42 Deep Body was built with the normal OM neck width of 1-3/4" and the modern Low Profile neck found on the Standard OM-42 at the time this instrument was ordered. It retained the Donohue's unique Style 30 back strip, as well as its 2-5/16" string spacing at the bridge, the same spacing found on the popular OM-28V and the OM-28 Authentic 1931.
It also has a gold strap button installed on the bass-side shoulder, rather than on the underside of the neck heel. This is a common practice among professional musicians who are required to play lead guitar up in the highest frets, as it keeps the strap and button from getting in the way.
And installed inside the guitar is the Fishman Matrix Infinity pickup system, which features an undersaddle pickup with discrete volume and tone controls hidden just under the lip of the sound hole for easy onstage adjustments.
This OM-42 Deep Body is a showcase musical instrument with a sophisticated voice to match its luxurious appointments, combining classic looks of a Style 42 guitar from Martin's 12-fretter era with the powerhouse playability of a 14-fret OM made in an extra-deep body of luscious Madagascar rosewood.
And that is one man's word on…
Martin Custom Shop OM-42 Deep Body Slot Head
More Photos HERE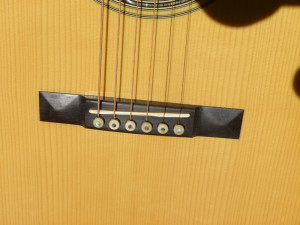 Other Martin Reviews
Authentic Series – in-depth reviews of all of them
Read more about C.F. Martin & Co. HERE
Read our primer about Martin Model Designations and Naming Conventions HERE
And here is the official spec sheet from the Martin Factory:
Body Size: 000-14 Fret (1/2" Deeper)
CUSTOM with CASE 533E Cabernet
SPECIAL INSTRUCTION:
LABEL: none
CONSTRUCTION: Standard; Mahogany Blocks/Dovetail Neck Joint
BODY SIZE: 000-14 Fret (1/2" Deeper)
TOP: Adirondack Red Spruce
TOP BRACES: Adirondack/Scalloped 1/4"/Standard
PATTERN: OM #6A
TOP BINDING: 6/32" Grained Ivoroid
TOP INLAY: .049" B/W/B Boltaron/.066" Poly/ .049"B/W/B Boltaron
TOP PEARL: Style 42- .064" Select Abalone Pearl
ADDITIONAL TOP INLAY: None
ROSETTE: Style 45; First Cut @ 4.063"
PEARL INLAY: .064" Select Abalone- 5 Piece
ADDITIONAL ROS. INLAY: None
PICKGUARD: NONE
PEARL INLAY: None
BACK: Solid Madagascar Rosewood
BACK PANELS: 2 Pc.
PURFLING: Style 30- Multi-colored
CENTER STRIP/LOC. STAMP: Sitka Spruce Standard(CF Martin & Co Nazareth PA Made in USA Btwn 1st/2nd Brace)
CAUTION STAMP: None
BACK BINDING: 6/32" Grained Ivoroid
BACK INLAY: .0325" B/W Boltaron (Black faces binding)
BACK PEARL: None
ADDITIONAL BACK INLAY: None
SIDES: Solid Madagascar Rosewood
SIDE INLAY: None
SIDE PEARL: None
ADDITIONAL SIDE INLAY: None
ENDPIECE: Grained Ivoroid
ENDPIECE INLAY: .0325" B/W Boltaron (Black Faces Ivoroid)
ENDPIECE PEARL: None
ADDITIONAL EP INLAY: None
BLOCK: Solid Genuine Mahogany
TAG/PLATE: None
REAR: D Mahogany
FRONT: D 14 Fret Adjustable Mahogany
Line 1: C. F. Martin Logo
Line 2: CUSTOM
Line 3: Serial #
Line 4:
Line 5:
NECK: Select Hardwood
NECK SHAPE: Low Profile
HEADSTOCK: Slotted/Square Slots/6 String Diamond/Square Taper
BACK/HEAD STAMP: C. F. Martin & Co. Nazareth, PA
TRUSS ROD: 2-Way Adjustable 356mm
HEELCAP: Grained Ivoroid
NUT: Bone
ON ANGLE/FLAT: Flat
HEADPLATE: Solid Madagascar Rosewood
HEADPLATE DECAL: None
HEADPLATE BIND: .0625" X .060" Grained Ivoroid
HEADPLATE INLAY: .0325" B/W Boltaron
HEADPLATE PEARL: Torch Pattern- Select Abalone
ADDITIONAL HP INLAY: None
TUNING MACHINES: Waverly Brass 3500 (W48) w/ Small Ivoroid Knobs (Drilled in Machine Room)
FINGERBOARD: Black Ebony
RADIUS: 16"
SCALE LENGTH: 25.340" (25.4")
WIDTH AT NUT: Unbound 1 5/8" Bound 1 3/4"
WIDTH AT 12 FRET: Unbound 2 1/8", Bound 2 1/4"
FRET WIRE: G300
FRETS CLEAR: 14
TOTAL FRETS: 20
FINGERBOARD BIND: Grained Ivoroid/Mitered
FINGERBOARD INLAY: None
PEARL INLAY: Style 42 Snowflakes (Abalone)
ADDITIONAL FB INLAY: None
SIDE DOTS: 2mm Paua Abalone Pearl Side Dots
SIDE DOT POSITION: One at 3rd, 5th, 7th, 9th, Two at 12th, One at 15th & 17th Frets
FINISH TYPE: Full Gloss
FINISH BODY: Gloss/ Dark Filler
FINISH TOP: Gloss, Aging Toner (Mask Pearl Only)
FINISH NECK: Gloss/ Dark Mahogany Stain/ Dark Filler
BRIDGE: Black Ebony
STYLE: Pyramid w/ Drop-in Saddle
PEARL INLAY: None
ADDITIONAL BR INLAY: None
STRING SPACING: 2 5/16"
SADDLE: 16" Radius/Compensated/Fossil Ivory
ELECTRONICS: None
STRAP BUTTON: None
STRINGS: MSP 4100 Light Phosphor Bronze
BRIDGE PINS: Bone w/ Select Pearl Dots
END PIN: Bone w/ Select Pearl Dot