Modern Martin guitars converted to vintage Martin specifications
New for 2017, this series celebrates seriously great guitars
In recent years, the Martin Guitar Company has taken various Martin-made instruments from the relatively recent past and converted them to varying degrees of specifications associated Martins made even earlier in their history. Usually the goal is to take guitars the 1950s or 1960s that have with now-rare Brazilian rosewood for the back and sides, and then replacing the top and often the neck, to end up with a guitar similar to those made in the fabled pre-war years of Martin's Golden Era.
Elsewhere, various craftsman have earned high reputations by upgrading various rosewood Martins in Styles 28 or 21, or even 35, with the abalone inlay that turns them into Style 42 or Style 45, or even more unusual costume appointments.
None other than Mike Longworth made a name for himself doing this very thing for a variety of players, including some of the biggest names in Country Music during the 1960s. He was so admired for his pearl inlay skills that Martin hired him and brought him to Pennsylvania when they brought back the pearl-trimmed D-45 and OM-45 in 1969.
Some of the most highly respected conversion experts out there today are retired employees of the Martin factory, while others learned their trade elsewhere.
While Martin has made various Style 45 instruments out of older 28s or 21s, to offer for sale at the NAMM Show, etc., other guitars were converted for private owners.
Sometimes a guitar is acquired intact, specifically to convert it, as was the case of a 1969 D-21 that the Martin factory converted to is basically a D-28 Golden Era vintage replica for Boo Reiners of the Demolition String Band.
More often, the original instrument has suffered from years of wear and tear until its original top is untenable, or even missing altogether, as was the case with the rosewood shell from a 1966 D-28 that I purchased without a top or neck, and with one side stoved in, just so I could have it resurrected with a pre-war style Adirondack top by Brothers Music, of Wind Gap, Pennsylvania.
That cherished instrument will be featured in this new series in the coming weeks, as well other conversions, including a very special 12-fret D-45 conversion from a Brazilian rosewood D-35S, which is still on a workbench back in Pennsylvania.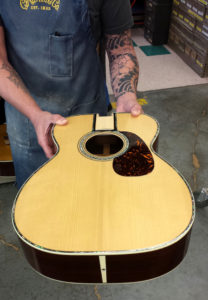 Here is a list of various reviews and articles of conversion guitars, with the most recent at the top.
1953 000-28 Converted to 1939 000-42 specs
1969 D-21 converted to D-28 Golden Era specs
more to come…