Grand Performance from Martin's 15 Series' GPC-15ME
Versatile mahogany top tone at a great price
Specs include: Grand Performance body size with cutaway; solid wood construction; African mahogany back, sides, top; 5/16″ scalloped forward-shifted bracing; mahogany High Performance neck with Modified Low Oval profile, Indian rosewood bridge and fingerboard with High Performance taper, 1-3/4″ at nut, 2-1/8″ at 12th fret, 2-5/32″ string spacing; satin finish, open back tuners with butter bean knobs; Fishman Matrix VT Enhance N2 electronics
"I am pleased as punch at the punch from the GPC-15ME's midrange, and how it is hugged by a cuddly bear of mahogany warmth in the bass. And my ear loves being tickled by the sweet, sweet laugh of the 15 Series treble notes that make me want to reach out and pluck them from the air."
~
A Grand 15

My last review before the 2017 models are released Martin's GPC-15ME, which has a Grand Performance body size with a Cutaway on the treble side, made in Style 15 with all-solid Mahogany, and an on-board Electronic pickup system.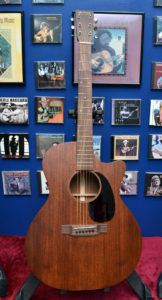 Fashionably late to the party, the curvy shape of Martin's Grand Performance body arrives decked out in the rich chocolate browns of 15 Series' solid mahogany, all the way around – back, sides, top, and neck, set off by solid Indian rosewood for the bridge and matching fingerboard, its long, sleek neck adorned with shimmering diamonds of abalone, in the timeless short-pattern array, matching retro chic with a contemporary silhouette, and economic good sense with stylish minimalism, channeling the dollars spent directly toward beautiful wood and lovely tone.
When it is time to plug in, that tone is interpreted and amplified by the Fishman Matrix VT Enhance pickup system, which combines an undersaddle pickup with a soundboard transducer, and discrete volume, tone, and blender controls set just inside the sound hole.
The first modern body size used at Martin that did not evolve from their traditional nineteenth-century designs, the Grand Performance comes from the "small jumbo" instruments that appeared in the 1980s and have gained in popularity ever since.
With a depth greater than Martin's 000 and OM models but shallower than their Dreadnought and Jumbo models, the Grand Performance has a lower bout width of 15-3/4", which is 1/4″ less than the jumbo and 3/4" wider than the OM/000 top. The general tonal characteristics feature a bit more volume and bass response than an OM, while being more balanced than a bassy Dreadnought and not nearly as massive in size as a Jumbo.
The GPC first appeared in the Performance Artist Series of contemporary acoustic-electric guitars, which debuted in 2010. It made its way into the affordable Road Series in 2015, and at Summer NAMM in July, 2016 it joined the Standard Series, featuring traditional Martin designs and construction. And now it has finally appeared in that best bang for the buck in all-solid-wood Martins, Style 15.
And about time too!
Click on Photos to Enlarge
A Grand Success

The recent appearance of the Grand Performance body size into Standard Style 18, 28, and 35 was likewise over do. And those guitars are all very impressive indeed. But I must say this GPC-15ME is my favorite Grand Performance Martin since the 2011 NAMM Show Special GPC-42 Amazon rosewood extravaganza, which was extremely limited in number and in those who could actually afford to buy one, as David Crosby did. The lucky fella. I see the GPC-15ME as that guitar's very worthy opposite.
Where that outrageous limited edition was festooned with pearly opulence and mirrored high gloss finish, this new GPC focuses the aesthetics on beautiful wood, limiting the trim to a slender rosette, along with the short-pattern diamonds and squares fret markers and satin finish seen on the all-mahogany Martins from the Depression Era.
Where the 42's voice came from inky Amazon rosewood undertone complexity and brightly dry Adirondack spruce chimes, the 15 version is all about the direct and distinctive woody timbre heard only from mahogany timber.
Where that expensive limited edition had the traditional dovetail neck joint and traditional Martin bracing, this 15 has the simple dovetail neck joint, which keeps the price down while still providing satisfying Martin tone, and even lighter bracing featured on the 15 Series to help the hardwood soundboard maximize resonance, response and its righteous sustain.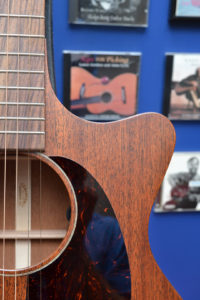 Spruce atop mahogany provides greater projection, brightness, and clarity. But a mahogany top offers a unique richness, roundness, and sustain in both the fundamentals and harmonic overtones that only gets better as the hardwood ages.
I am pleased as punch at the punch from the midrange of this guitar, and how it is hugged by a cuddly bear of mahogany warmth in the bass. And my ear loves being tickled by the sweet, sweet laugh of the 15 Series treble notes that make me want to reach out and pluck them from the air.
I have always felt the 15 Series guitars were the best-sounding Martins made with their old Mortise and Tenon neck joint. Since Martin moved to the simple dovetail neck joint on their lower-priced guitars, I feel the 15 Series guitars sound even better. And the increased bass, punchy mids, and straight forward trebles of the Grand Performance size both benefit from and add to the inherent tonal characteristics heard from Martin's Style 15.
I will tell you right now, if a 12-string version of this GPC-15ME comes out any time soon, I may be the first person in line to buy one. (Hint, hint!) Especially if it comes with the string spacing they used on the late J12-15.
And that is one man's word on…
The Martin GPC-15ME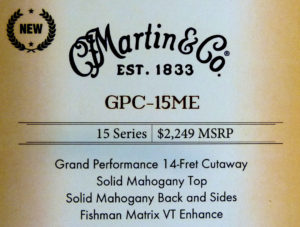 More Photos HERE
Related Reading:
Link
Link
Official Spec Sheet




Model:  OMC-15ME
Construction:  Simple Dovetail Neck Joint
Body Size:  000-14 Fret Cutaway
Top Material:  Mahogany
Top Detail:  N/A
Rosette:  Multi-Stripe
Bracing Pattern:  X Brace
Brace Shape:  Non-Scalloped
Brace Material:  Sitka Spruce
Brace Size:  5/16″
Back Material:  Mahogany
Back Detail:  N/A
Back Purfling/Strip:  N/A
Side Material:  Mahogany
Side Detail:  N/A
Endpiece:  N/A
Endpiece Inlay:  N/A
Binding:  N/A
Top Inlay Material:  N/A
Side Inlay Material:  N/A
Back Inlay Material:  N/A
Neck Material:  Mahogany
Neck Shape:  Modified Low Oval
Neck Taper:  High Performance Taper
Plek:  Yes
Nut Material:  Bone
Headstock Shape:  Solid with Square Taper
Headplate Material:  East Indian Rosewood
Headplate Detail:  N/A
Headplate Logo Style:  Script Old Style Overlay
Headplate Binding Material:  N/A
Heelcap:  N/A
Fingerboard Material:  East Indian Rosewood
Scale Length:  25.4″
Neck Joins Body At:  14th Fret
Number of Frets Total:  20
Fingerboard Width at Nut:  1 3/4"
Fingerboard Width at 12th Fret:  2 1/8"
Fingerboard Inlay Material:  Abalone
Fingerboard Inlay Style:  Diamonds and Squares Short Pattern
Fingerboard Binding Material:  N/A
Side Dots:  Yellow
Back and Side Finish:  Satin
Back and Sides Color:  Dark Mahogany
Finish Top:  Satin
Top Color:  Dark Mahogany
Finish Neck:  Satin
Neck Color:  Dark Mahogany
Bridge Material:  East Indian Rosewood
Bridge Style:  Modern Belly – Drop in Saddle
Bridge String Spacing:  2 5/32″
Saddle:  Compensated White Tusq
Saddle Radius:  16″
Tuning Machines:  Nickel Open Gear
Recommended Strings:  SP Lifespan 92/8 Phosphor Bronze Light (MSP7100)
Knob:  Butterbean
Bridge Pin Material:  Ebony
Bridge Pin Dots:  N/A
Pickguard:  Faux Tortoise
Pickguard Inlay:  N/A
Case:  Ply Hardshell
Label:  N/A
Electronics:  Fishman Matrix VT Enhance NT1
Left Handed Availability:  Yes
Ad