DSS-17 Whiskey Sunset / Black Smoke
First long-scale large body Martin in the affordable 17 Series impresses mightily
Specs include: Slope-Shoulder Dreadnought size; all-sold wood construction; mahogany back and sides; Sitka spruce top with scalloped-braces; long-scale select hardwood neck with Modified Low Oval Profile, Simple Dovetail neck joint; rosewood fretboard with High Performance taper, 1-3/4″ at the bone nut, 2-1/8″ at 12th fret; straight rosewood bridge with compensated bone saddle and 2-5/32″ string spacing; Antique White binding; ebony headstock faceplate with Authentic 1933 script logo; satin finish throughout; open-back Golden Age relic tuners with cream buttons.
Available in Whiskey Sunset burst finish with tortoise pickguard or Black Smoke motif with Antique White pickguard.

"Light in the hand yet large in the ears, the DSS-17 Whiskey Sunset I played at the Martin factory was very impressive indeed, with distinctly defined fundamental notes that have an expansive depth behind them, reflecting the dry, woody mahogany tone, and amplifying the well-rounded bass notes that are weighty enough to reach down into the generous body cavity and inject some richness beneath the entire voice."
Light, Large, and Lovely
The DSS-17 is a Dreadnought size acoustic guitar made with the Slope-Shoulder shape in Martin's Style 17 of economical solid tonewood instruments designed to emulate the affordable mail-order catalog guitars from the Great Depression. It is available in two aesthetic motifs, Whiskey Sunset and Black Smoke.
Like the rest of the 17 Series, it is constructed with non-forward-shifted scalloped bracing and Martin's Modified Low Oval neck shape paired with their High Performance fretboard taper, which has a width of 1-3/4" at the nut, but only 2-1/8" at the 12th fret, for a sleeker feel in the upper frets compared to older Martins with that nut width. But the DSS-17 is the first large-body model to be offered in the modern 17 Series fleet since it was relaunched in 2016.  After three years in the offing, a big, bold dreadnought has sailed into the 17 Series and it deserves all the fanfare it can get.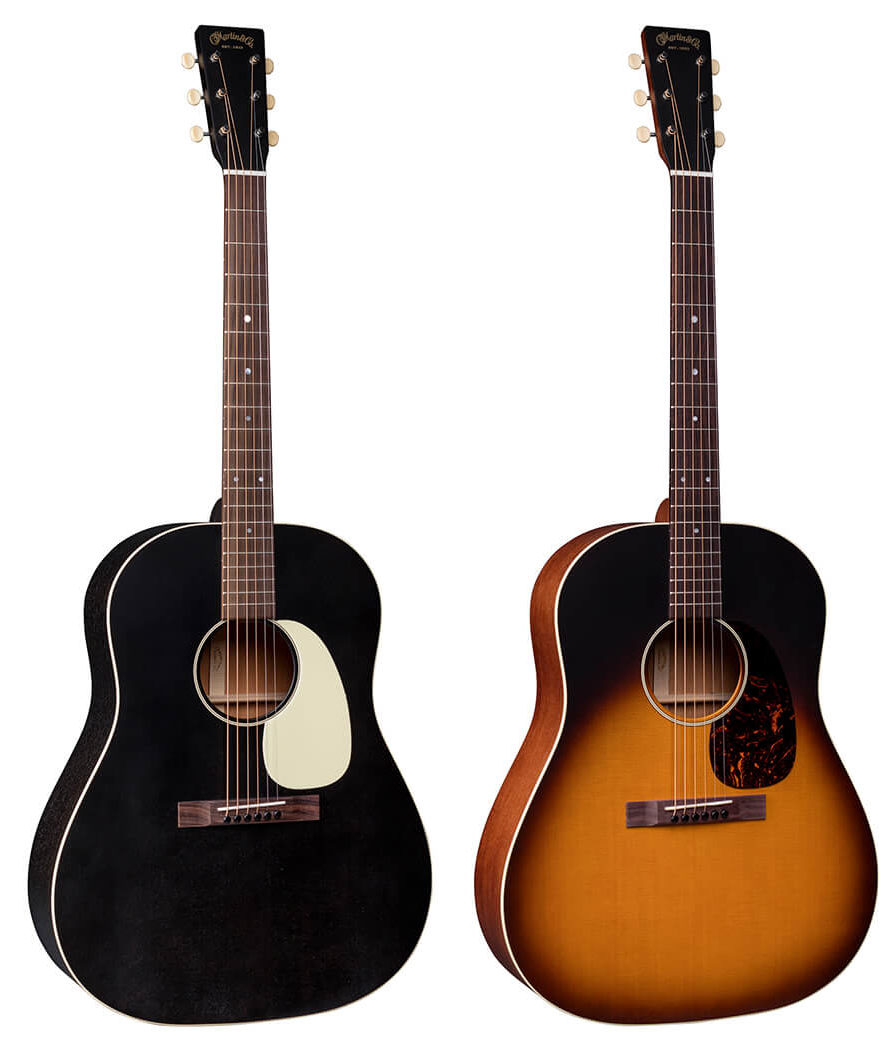 This body size has appeared on various limited editions since 2004, mainly as part of Chris Martin's CEO Series. But "DSS" was first used in an official model name only last year, for the NAMM Show Special, the DSS-2018. While the slope-shoulder DSS size may have similar cubic space inside the body compared to Martin's usual square-shoulder dreadnought, the different body shape results in a different sound.
Light in the hand yet large in the ears, the DSS-17 Whiskey Sunset I played at the Martin factory was very impressive indeed, with distinctly defined fundamental notes that have an expansive depth behind them, reflecting the dry, woody mahogany tone, and amplifying the well-rounded bass notes that are weighty enough to reach down into the generous body cavity and inject some richness beneath the entire voice.
While bassier than the other 17 Series models, the DSS-17 still offers an open, airy kind of voice. Each initial fundamental note pops with immediacy and is nicely defined from all six strings, the mid-range spanning an arid cavern, when it's not being flooded by the plump low E string. The trebles stand out, glassy and distinct when played very lightly, and yet they have a direct and punchy bark when attacked with a powerful pick. The mahogany/Sitka undertone has color but remains translucent, so that any resonant sustain fades slowly and clearly, as if carrying a torch to illuminate its decent into the DSS depths. Understandably, the smaller 17 Series instruments have neither the volume nor the bass response of this slope-shoulder dread. That enormous sound chamber beefs up the undertone considerably, so at times the classic Martin body resonance sounds like an audio engineer had switched the reverb setting on the recording console to "Large Church."
Martin chose to market the 17 Series instruments with their Retro brand strings, which are made from a Monel nickel alloy known for taking some of the edge off of dry, bright guitars. Some players feel they sound like strings that have already been played for a couple of weeks. Others hear them as sounding dull and certainly missing the flash and sheen of phosphor bronze strings. I like how they sound on mahogany guitars, and they seem to work very well with this new DSS-17, as they accentuate the warmth of the bass from what is not a particularly warm-sounding mahogany Martin. But I can see why owners may want to experiment with other types of strings to find the sound their ears like best.
Duded Up in Style
Today's 17 Series was inspired by inexpensive guitars sold by mail-order catalogs during the Great Depression and the Second World War. They were often made with less than beautiful woods, hidden under various decorations, from sold color varnishes to stencils of cowboys and other western themes, or tropical vistas of palm trees and hula girls, etc. And just as often, the woods used were not always as tone-full as these very nice Martins.
These 17 Series models offer a much better product than the bargain instruments that inspired them. They are still relatively inexpensive by Martin standards, but they are truly professional-grade musical instruments, built by master craftsmen and craftswomen, with seasoned tonewoods of a better quality than is used on the majority of acoustic guitars for sale in the world today.
The large and lovely back and sides are made of solid mahogany, sourced from species in the mahogany family from Africa. These are either sipo or sapele, depending upon availability. They are both similar in looks and tone to the Big Leaf mahogany from the tropical Americas, which is reserved for higher priced Martins in Style 18 or above due to its growing scarcity and greater economic value. I find sapele sounds a bit drier and brighter, while sipo sounds a bit warmer. I believe the guitar in my video review was made from sapele. In either case, guitars with these woods sound more like guitar made with mahogany from the tropical Americas than they don't. And certainly more so than guitars made from other tonewood families.
The top is solid Sitka spruce from the Pacific Northwest, used for all their regular guitars other than the Authentic Series of high-end vintage Martin replicas, which uses Adirondack spruce. And the fretboard and vintage-esque straight bridge are made from solid rosewood, probably Indian rosewood.
And while the 17 Series guitars use the same full complement of scalloped braces as the Standard Series instruments from the next tier up, they have that more open, airy voice, typically speaking. And while some this difference can be laid at the feet of the specific mahogany species, I suspect it is due primarily to the combination of the smaller bridge, the use of a satin finish rather than the high gloss nitrocellulose on higher end Martins, and the Simple Dovetail Neck Joint that has is smaller than the traditional hand-fitted dovetail joint that adds hundreds of dollars to the price of a Martin guitar. But for all the cost-cutting specs employed to create this DSS-17 with its warm Whiskey Sunset burst finish or cool Black Smoke motif, it is a formula for success in the tone department.
click on photos to enlarge
Contemporary Vintage
This guitar felt amazingly light when I first picked it up, after playing a D-35. Although the woods were not sawed or sanded to be thinner than normal, the vibrations can be felt coming through the satin finish from even the lightest picking, so the tone both sounds and feels like it is radiating in all directions. Even if they are not much like actual vintage guitars, the 17 Series instruments are evocative of what one might imagine a vintage guitar to play and sound like. But the DSS-17 is easier to play, stays in tune up the neck, and puts out a great deal more sophisticated tone than any pre-war mail-order catalog guitar I have ever come across.
Until the appearance of this new slope-shoulder dreadnought, the 17 Series was limited to guitars with smaller bodies, each having made its debut into the guitar market before 1940. They are the 14-fret 000-17 Auditorium size, the 12-fret 00-17S  Grand Concert size, both invented by Martin, and the 00L-17 Slope-Shoulder Grand Concert size, based on the Size L instruments invented by the Gibson Guitar Company of Kalamazoo, Michigan.
I have known about this forthcoming slope-shoulder dreadnought for some time, and I am happy it has been released at last.  Dreadnoughts from previous versions of Style 17 had the square-shoulder design that became the most copied design in acoustic guitar history. But the slope-shoulder version fits very well into this contemporary 17 Series with its pre-war sensibilities.
The first slope-shoulder dreadnought appeared in 1916, and was a 12-fret behemoth made by Martin for the Ditson department store chain. It was much larger than anything Martin sold under their own brand, until 1931, by which time Ditson had gone out of business.
But the combination of a 14-fret neck on a large slope-shoulder body was first offered to the public as Gibson's "Jumbo" models, which came out shortly after Martin's square-shoulder dreadnoughts debuted in 1934, when they changed their entire catalog to 14-fret designs.  And it was those vintage Gibsons that inspired today's Mr. Martin to release the modern DSS size, in much the same way the original Martin dreadnoughts inspired Gibson's Jumbo body shape in the first place.
Someone commented on the YouTube video about wanting to hear this new Martin alongside a J-45, its closest Gibson equivalent. But they really are not all that close. While they may seem similar to the casual observer, the different mahogany species, different neck joints, different string scale, different finishes, etc. make them more alike in looks than in how they sound. And the bracing used for the DSS-17 may be closer to what is found inside of Gibson's J-45 Vintage model rather than the J-45 Standard. And another difference is the retail price, as the J-45 Standard is over $1,000 more than the DSS-17.
Also, the J-45 is meant to be Gibson's modern day acoustic guitar. The 17 Series Martins are designed to suggest vintage guitars from a bygone era, with their "relic" tuners and palpable roughness to the finish, which is applied without pore filler, so one can feel the grain of the wood at all times, and that just feels "old-timey" somehow as a result. And it gives this new slope-shoulder dreadnought some points for retro coolness. As too does the modern version of the simple straight bridge, which is much like the bridge used on Style 17 in the 1920s and 1930s.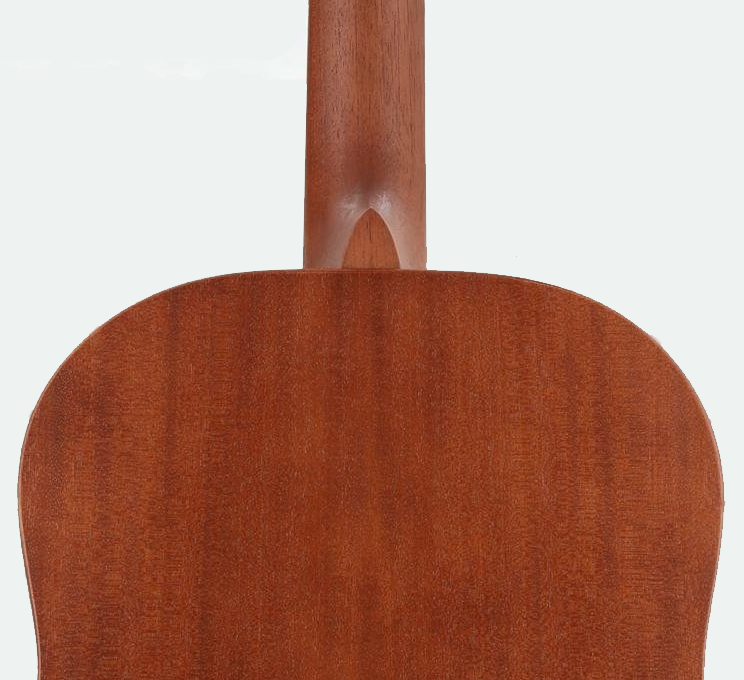 When it comes to a tone comparison, it will always be a matter of personal preference. But the DSS-17 is a Martin, and while it doesn't sound like a D-18, it still has the Martin hallmarks of extensive body resonance and sympathetic sustain that are very different from the typical Gibson sound, which tends to be more straightforward in general, with faster decay of all tone but the fundamental notes themselves.
Someone who likes the looks of these sorts of guitars should have no problem owning both a J-45 and a DSS-17 without feeling like there is much or anything redundant when it comes to the how they sound and where their tonal characteristics fit into a personal guitar collection.
Another interesting comparison can be made between the DSS-17 and the new DSS-15M StreetMaster that was launched at the same time. The StreetMaster has the same body size, but it has a mahogany top and different bracing that helps that hardwood top to resonate more freely, and a different neck width at the nut (1-11/16 for the 15M vs. 1-3/4" for the 17.) And for some $200 difference in retail prices there is a great deal of difference in the tone of these two slope-shoulder dreadnoughts.
With the DSS-15M there is a thicker, fuller undertone vs. the open and airy "old wooden box" 3D space heard inside the DSS-17's voice. The former has those sweeter, fatter top notes and straightforward fundamental sustain of a mahogany topped guitar. The latter has more focused, defined top notes but they are still filled out by the rounder, fuller bottom end, thanks to the big slope-shoulder sound chamber. And the DSS-17 has a brighter, more reflective mahogany voice, thanks to the spruce top, and with more of an echoy, swelling undertone wavering around behind the projecting fundamentals. It is definitely a more spacious voice with a more complex tone.
I think they both sound marvelously good. And that shows how this, Martin's latest body size (at least for time being anyway,) was a very good idea. And despite its non-Martin origins (OK, Gibson actually based the shape on even older Martins) the DSS size has been used to create models with tone that is all-Martin-all-the-time.
Conversely, the DSS-17 differs from the D-18 by more than just looks and body shape. The Standard Series mahogany dreadnought sounds fuller with fatter fundamentals, warmer and with a more complex undertone and overtone content, and a refined purity to the notes that exceeds those of this new 17, and which some guitarists will feel is worth the extra $1,100 on the list price.
That is not to take anything away from the DSS-17. It is truly an impressive guitar and a successful design being offered at a very good price. And there will be plenty of players who love the unique sound that comes out of this guitar. Few will feel they are sacrificing anything by not stepping up to a Standard Series Martin from this more-affordable model. After many years of trying to make a successful 17 Series they have accomplished that mission. And it is more than about time they added a big body to go along with those 00 and 000 offerings.
Style 17 has come and gone through the years more than any other style in Martin's long history, and with more alterations in its specs. It began as Martin's least expensive model in the 1850s, costing $17. By the 1870s it was a rosewood guitar made in their small Size 3 and Size 2-1/2. It switched to mahogany back and sides in 1906 and vanished when Style 18 was switched to mahogany about ten years later. In the 1920s it received its mahogany top and was made only in Size 2. And from the 1934 onward it was made only as a 14-fret 00 (and an 0 for a short time as well.) The last regular production of the 00-17 ceased in 1960.
Style 17 was revived in the 2000, designed as a deluxe version of the all-mahogany Style 15 instruments. It had tortoise top binding, purfling inlaid around the soundboard and sound hole, Style 16 bracing, and a high gloss finish that seemed to trap a lot of the hardwood top tone inside the guitar.
It was then retired yet again, only to reappear in 2013 as a square-shoulder D-17M and 12-fret 000-17SM that were basically 15 Series instruments topped with spruce rather than mahogany, and decorated with a reddish sunburst motif that was similar to today's StreetMaster look. While they were nice guitars, the 15 Series bracing and M&T neck joint made them loud and vibrant, but without the complexity and refinement of a traditional Martin voice.
Finally, Style 17 was shut down, revised and resurrected with its Depression Era mystique in 2016, and the full bracing pattern of traditional Martins, scalloped of course, and the greatly improved Simple Dovetail neck joint, as well as Martin's modern High Performance neck. And C. F. Martin & Co. have hit on a winning concept and design scheme that is selling well and very much enjoyed by those who own a 17 Series instrument.
And at long last, we who have hoped for a large body 17 are being rewarded for our patience. The DSS-17 is a very successful model that is great fun to play, and delightful to hear. I think they will be around for a very long time, for very good reasons.
That is one man's word on…
Martin DSS-17M Whiskey Sunset / Black Smoke
List Price: $1,999.00 – Call your Martin dealer for their best price!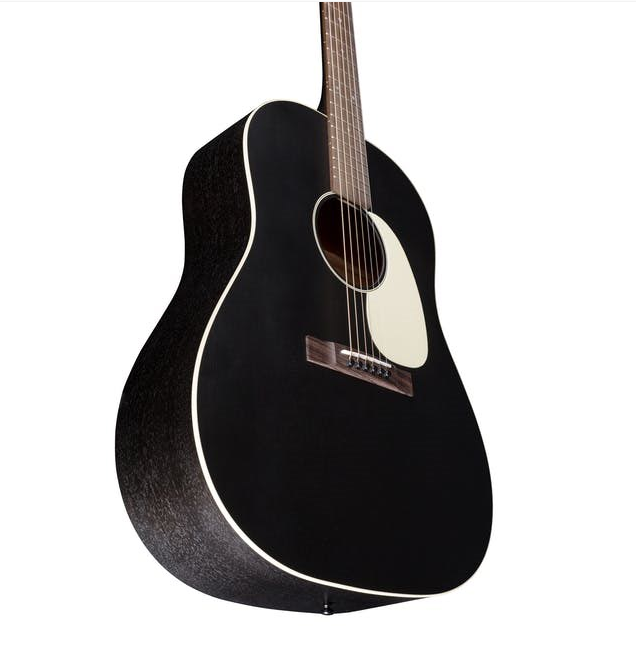 Related Reading:
DSS-15M Street Master Review
D-18 Modern Deluxe Review
D-28 Modern Deluxe Review
Martin CEO-9 Review (coming soon)
Official DSS-17 Whiskey Sunset Spec Sheet
Official DSS-17 Black Smoke Spec Sheet
~