A very special D-45 made for and with John Mayer
Seven Grammy Awards and now five Martin Artist Signature Editions




Specs include: 14-fret Dreadnought body size with all solid tonewoods throughout, Guatemalan rosewood back and sides; Engelmann spruce soundboard with Aging Toner; scalloped, forward-shifted 1/4″ Adirondack spruce braces with Golden Era shaping; one-piece mahogany neck with Full Thickness profile; ebony fretboard with 1-11/16" width at the bone nut; ebony bridge with 2-1/8" string spacing at the compensated bone saddle; high-color Style 45 abalone trim, back, sides, and top with full circumference soundhole rosette; large abalone hexagon position markers; grained ivoroid binding; gold open gear butterbean tuners; faux tortoise pickguard; numbered interior label signed by John Mayer
"…a clear and articulate top voice, with cavernous space behind it, good for reflecting reverberating sympathetics but also for allowing the main notes to stand up and out…But even brand new, the D-45 John Mayer already has considerable shimmer and glimmer to its it ring, and power in its bones."
Forging Past, Present, and Future
Consisting of 45 instruments, the D-45 John Mayer is a limited edition Dreadnought size Martin guitar made in a version of their extravagant Style 45, to suit the sound and playability preferred by multi-Grammy-winning guitarist and songwriter, John Mayer. Like Mayer's music, his new signature model D-45 was inspired by icons from previous eras, yet has a sound all its own.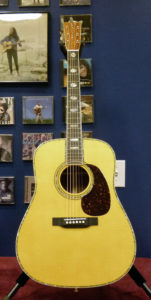 This is the fifth John Mayer model Martin has produced, and the first dreadnought. It was initially based on a D-45 from the 1970s, which the artist bought in Japan, the nation whose guitarists are absolutely enthralled by that particular top-of-the-line Martin model, with its hundreds of pieces of abalone shell inlaid along every edge of a body made from the highest-grade tonewoods to be had from Martin's legendary three-story-tall acclimation room.
But while the new model has retained some design elements of that '70s D-45, most-notably the neck shape, other features hearken back to the classic D-45s made in the late 1930s and early 1940s, or at least the modern-day reissue models in Martin's Golden Era/Marquis Series, such as the open-gear butterbean tuners and the grained ivoroid bindings. But when it comes to the elements most responsible for the music it makes, there has never been a D-45 quite like the D-45 John Mayer.
This is first D-45 model made with Guatemalan rosewood for the back and sides, and the first official Martin model combining that species of rosewood with an Engelmann spruce soundboard, a tonewood combination made even more interesting by the use of scalloped 1/4" bracing made from Adirondack spruce, with Martin's Golden Era style scalloping.
Boldly Beautiful
There is a bold immediacy to the notes that pop out of this guitar. And that is the case whether it is played lightly or with a hard attack, and be it struck with the bare fingers or a flat pick. Otherwise, how it is played brings about different sonic results. For example, there is a glimmering reverb effect when the open treble strings are played lightly, and when left to sustain at the end of strums with a pick. But when the same strings are fretted and picked with some power, like during lead guitar playing, the glimmer is nowhere to be heard, as the notes sound quite solid and with straightforward purity. Similarly, the wound strings can sound crisp and with a defined edge to them when picked hard. But during alternate thumb fingerstyle playing, there is a warm, round throb from the bottom end that brought to my mind an upright bass.
Martin only started to build guitars with Guatemalan rosewood in recent years. It is beautiful to the eye, with intricate natural grain patterns. And for this Mayer model the stain appears to be lighter in hue, with less dark red or brown than typical for Martin rosewood, which allows a greater contrast of highlights and inkier figuring. As for its tone, Guatemalan rosewood has its own particular aural properties, even if it is still very much in the classic rosewood sound camp.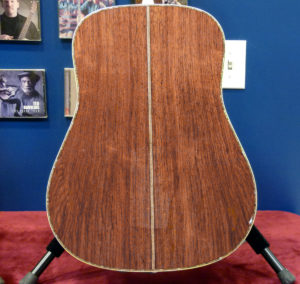 To my ear it has thicker midrange presence than Madagascar rosewood, typically speaking, but not as thick as Indian rosewood or cocobolo. It often qualifies for what I call "the classic Martin smoky rosewood undertone," because of how it seems to fill up the voice's inner space the way smoke fills up a room or floats in a sunbeam coming through a window. It sounds "brothy," as one guitarist I know might put it. And while Guatemalan may not be as harmonically complex as Madagascar rosewood overall, it has a quality to the fundamental notes that is often refereed to as "glassy," and that gives it something in common with Brazilian rosewood of vintage Martins that many other rosewoods do not impart, or at least not to the same degree.
This guitar, however, is topped with Engelmann spruce, so it does not have as thick and throaty a voice as it likely might of if it was topped with Stika spruce, or even Adirondack spruce, which can accentuate bottom end response. So, this D-45 John Mayer does not sound as dark or warm as other rosewood dreadnoughts, but it is quicker in how the sound leaps out at the slightest change in string pressure or vibrato, etc., and that sort of sound velocity is also a quality attributed to Brazilian rosewood.
My ear hears Engelmann spruce as "pretty" initially. It is on the brighter side and somewhat cheerful by the earful. While some of its signature lamplight glow is already there in this new Mayer model, it will increase considerably as the top is played-in, to reveal the true riches had in the woven tapestry of overtones and undertone unique to Engelmann spruce. It is a different phenomenon from the reflective thickness of rosewood, and is more ethereal and haunts higher up in the harmonic tiers. Together they will make for a subtly complex voice like no other.
Overall, it has a clear and articulate top voice, with cavernous space behind it, good for reflecting reverberating sympathetics but also for allowing the main notes to stand up and out. That inner space will start to fill in with more color and texture as the years goes by, in terms of harmonic complexity. But even brand new, the D-45 John Mayer already has considerable shimmer and glimmer to its it ring, and power in its bones.
The real wildcard in the tone department is the bracing under the top, which is made from stiff Adirondack spruce, and that helps give the Engelmann some extra headroom. These braces have Golden Era style scalloping, which means more wood was removed when the X brace and tone bars were carved, compared to the standard scalloping on most Martins. And while GE bracing is not as light as actual pre-war Martin bracing, The D-45 JM's braces provide plenty of flexibility, as all are 1/4″ in width, 1/16" narrower than on most dreads. Some have referred to a dreadnought with 1/4″ braces as being "turbocharged" because of the extra reverberation and resonance that results from the increased soundboard movement.
The HD-35s are the only non-custom dreads with scalloped 1/4″ braces, but in that case it is Sitka bracing under a Sitka soundboard, with standard scalloping. Going with stiffer Adirondack spruce braces but a 1/4" GE version of them, was an inspired choice to place under a light Engelmann spruce top. And it was one that found the sweet spot for John Mayer's ears. When backed by the rich harmonic overtones of Guatemalan rosewood, the sound put out by this guitar qualifies as genuinely unique. I do not believe any potential owner with other D-45 models needs worry about them sounding too much like a D-45 John Mayer.
And for looking like other modern D-45s, it doesn't. But it does fit a niche many of longed for, basically the look of a pre-war hexagon D-45, but without the price tag of Brazilian rosewood, or the many extra zeros added to it to acquire an actual priceless pre-war D-45.
click on photos to enlarge
Acing the Test of Time
Since first gaining national and international recognition, John Mayer has brought his own voice and style to a middle of the road rock n roll that shifts seamlessly between electric and acoustic guitar oriented music. A native of New England, he was discovered in the Atlanta music scene and his first big label recordings flew up the charts to multi-platinum status. The first Grammy Award came less than two year later.
His most direct influences come from the amorphous genre established by elite artists who are as revered for their singer-songwriter talents as their singular lead guitar solos, like Neil Young. But Mayer is much more original than derivative, and his world-class guitar playing eclipses any notion that he is simply a pop star with lady killer good looks who writes catchy songs. He has evolved on his own particular path as an artist as he has matured as a person. But like Neil Young, no matter the phase and direction he is exploring at any given point, John Mayer has always had a love of Martin guitars.
For several years Mayer played an OM-28V from Martin's Vintage Series, which had Indian rosewood for the back and sides, a Sitka spruce top, and a 1-3/4" modified V neck. That became the basis of his first Martin signature model, which was designed with the help of Martin's Dick Boak to have some special Mayer-centric inlays, an Engelmann spruce top, and a smaller neck with a 1-11/16" width that would be closer in feel to Mayer's electric guitars.
Based on the success of this limited edition model, a less-expensive one was produced for wider distribution, with some simplifications, while maintaining the Engelmann/Indian tonewood combination. The other Mayer signature models were smaller, 12-fret guitars, with various wood for the bodies and soundboards. These later models also introduced the special soundhole rosette that Mayer thought up, which continues the pearl inlay across the fingerboard extension to complete the circle.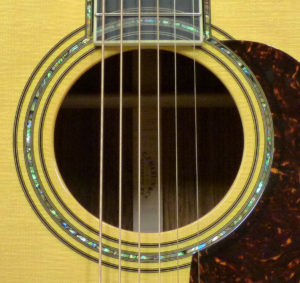 Dick Boak switched jobs at Martin some years back, and ultimately retired in January of 2018. So this D-45 JM was the first Mayer model he did not have a hand in designing. Instead, the project was overseen by Fred Greene, Martin's Senior Director of Product Management.
"We had made a couple of protos for (Mayer) based around Guatemalan back and sides," Greene told me after he returned from the NAMM show. "I thought it would be cool to do something different than his previous models and he agreed. I think I tried an Adi top and Swiss top with various bracing combo's first, but neither gave John the sound he was looking to create. I remember one of his comments regarding one of those early protos was that it sounded "tight" (although he did keep one because he said it recorded well)."
Green went on to say that in the end they went back to the "tried and true Engelmann" spruce of Mayer's original OM signature model, and "sure enough that is what he preferred." And as far as the bracing was concerned, "we just wanted a pattern that was responsive to the Engelmann but still had some headroom. We gave the 1/4″ GE Adi a shot, it sounded good, so we didn't overthink it and went with it." And thus was born the only D-45 to date with 1/4″ bracing.
Martin's first D-45 was 12-fret guitar made in 1933 for Gene Autry, who was the biggest popular music superstar of his era. The 14-fret version of the D-45 debuted in 1934. They made a total of 91 of them before Martin discontinued all pearl-trimmed models in 1942, as the austerity of World War II took hold. They are now the most expensive and coveted flattop acoustic guitars ever built.
The model was resurrected in 1968 and was briefly made with Brazilian rosewood and European spruce considered tonally close to the Adirondack on the original D-45s, which had been practically farmed-out of existence during the war years. Since 1970, the Standard D-45 and eventually the D-45V were made from Indian rosewood and Sitka spruce, Adirondack returned on the D-45 GE and Marquis models near the turn of the century, once new-growth trees of that Eastern Red spruce had become large enough to provide guitar tops.
Crosby, Stills, Nash, & Young all bought 1968 D-45s, so John Mayer may be happy to know that Engelmann is similar in sound to European spruce, when it comes to that pastel glow effect, and may be closer in tone to the so-called German spruce that Martin was using on those late-60s D-45s than the Alpine spruce currently available to Martin. In any case, a Style 45 Martins made with an Engelmann spruce top is a rare bird.
The neck on a D-45 changed considerably over the years, starting with 1-3/4″ V necks in 1934. They moved through a period of beefy "baseball bat" necks and onto a smaller 1-11/16″ V neck by the time the last pre-war D-45s were made. And that standard Martin neck evolved into what is now called the "Full Thickness" neck by the time Mayer's pre-owned D-45 was created. And that is the neck he wanted on his new limited edition.
The thickness is found in how deep it is from the ebony fretboard to the apex at the very back of the one-piece mahogany neck itself. And compared to their modern High Performance neck or the Low Profile neck it is supplanting, it is mighty deep indeed. I played a lot of Martins from this era over the years, but it has been some time since I owned one. So, it seemed quite a handful at first. But that feeling went away very quickly.
As for the shape of the neck profile, it has a wide crown that is more of a C than a V, but as it comes around, the side angle drops away steeply, so that it has fast slopes rather than round cheeks. And it seems to slant inward just before it meets the fretboard. This makes it easy to grasp and facilitates thumbfretting nicely, while the lack of any V keeps it from stabbing into the hand when wrapping, or into the thumb when playing barre chords.
Work of Art by and for an Artist

While I never joined the Cult of Celebrity, I understand why someone who admires a top-shelf guitarist like Eric Clapton or Laurence Juber or John Mayer would want to own a guitar similar to the one played by the artist whose music they love so much.
But what I do love most about the artist signature models from the otherwise traditional Martin Guitar Company is how such designs allow them to step outside the tradition box to varying degrees. And here we have a guitar that is sort of like a 1940s D-45 in its aesthetic, but made with the Full Thickness neck of a 1970s D-45, and with a splendid combination of primo tonewoods chosen with the input of an admirable guitarist. And the results are a world-class musical instrument ideal for the music made by that world-class artist, with a voice that changes depending on how it is played, to fit the kind of music being played.
When attacked, Engelmann spruce can sound quite snappy, and Mayer tends to fingerpick with a lot of snap to his playing, so his Engelmann-topped guitars take on some bite, not unlike a Telecaster electric guitar might. But when strummed or picked gently, that shimmery, glimmery Engelmann aura appears and it sounds quite lovely. A unique instrument will always inspire new music from a guitarist. It will be very interesting, to me anyway, to see what sort of music this new signature model brings out of the artist who designed it and is now starting his personal collaboration with it.
And so John Mayer has come back around to Engelmann spruce on a rosewood body. But this time it is with a new species of rosewood, made into the much larger Dreadnought body that will be utilized to increase his growing body of work as an artist, and enrich the musical lives of the lucky forty-five people who get to own an example of this highly-coveted limited edition D-45 JM.
And that is one man's word on…
The Martin D-45 John Mayer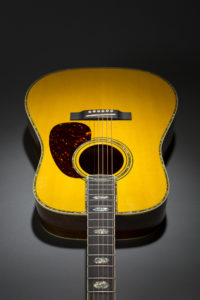 More Photos HERE
Related Reading:
Official 00-17A 1931 Spec Sheet
Martin D-18 Jason Isbell Review
~