Martin's Carpathian Spruce and Sinker Mahogany 12 String Companion to the New D-35 David Gilmour
Inspired by Gilmour's 1971 D12-28
D-35 David Gilmour 12 String specs include: 14-fret dreadnought body size with all-solid tonewoods including sinker mahogany sides and three-piece back, Carpathian spruce top with 5/16" non-scalloped Sitka spruce bracing; maple bridge plate; natural protein glue for bracing and bridge plate; unbound short-scale sinker mahogany neck with traditional hand-fitted dovetail neck joint, standard Martin 12 String neck shape and vintage Martin brand stamp on back of headstock; ebony fingerboard with High Performance Taper, 1-13/16″ at the bone nut, 2-1/4″ at the 12th fret; David Gilmour dot position markers of abalone pearl and yellow side dots; ebony belly bridge with compensated, drop-in bone saddle and 2-5/16″ string spacing; closed chrome tuning machines with small buttons; Old Style Martin script logo on a Madagascar rosewood headstock face plate; Vintage Gloss finish with Aging top toner
"I've had six-string guitar only, but the D-35 David Gilmour 12 String makes wish I could own one of the fifty being made. The singular tonewood combination of sinker mahogany and Carpathian spruce provides the abundant high-end sparkle and overall depth and definition ideal for the lavish harmonics and extended overtone potential inherent in a twelve-string guitar, without the dark and muddy bottom end heard from rosewood."

Wish You Were Here, x 12!
The Martin D-35 David Gilmour 12 String is a Dreadnought-size acoustic guitar featuring cosmetic appointments inspired by their venerable Style 35, and is the 12 String version of the Martin D-35 David Gilmour that was released alongside it for Winter NAMM 2021. Both models were inspired by the 1969 D-35 Gilmour owned for many years and has been heard on many of his best-loved songs penned for Pink Floyd and his many solo projects. And the choice of tonewoods, and look to the neck and headstock reflect Gilmour's beloved 1940's D-18.
This review focuses on the differences between this model and the six-string version. Our review of the D-35 David Gilmour model has greater detail in terms of overall specifications, and can be found HERE.
The opening notes of Pink Floyd's "Wish You Were Here" were first played by David Gilmour as he sat in a recording studio, filling the time between sessions. He was haunted by chord progression for some time before he turned it into a song, which he recorded using his 1971 Martin D12-28 that has the same body size and neck scale of this new signature model.
The ballad is a highly personal composition. But its lament of "How I wish you were here!" is something that resonates with everyone at some time in their lives, and helped made it one of the most popular and enduring hits in rock n roll history. Gilmour recorded the lead guitar part on a 1969 Martin D-35, which he purchased on the street in New York City, in front of the long gone Manny's Music shop on 48th Street in Times Square, once known as Music Row. He remembered the day fondly, saying, "It was a very New York experience — the sort of thing we English boys had seen in films."
That D-35 was auctioned off for charity in New York City, in 2019, earning $1.2 Million, a world record price for a Martin guitar. The D12-28 sold for $531,000. And these new Martin signature models began as a desire to pay homage to those now legendary guitars.
But to the surprise and delight of Fred Greene, Martin's Vice President of Product Development, David Gilmour was more interested in creating new guitars that had never before existed. And he was involved with every design decision, from the look, to the exact woods used for each model.
Sinker Mahogany and Carpathian Spruce
David Gilmour's choice for the back and sides is sinker mahogany, which has a marvelous tone. But it also appealed to him because it is an environmentally friendly wood, having been reclaimed from a river in Belieze, where logs of Big Leaf mahogany were submerged for a century, from the time they sank on their way to a timber mill because of their abnormal density. And the tone is indeed noticeably more vibrant and reflective than usual for this already sonically-wonderful tonewood. Big Leaf mahogany is normally found on Martins made in Style 18. But here they have been given the upscale appointments of Style 35, including the signature three-piece back, with matching outside panels and a center panel with an alternative grain pattern. Ironically, the photos currently available are of a mock up prototype with a two piece back and the twin Style 35 back strips overlaid to suggest how the production models will look with actual three-piece backs. I will update photos as they become available.
The soundboard for the twelve-string version is Carpathian spruce. It is the same species as the European spruce from Italy, Switzerland, and Germany used on other Martin guitars, but it comes from a different microclimate and offers a treble chime and popping fundamental that is more like Adirondack spruce from the Eastern U.S. while still having the lower density of European spruce and the softer pastel glow heard across the midrange and bass that comes with that. I've not owned a guitar with Carpathian spruce, but I am familiar with it and have loved the tone from every guitar I have heard that features it. And there are not many. The Elvis Presley models come to mind. But most Martins with Carpathian spruce tops I have played or even heard were custom ordered by their owners.
Comfortable Twelve-String Neck
Martin wisely uses a short-scale neck for their twelve-string guitars (the length of the playable string being 24.9") because of the extra tension brought to bear on the thin spruce top by the additional strings. And it means the frets are a little closer together than on a long-scale guitar, which makes a twelve-string more comfortable to play.
This guitar has a version of their modern High Performance Neck, which combines the High Performance fretboard taper with a version of the Modified Low Oval neck profile, with the shape and the taper modified to accommodate the wider swath of strings. The nut is 1-13/16" across, and the string spacing is 2-5/16", both being smaller than Martin twelve-string guitars made until a few years ago. I find them very easy to play by comparison and also easier to fingerpick. Actually, the old ones from the late 1900s are nearly impossible to play fingerstyle pieces on. Not so with the modern renditions.
Siblings Rather Than Clones
I find it fascinating that Martin and Mr. Gilmour chose not to make the six-string otherwise identical to the twelve-string version. The former has an Adirondack spruce top and bracing, this one has Carpathian spruce. And where this one has a maple bridge plate, the other has a composite carbon fiber bridge plate. Another feature that differs from the six-string version of the D-35 David Gilmour are the tuning machines. Here, they are the closed-back chrome tuners used on today's HD12-28, with smaller buttons than found on the Standard Series D-35 and HD-35, or any of their predecessors.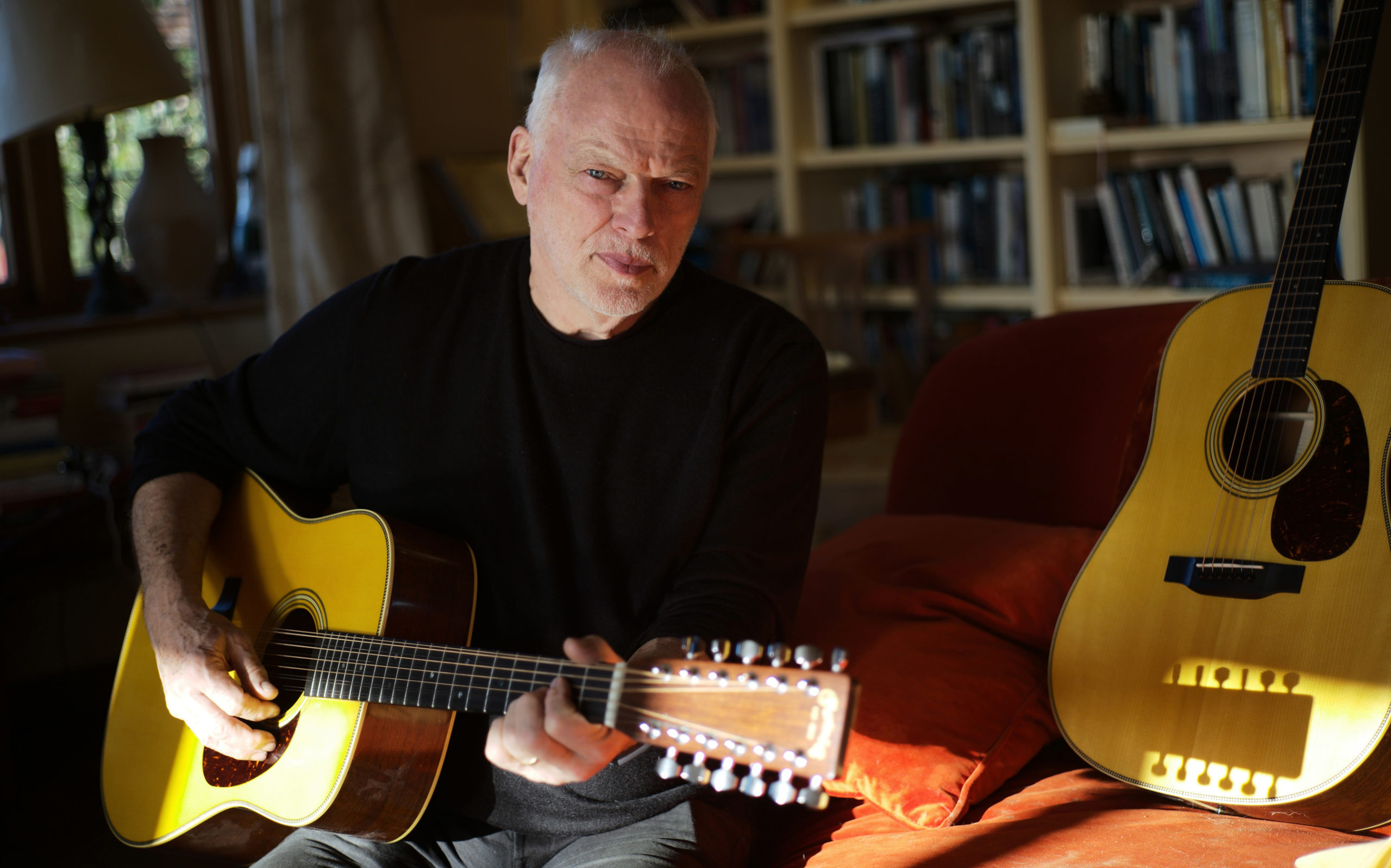 Otherwise, the two guitars are quite similar. Bold herringbone purfling, and Antique toner for the top; twin zig-zag pattern back strips ala the HD-35 for the three-piece back; and Martin's Vintage Gloss for the traditional nitrocellulose finish, which reproduces the finish used on Martins from the early 1900s made in Style 30, 28, and 18. Effectively, it combines vintage Martin mystique with a tasteful modernity that includes the abalone fret position markers in a size chosen by David Gilmour, and the fact Martin has almost never used white binding and herringbone trim on a guitar not made with rosewood back and sides, like all previous Style 35 guitars. I believe the HD-18 Jimmy Buffett was the first Martin to feature those appointments on a mahogany guitar. But a mahogany guitar with the styling of the HD-35 makes these David Gilmour guitars rare birds indeed.
What makes them rarer still is the fact they are only making 50 twelve-string guitars and 200 of the six-string version. And they sold out in terms of dealers before most Martin dealers even knew they were being released for this winter's NAMM show. So, if you want one, you had better act fast. I must assume both editions will be purchased by their future owners before they even arrive in the shop.
I've had six-string guitar only, but the D-35 David Gilmour 12 String makes wish I could own one. The singular tonewood combination of sinker mahogany and Carpathian spruce provides the abundant high-end sparkle and overall depth and definition ideal for the lavish harmonics and extended overtone potential inherent in a twelve-string guitar, without the dark and muddy bottom end heard from rosewood.
Since there is nothing directly related to Pink Floyd or David Gilmour about these limited editions, these guitars would appeal greatly to those who have never even heard of him. I happened to be a big David Gilmour fan, but that only makes up a small amount of my desire to own one of these guitars, or even one of each. I remain certain that Martin could have sold a great many more of them, had they chosen to do so.
Ah so, my hat is tipped to Martin and Mr. Gilmour for the awesome design of these unique guitars, and to those lucky enough to own one.
And that is one man's word on the…
Martin D-35 David Gilmour 12 String Guitar
List Price: $5,499.00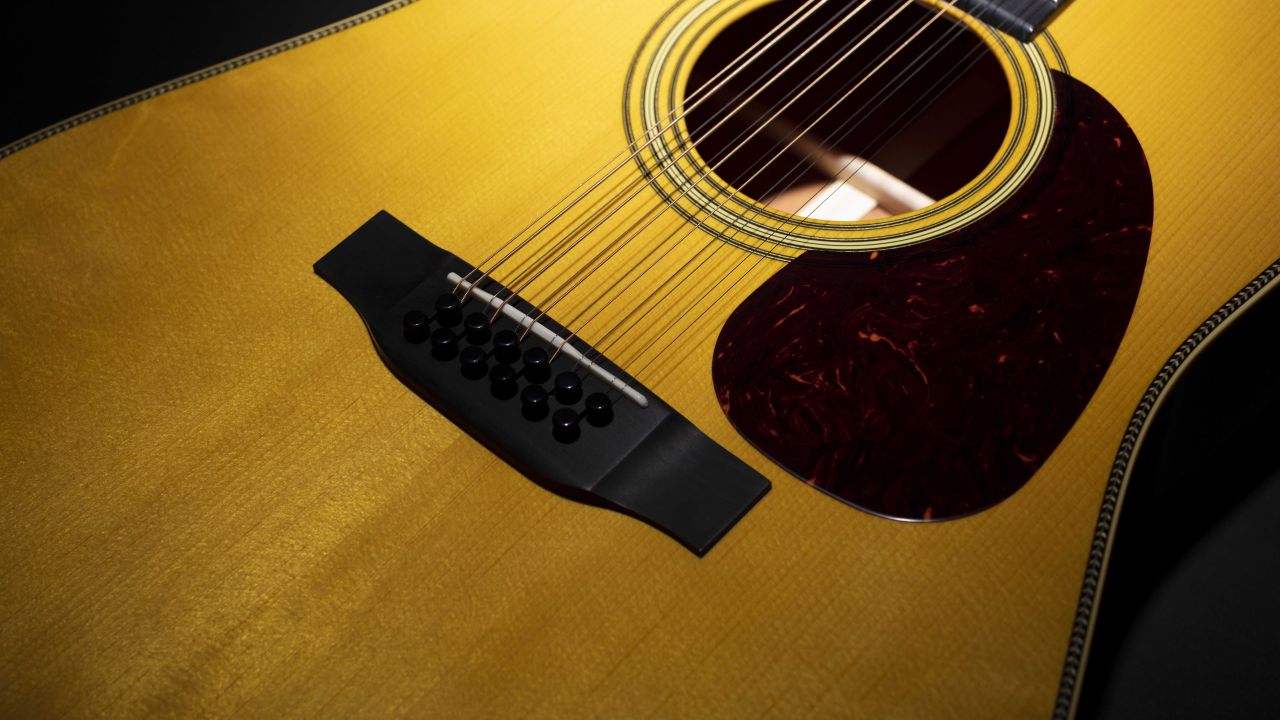 D-35 David Gilmour 12 String Spec Sheet Here
D-35 David Gilmour 6 String Review Here
[Due to COVID-19 restrictions I am unable to travel to Martin to shoot my usual January video reviews in their private sound room. Here is to hoping I will someday have a chance to play one for myself.]
Internet Mega-Merchang Sweetwater has been ordained the Martin re-seller granted special privileges all other Martin dealers are denied, from the small town mom and pop shops to venerable institutions like Sam Ash. So, despite the COVID-19 restrictions put upon the rest, they were allowed to shoot this demo video of the new David Gilmour models before other dealers even knew it would be available for sale at the Winter NAMM Show. Enjoy!
NOTE: They only making 250 in TOTAL, not of 250 of each, as stated in the video. There are 200 six-string and 50 twelve-string.