Martin Unveils a Bold New D-28, Truly Modern and Deluxe
Vintage Vibe Ahead of Its Time
Specs include: All solid wood construction; Indian rosewood back and sides; torrefied Sitka spruce top with scalloped, forward-shifted, torrefied Adirondack spruce bracing attached with natural protein glue, carbon fiber/torrefied Adirondack spruce bridge plate; Genuine South American mahogany neck with Vintage Deluxe profile, satin finish, two-way adjustable titanium support rod, hand-fitted dovetail neck joint and solid mahogany neck block; ebony fretboard with High Performance Taper, 1-3/4" width at nut, 2-1/8" at 12th fret, abalone Diamonds and Squares position markers, EVO Gold frets, solid bone nut; ebony bridge with Liquidmetal bridge pins, compensated solid bone saddle and 2-5/32" string spacing; European flamed maple binding; bold herringbone purfling; high gloss nitrocellulose lacquer finish; high gloss Indian rosewood headstock faceplate with abalone script logo and golden Waverly open back tuners with butter bean knobs.
"It is the futuristic features of the D-28 Modern Deluxe that are responsible for how it weighs and plays more like a very old D-28 than a very new one, with a bell-like tone that is truly original, yet with qualities that should thrill Martin fans, all for a price significantly less than the D-28 Authentic 1937."
Watch in HD 1080p for best sound
A New Generation of Martin
The D-28 Modern Deluxe is a Dreadnought size flattop acoustic guitar made in an distinctive version of Martin's classic Style 28 that combines Modern advancements in acoustic engineering with Deluxe appointments of the sort normally reserved for limited edition Martins, blending in harmony to make a most-musical D-28 unlike any that came before it.
The fundamental notes pop out of the D-28 MD fully formed and mightily defined. They project with incredible clarity from the lightest picking, even as they trigger a delicious reflective reverb from inside a cavernous depth. There is a lot of sparkle heard in the high-end chimes from the unwound strings, perfectly gorgeous with a metallic cast, like little orchestral bells ringing out over a bottom end that is crisply focused up top and open underneath.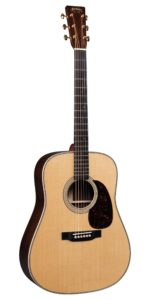 The undertone of the mids and bass has the rich roundness of rosewood without the murky darkness that often saturates Indian rosewood guitars topped with a Sitka spruce soundboard. But for all its obvious prettiness when playing nice with a flatpick or fingerstyle patterns, it can turn on a dime if I dig into the strings, when it retorts with a snarl that can become a full-blown growl with only a little provocation.
Here is a big, bold voice launching unison sympathetics that soar with a righteous sustain, and conjure harmonics that levitate like joyful apparitions, blending in a glorious ethereal choir that just kept bringing a smile to my face. And yet this guitar can gruffly rumble and roar when roused by energetic playing, as easily as it radiates with a colorful splendor under the reins of a gentler hand.
The dynamics are evocative of older Martin guitars, particularly in how there's no invisible tension keeping those initial top notes from immediately igniting the full power of that ample dreadnought sound chamber. Just as there are aspects that differ from other Martins, like how condensed those solid fundamentals are, and in how they detonate with a quick, steely punch. Regardless of how much the D-28 Modern Deluxe seems new and different, it sounds marvelous, kindling admiration and eye-opening delight equal to or beyond other impressive instruments from the same family tree.
Outstanding Details
One of four models released at NAMM 2019 to inaugurate Martin's new Modern Deluxe Series, the D-28 MD can be viewed as a renovated HD-28 from the Standard Series of professional level guitars. Solid Indian rosewood back and sides are mated to a solid Sitka spruce top with bold herringbone purfling. It also has the same solid ebony fretboard with the Diamonds and Squares inlay and Martin's High Performance Taper, which has a width at its bone nut of 1-3/4" and 2-1/8" at the 12th fret, and the same solid ebony bridge with a short, compensated bone saddle and 2-5/32″ string spacing.
But that is where the equating ends and the seriously deluxe specifications begin. From the masthead on down, there is an air of exclusivity and carefully chosen luxury accommodations apparent throughout the D-28 Modern Deluxe.
Emblazoned across the headstock's full-gloss faceplate is a C. F. Martin & Co. script logo inlaid in highly colorful abalone shell, plush with purples and blues. On closer inspection, it is based upon a rare Martin logo that appeared briefly in the early 1930s, just after they stopped using blank headstocks. Like many of the Modern Deluxe features, it is a purposeful hybrid of Martin's venerable past with the non-traditional, creating a new Martin mystique.
While a pearly logo is rather fancy for Style 28 Martins, it establishes a visual unity between the headstock and the fretboard with its glittering abalone diamonds. As do the gleaming golden Waverly tuning machines usually reserved for the most expensive Authentic Series models, here set off by EVO wire frets with their own golden hue.
Most musical instrument frets are made from nickel-infused brass called German silver or nickel silver because there is enough nickel to bestow the silvery appearance. These EVO frets are nickel-free, and made of copper that's fortified by an additional 5% tin, 1% iron, and 0.1% titanium. They don't wear down as quickly as normal frets and their subdued burnished gold appearance doesn't clash with the flashier fret markers. So, the glamorous ornamentation of the headstock migrates down the neck in an understated fashion, before evolving into the woodier aesthetic of the guitar's body.
The D-28 MD has been upgraded from the usual Antique White plastic trim to European flamed maple for its binding, end piece, and heel cap. Typically associated with chic boutique instruments from the independent luthiers, this is the first time Martin has installed wooden bindings on an entire series of instruments. And the blonde maple looks superb while edging the richly figured rosewood, and the bold herringbone trim of the Sitka spruce soundboard with its tight, straight grain.
Click on Photos to Enlarge
Elevated Construction
The sumptuous Modern Deluxe models are placed in the Martin line between the Standard Series and the Authentic Series, taking up the mantles of the extinct Vintage Series, Marquis Series, and Golden Era Series.
Those guitars were considered worthy of prices higher than the Standard Series instruments because they were built somehow closer to vintage Martins. What makes the D-28 MD exceptional is its advanced engineering, which is anything but a return to old-timey carpentry methods. And yet, that is why the Modern Deluxe instruments feel and respond more like guitars from the 1930s than Standard Series Martins.
Torrefied Tone
All Modern Deluxe models feature torrefied spruce, via Martin's Vintage Tone System, their proprietary process for utilizing very high heat to eradicate the moisture inherent in wood, crystallizing the cellular interiors until newly cut timber simulates the behavior and physical properties of wood that has seasoned for decades, or even centuries. The VTS level used for the Modern Deluxe tops approximates some 80 years of aging.
Learn more about torrefaction and Martin's Vintage Tone System HERE.
To my ear, Martin's VTS imparts a three-dimensional depth, which is sometimes likened to the "opened up" voice of an older guitar. In the case of Sitka spruce, torrefaction also increases treble chime and removes some of the thicker warmth from the lower registers, so it has a drier bark similar to Adirondack spruce, which was used for the tops on the original pre-war D-28s.
First appearing on their Authentic Series instruments, the VTS treatment has otherwise been available as a Custom Shop order, with a six-month wait. But now, shoppers contemplating a Standard Series Martin with non-torrefied spruce can step up to the Modern Deluxe version that comes with a Vintage Tone System top – and with upgraded VTS bracing.
Golden Era Bracing
Torrefied bracing was likewise restricted to the Authentic Series until it appeared on these new Modern Deluxe guitars. But like the rest of the D-28 MD's specs, this bracing is out of the ordinary. Not only is it torrefied, it is made from Adirondack spruce, rather than the Sitka normally used for a Sitka spruce soundboard. And the bracing is shaped with Golden Era style scalloping.
Golden Era braces are carved with extended angles to the peaks and vales of the scallops, removing more mass than standard scalloping, for braces with greater flexibility, and a top more responsive to nuanced playing. It was invented specifically for the vintage reissue models of the Golden Era Series.
But here these Adi GE braces are torrefied, which means they have even less mass and should convey vibrations more easily across the entire soundboard. And having them in the forward-shifted position, where the X brace is farther from the bridge plate, further increases the flexibility of the wide lower bout, with a subsequent increase in bottom end resonance.
The braces are attached to the soundboard with natural protein glue, derived mainly from fish. It is less expensive than the animal hide glue used in the Authentic Series, and it is only employed for the top braces, which helps keep the guitar's retail price as low as possible. Martin feels that the top bracing is where protein glue matters most, because of how it sinks into fibrous grain, fusing the two pieces of wood with a bond that synthetic glues cannot accomplish, creating a superior junction for the exchange of physical energy.
It would be impossible to quantify just how much influence this special bracing has, in an overall engineering scheme that includes other high-tech specifications. But all of them contribute to what is a very impressive end product – that marvelous tone.
Fruitful Tone Production
In the Modern Deluxe Series, Martin has achieved coherent and sophisticated designs that employ twenty-first century knowhow to craft instruments that are more like a vintage Martin in terms of overall weight, and in how they respond to the player by harvesting the kinetic energy from the guitar strings with extraordinary efficiency. So, more of that raw energy is converted into an extraordinary voice of brilliance and beauty.
The newest tone-enhancing specs are lesser-known than Martin's VTS, but still have very good track records. They are the titanium neck rod, Liquidmetal bridge pins, and the carbon fiber bridge plate.
The bridge plate is fashioned out of a thin piece of solid VTS Adirondack spruce sandwiched between two very thin plates of carbon fiber that provide unparalleled stability. It is lighter than a traditional maple bridge plate, and the outer layers are impervious to string anchors that chew up maple plates. And the wooden interior has already lost its inherent moisture, so it won't contract and fragment as time goes by, like a maple plate might. But the real breakthrough from this new bridge plate comes in how it inflicts less damping on vibrations passing through it from the strings and bridge, on their way to the tonewood body that converts all that energy to sound waves, before amplifying and projecting them to the wider world.
Liquidmetal
Another advancement in efficient energy transference is realized by the Liquidmetal bridge pins, which Martin has been experimenting with for some time. The D-28 MD has white pins with red dots. They appear no different than bleached bone or ivory, while the dots are brighter and more vibrant than those on antique red eye pins.
The manufacturer named their product Liquidmetal because it is an amorphous solid that has the disordered atomic structure of a liquid, rather than the uniform crystalline lattice making up normal metals. It is an exotic kind of metallic glass that is very good at absorbing and conducting energy with without diminishing it.
Martin's R & D experiments registered an increase in volume of up to 4 decibels when using Liquidmetal bridge pins. They seem to allow the strings to vibrate at their energy producing peak longer, which leads to an extended sustain of the initial fundamental note. And strings that are vibrating in sympathy with a played string give off tone that also remains louder for longer.
Every Martin limited edition that was supplied Liquidmetal bridge pins had noticeably loud, long sustain. But they also had other uncommon design elements, none more than these Modern Deluxe guitars. So I shan't lay all of the D-28 MD's impressive tonal characteristics to the pins, given the full array of a VTS top, VTS GE bracing attached with protein glue, and the carbon fiber sandwich bridge plate.
And then there is the innovative titanium neck rod in the solid South American mahogany neck.
Titanium Support
The Modern Deluxe neck rod has the same design as their normal rod, with its two-way adjustability that was first thought up by Martin's Leslie Mammele. But it is made with titanium, which is at least as strong and sturdy as steel, and yet it's considerably lighter. And that is so very obvious from the moment a player picks up one of these guitars. It is comparable to vintage Martins made with a small metal T-bar in the neck.
The weight ratio between the neck and body is startling. But it is not until one plays the guitar that the importance of the titanium is made obvious. The neck feels so alive, as it vibrates tremendously with each note picked or chord strummed. I was immediately reminded of Martins from the early twentieth century built with an ebony truss rod, or no rod at all.
Once again, Martin has married time-tested luthiery with technology that provides an ultramodern means of recreating a desirable vintage Martin trait. All that vibration injected into the solid mahogany at the solid bone nut is free to travel the length of the neck and enter the sound chamber through the fretboard and the traditional dovetail neck joint, hand-fitted into a solid mahogany neck block.
And maximized energy transference is especially useful when the neck is not shaped like a massive baseball bat, for which Martins were once famous, or infamous for that matter. Quite the opposite, it has a low-ish profile that barely seems to increase in girth as it moves up the frets, remaining agreeably comfortable all the while.
Vintage Deluxe Neck Profile
There is some irony in just how low and fast this new Vintage Deluxe neck profile feels, since it's based closely on a neck that was hand-carved in 1930 for a very special Martin, the exquisite vintage OM-45 Deluxe residing in the Martin Museum. That remarkable vintage profile is sculpted to adjust to the natural shape of the player's hand as the guitar's neck expands in width and girth, rather than expecting the hand to adjust to the shape of the neck.

Modern guitar necks are symmetrical, having an apex at the very back running straight down the center, with identical slopes on either side. The neck on that 1930 Orchestra Model is asymmetrical. The shape of the thumb side is different from the side the fingers wrap around. And the apex is skewed, so that it begins off-center and drifts inward as it moves toward the heel.
The asymmetry is subtle to the point of being almost imperceptible to the player. But it makes a world of difference in terms of comfort and playability. I was present when Martin captured an accurate relief sculpture of that vintage neck, to be used in the creation of the OM-45 Deluxe Authentic 1930, with its $99,999.00 price tag. No one was prepared for just how different the two sides were shaped and how much the apex drifted.
After an hour of playing that wonderful old guitar, I suggested they replicate that profile for every OM made thereafter. They didn't. But I can't be the only guitarist to extol its virtues to the powers that be, since Martin chose that neck as the template for the new Vintage Deluxe Profile, now available on all guitars in the Modern Deluxe Series. Having compared this new neck directly to the original, I am happy to report that the resemblance is extremely close, in terms of how it feels.
This is not an exact reproduction of that 1930 OM neck; it is an adaptation. In fact, only the OM-28 MD has a fretboard with the wider Standard Taper identical to the old OM. The Modern Deluxe dreadnoughts and the short-scale 000 have Martin's High Performance Taper, which starts as a 1-3/4" neck at the nut, but at the 12th fret it's 1/8" narrower than that vintage neck. So, there is less widening from the first fret to the last.
This sort of fretboard taper became the industry standard long before Martin adopted it, because so many musicians like it. Anyone familiar with guitars by Huss & Dalton, Taylor, Collings, et al, will feel right at home with this neck, even if the shape at the back is unusual.
V for Very Comfortable
Martin does not like to call this new profile a "V neck" because it has a softer apex with less of a pronounced ridge than recent Modified V profiles. And it is shallower overall, in terms of how much mahogany lies between the ebony fingerboard and the back of the neck, compared to vintage necks made after 1930. The fingerboard has a shallower thickness as well, taken from the Authentic Series. But the new Vintage Deluxe Profile does have more of a V shape than Martin's standardized Modified Low Oval Profile, or the flatter Low Profile that came before it.
This new profile's one true departure from that old OM is found in the shape of the Vintage Deluxe heel and how it transitions into the extended neck. There is less mass behind the last two or three frets, so one's palm ends up parallel to the fretboard where the shaft connects to the body, not unlike a Collings neck. Players accustomed to thicker vintage necks may say that feels like an electric guitar. But I suspect most guitarists will deem that a good thing.
Personally, I would have preferred Martin's Golden Era heel, originally inspired by a 1930 OM-18, with its notably sharp edge to the "prow" and meatier cheeks behind the top-most frets. But I understand that they are aiming for as broad an appeal as possible, so they went with something that feels more like other contemporary necks at Martin and across the wider guitar market.
I believe those who do not care for the Modified Low Oval Profile found on most modern Martins will like this new neck very much. I certainly do. Those who are fond of the Modified Low Oval Profile may enjoy this Vintage Deluxe Profile even more.
But while all of these new-age specs may have some Martin purists dismiss the Modern Deluxe guitars out of hand, many more will change their mind once they actually get one in their hands. The Vintage Deluxe Profile may be new, but it's truly based on an early 1930 Martin neck, providing similar comfort and the same sort of fun-to-play experience, from the nut to the top most frets.
Onward and Upward
This Modern Deluxe concept embraces the full breadth of Martin's long heritage to create new instruments enhanced by years of extensive research into leading-edge technologies and materials. It is the futuristic features of the D-28 Modern Deluxe that are responsible for how it weighs and plays more like a very old D-28 than a very new one, with a bell-like tone that is truly original, yet with qualities that should thrill Martin fans, all for a price significantly less than the D-28 Authentic 1937.
Martin recently overhauled their Standard Series instruments by importing the styling and forward-shifted bracing of their now-retired Vintage Series, which many people felt belonged on Standard Series Martins in the first place. The guitars of the new Modern Deluxe Series go much further in realizing how a Standard Series Martin could benefit from having every aspect of its making examined and upgraded in an intelligent, "reimagined" manner.
The D-28 Modern Deluxe is a gem of progressive Martin Guitar ingenuity, conceived and achieved through a whole new way to mine and refine what always made their handcrafted instruments stand out beyond the rest. Each facet from its upscale aesthetic to its innovative construction is a meticulously polished regeneration of classic Martin specs, uniting the past, present, and future of guitar making. As a result, this latest rosewood dreadnought has earned its rightful place among the other D-28s in an historic lineage that continues to produce acoustic guitars that are born of legacy and innovation, and shine in their opulence and excellence.
And that is one man's word on…
The Martin D-28 Modern Deluxe
List Price: $5,199 – call your Martin dealer to hear their best price!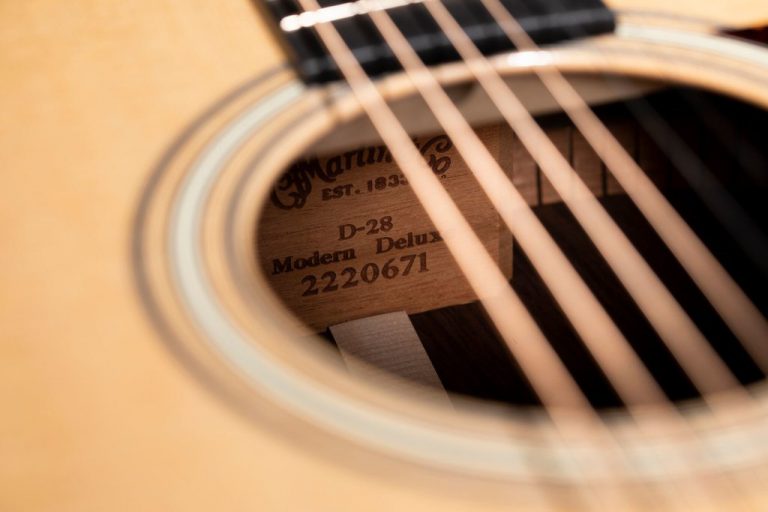 More Photos HERE
Related Reading:
DSS-17 Whiskey Sunset / Black Smoke Reivew
Martin DSS-15M StreetMaster Review
Martin Modern Deluxe Series Announced
Vintage Deluxe Neck Compared to Actual Vintage Martin
Official D-28 Modern Deluxe Spec Sheet