An American Original Honored by America's Premiere Guitarmaker with the D-28 John Prine
The composer of Angel from Montgomery has earned his wings from C. F. Martin & Co. along with an angelic signature model




Specs include: All solid tonewoods including Madagascar back and sides, Engelmann spruce top with Antique toner, ebony fingerboard and bridge, scalloped 5/16" Adirondack spruce braces; high gloss nitrocellulose finish; long-scale, satin finished genuine mahogany neck with Modified V profile, 1-11/16" width at nut, 2-1/8" string spacing; bone nut, compensated saddle, and bridge pins; Vintage Style 45 abalone snow flake fret markers; '50s style rounded headstock corners, enclosed chrome tuners with large buttons, pearl angel wings inlay; Antique White binding; custom cream tweed case with red interior; signed and numbered interior label
"With twinkling trebles, warm clear-cut mids, and a succulent bass, its distinctive fundamental notes front a subtly complex harmonic array, filled with delightfully sweet overtones and a roomy translucent undertone awash with whispery, ethereal hues. In other words, the John Prine signature model is an absolute charmer."
This Artist Signature Edition is limited to 70 instruments and may be ordered with on-board electronics.
A D-28 like no other
The eagerly awaited D-28 John Prine Artist Signature Edition is a Dreadnought size guitar made in a unique version of Style 28 that was inspired by the 1960s D-28 played by John Prine throughout his long career. Special features include the lustrous pearl angel wings inlaid on the headstock, commemorating Prine's most well-known song, Angel from Montgomery.
But it has subtler components that likewise make it unique, and make it an exceptional musical instrument.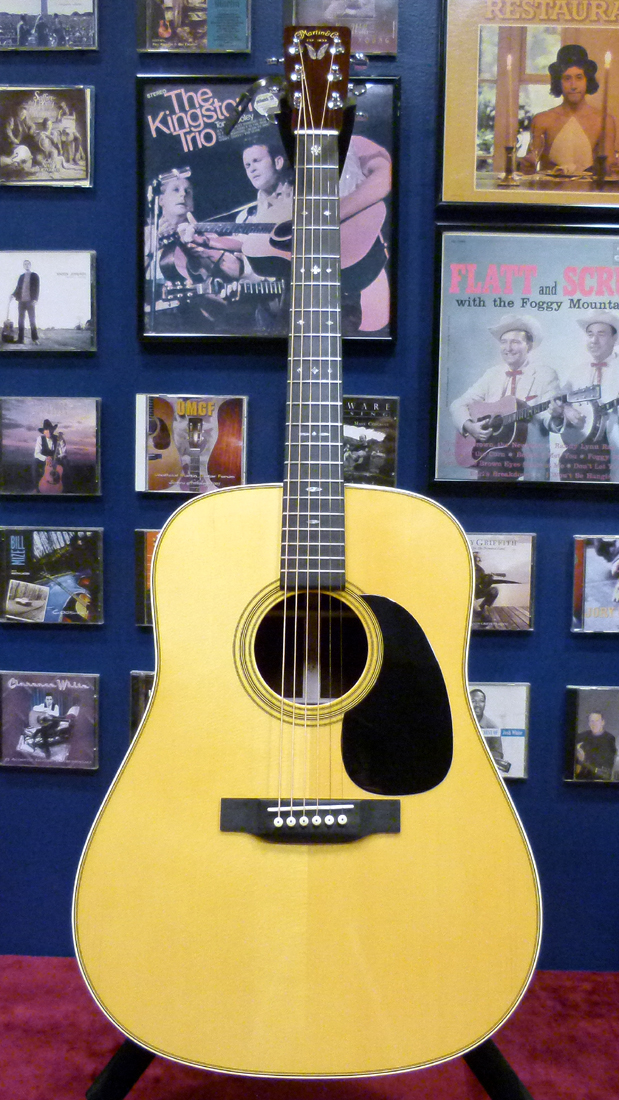 This is the very first Martin guitar model made with Madagascar rosewood back and sides in combination with an Engelmann spruce soundboard that is supported by Adirondack spruce bracing. And I can only say, "What took you so long?"
With twinkling trebles, warm clear-cut mids, and a succulent bass, its distinctive fundamental notes front a subtly complex harmonic array, filled with delightfully sweet overtones and a roomy translucent undertone awash with whispery, ethereal hues. In other words, the John Prine signature model is an absolute charmer.
I am a big fan of Madagascar rosewood. Its tone has refined elegance, with clear, musical chimes in the treble, an almost mahogany-like dry and woody midrange, but with a complex rosewood character overall, anchored in a woody warmth that wafts out from the bottom end to beef up the low-mids as chords are left to sustain and fade away.
If rosewood can be said to sound beefy, Engelmann spruce imparts a buttery richness, even as it produces such precise notes that the trebles have a distinctive *ting* to them. It has its own kind of warmth and complexity, which shows up as a background radiation behind and around those straightforward fundamentals, which gives the impression of a lot of space between each string.
But as Engelmann ages, that space fills up with a palpable presence of delicate, colorful texture. It can take a good long while, but it is worth the wait. I liken the pastel lamplight glow of mature Engelmann tone to a watercolor, compared to Adirondack's hyper realism, or the broad brush saturation of Sitka's primary colors.
Engelmann sounds "pretty" to my ear, but it is a different kind of pretty than I hear from Madagascar rosewood. So having these two complex and colorful tonewoods collaborating in harmony with one another on a robust dreadnought is indeed pretty wonderful. And the prototype I played is in its infancy.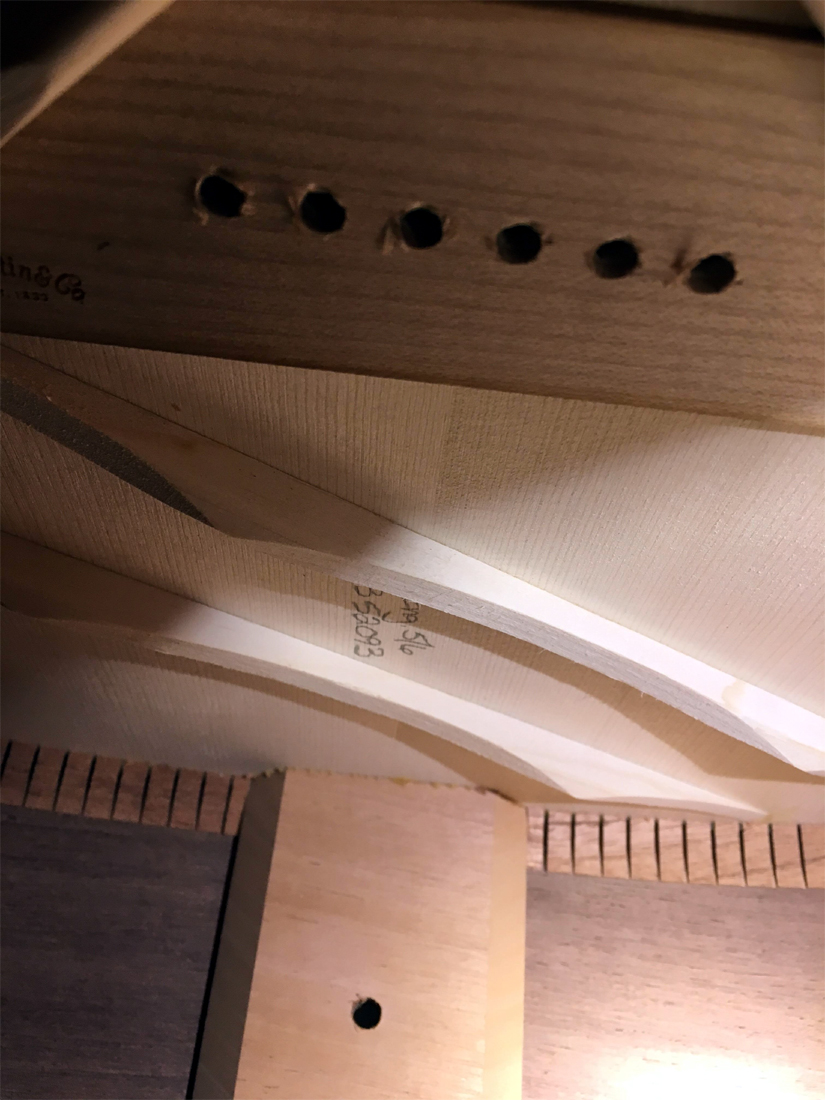 Most inserting to me, is the use of Adirondack spruce bracing for the top. Engelmann has perhaps the least stiffness of the major soundboard spruces, which is one of the reasons it has such softness to the edges of its sympathetic harmonics, so they meld together above and behind the main notes from the strings. And Adirondack bracing is particularly stiff, so it will likely allow the soundboard to flex and reverberate, but will shore it up under vigorous strumming and snappy fingerpicking – things that John Prine spends his life doing, over and over again
This bracing is scalloped to increase flexibility without overdoing it, and in this age of Martin returning to the forward-shifted X brace of the 1930s, and the rear-shifted X brace of the 1940s and '50s, the D-28 John Prine has its X brace in between, at the same position as his 1960's guitar – which was made with non-scalloped braces. Basically, this instrument has the same bracing as the HD-28, only in Adirondack spruce, rather than the more pliant Sitka spruce typically used on such a dreadnought.
I find the concept of this three-way tonewood combo fascinating, and the result is delightfully successful. The same can be said for the combination of the many, various physical and cosmetic elements brought together to create this one of the kind guitar.
American Originals
Prine's singular songwriting crafts little gems of composition, each containing stories, characters, and points of view that come off like miniature novels drawn from the collective American experience. So, it is fitting that the Martin D-28 John Prine drew from multiple iconic guitars for its specifications, some reaching far back into the history of C. F. Martin & Co., among the oldest family-owned business in America, and the premier American guitar maker since 1833.
Prine's workhorse D-28 was made with Brazilian rosewood, as were all Style 28 Martins prior to 1969. But it might very well have an Engelmann spruce soundboard. Although Sitka spruce was the default top wood in those days, as it is today, logs of Engelmann would come through the Martin sawmill now and again, and it was lucky happenstance if you happened to buy a D-28 that had it.
Click on Photos to Enlarge
One thing this signature model has in common with the original is the shape of the headstock, which has the rounded corners. They got that way quite by accident. The template created in the early 1900s to make the headstocks eventually wore away over the years, until it lost its crisp edge and squared-off corners. But it happened so slowly that no one ever noticed until Martin started to consider making vintage reissue guitars.
And to go with that headstock are closed-back self-lubricating tuners with the large chrome knobs typical of modern-era D-28s. They turn smoothly, almost luxuriously so compared to the vintage open-back tuners that have recently become back in vogue.
The tropical American mahogany neck on the John Prine model has the Modified V profile that was used on the dreadnoughts in the now defunct Vintage Series. That also means this new guitar retains the 1-11/16" fingerboard width at nut and corresponding string spacing that Martin put on the D-28 from 1939 until the brand new 2017 D-28 that debuted with the modern High Performance neck, which has the same basic taper to the fretboard, but cheats it out a bit in the cowboy chord area so it is 1-3/4" at the nut.
But like the newly revamped D-28, the Prine model has Martin's new Antique Toner on the top. Its butterscotch yellow pigment is replacing the pumpkin orange Vintage Toner seen on the Vintage Series guitars, and it is a bit more vibrant than the beige-ish Aging Toner still used on certain models.
And along with it comes the Antique White binding, which was first used on the CS-Outlaw model. All of this is to help give the appearance of an older Martin that has acquired a natural yellowing to its nitrocellulose finish through the decades. And in the case of the Prine, it also has yellow dots on the side of the fretboard to mark the positions. Engelmann spruce already has a yellowish pigment compared to other spruces. But this top looks instantly 30 years old, yet without all the dings, scratches, and finish checking.
With the black pickguard and multi-ply rosette and binding, this guitar does look like an old D-28, except that it has the modern belly bridge with the short drop-in saddle. This makes it possible to install a pickup under the saddle without a lot of hassle. And it also has a compensated saddle for better intonation up the neck. I thought the bone bridge pins were a nice touch, as well.
But very unlike any cataloged D-28, the new John Prine signature model gets a serious upgrade in the fret marker department.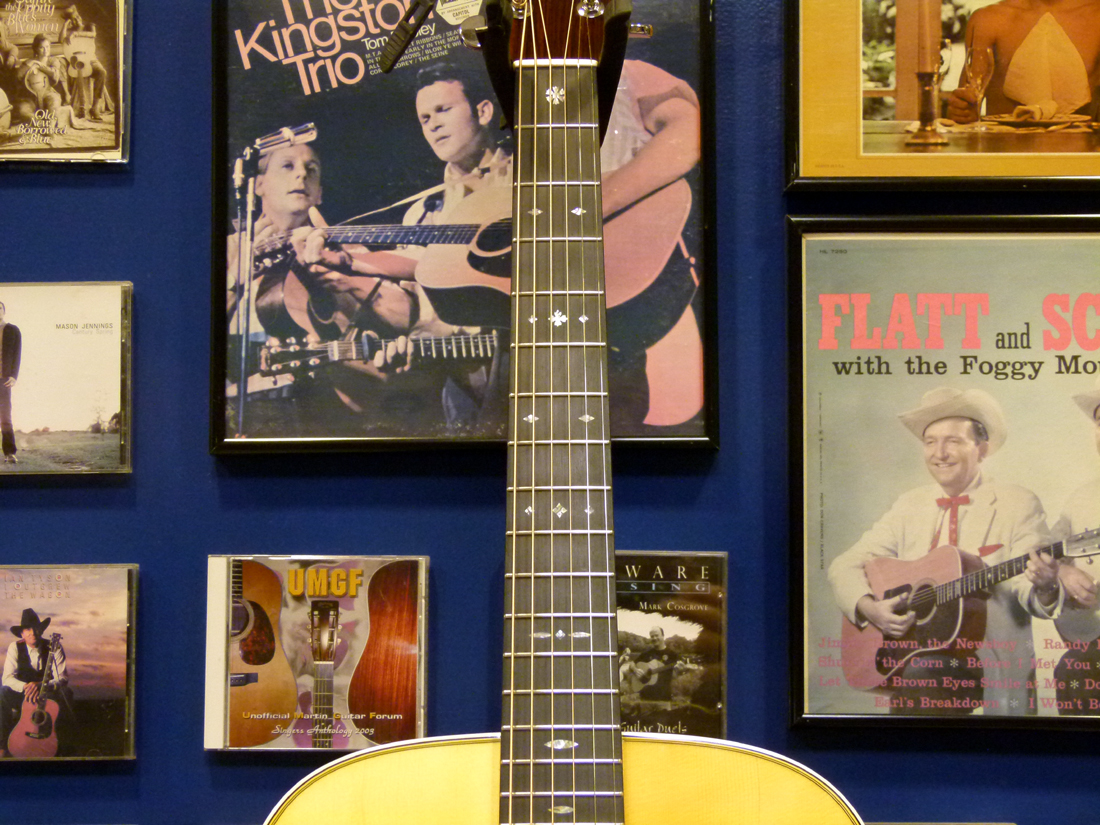 Gone are the argent white mother-of-pearl domino dots, and in their stead is colorful abalone shell used to make the extensive and opulent snowflakes, diamonds, and cats eyes that adorned the top-of-the-line Style 45 Martins in the early twentieth century, and appeared in truncated forms on the fanciest Martins from the 1800s, before the 45s existed.
It was the artist's specific request that only his personal D-28 John Prine have his autograph inlaid at the bottom of the fingerboard. So none of the prototypes or production models have his signature anywhere but on the inside label.
I realize that will make some people happy, who bristle at any kind of association with big stars and non-traditional affronteries as signature model guitars (that Martin has been making for a quarter of a century.) As ever, I feel sorry for those who dismiss out of hand such things. Because once you get one of these guitars in your hands, you will be mightily impressed with what a successful design this truly is, and will likely wish you could own one.
For me, the significant aspect of the Artist Signature editions is how it provides the relatively conservative Martin Guitar Company a platform to make new models that offer interesting and unusual combinations of tonewoods and trim, and often with inlay artistry that would not fit into their main catalog.
Passel of Prines Proudly Possessed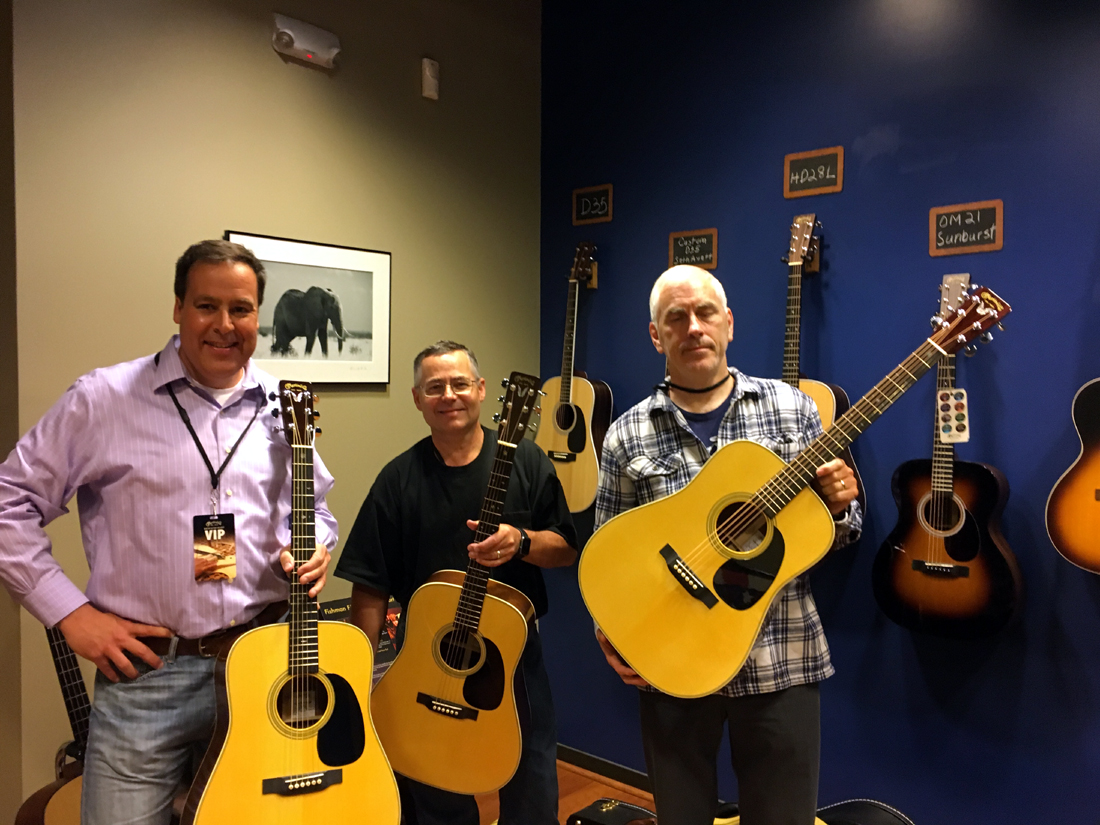 The people who buy the D-28 John Prine as a gesture of admiration for Mr. Prine, or so they can sing John Prine songs on a John Prine model, or because it is a fine tribute to a fine artist and a true American original, they will be very happy it is also a fine musical instrument. But I will plumb guarantee that some people will buy this guitar entirely because of how it sounds and how it plays. But then, it is pretty easy on the eyes too.
The combination of Madagascar rosewood and Engelmann spruce, with scalloped Adirondack spruce braces, was an inspired choice. The prototype I played at the factory already sounded open, woody, chimy, resonant, and absolutely lovely. Playing it and hearing it was truly pleasurable.
But since Engelmann spruce takes a good while to open up, it will be at least a year or two before the Prine's soundboard really blooms, and that Engelmann kaleidoscope of pastel colors blossoms and grows. So, it is the very-fortunate 70 owners of this limited edition signature model who will have the serious pleasure of what I predict will be one of the most-highly regarded and desirable Martin signature models that will ever be produced.
And that is one man's word on…
The Martin D-28 John Prine
List Price: $6,999

Ask your Martin dealer for their best price.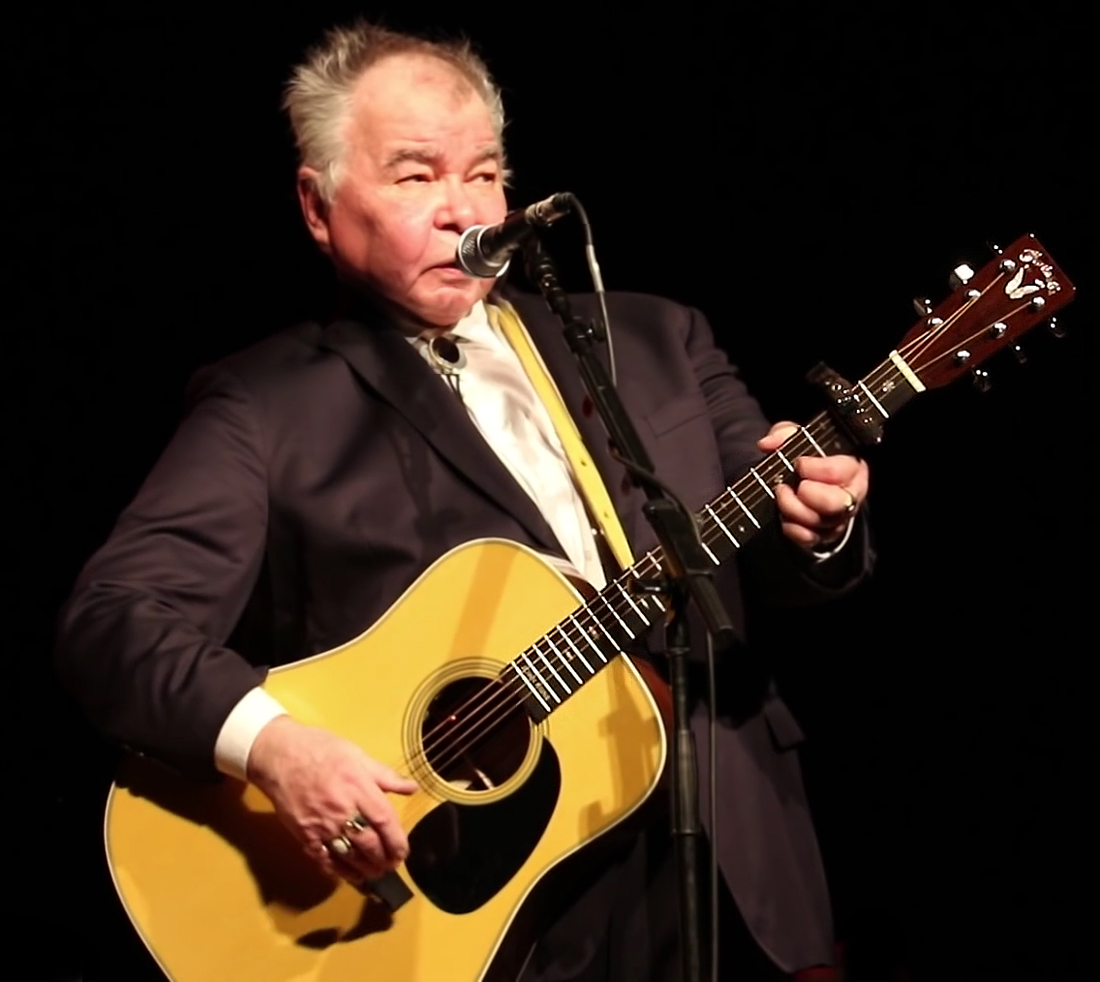 Related Reading
Martin D-18 Jason Isbell Review
The Dick Boak Interviews Part 1 – the Inside Out guitar
~
~
~