With aged Adirondack Over Mighty Mahogany, the D-18 Jason Isbell is more stallion than workhorse
As unpretentious and as powerful as the songs of its namesake.




Specs Include: Solid tonewoods with extra-thin high gloss nitrocellulose finish, including mahogany back and sides, torrefied Adirondack spruce top; 5/16" rear-shifted Adirondack spruce braces with Golden Era style scalloping; satin finished one-piece mahogany neck with 1939 profile, two-way adjustable truss rod, and ebony fingerboard with 1-11/16" width at the bone nut, 2-1/8" at the 12th fret; ebony pyramid bridge with 2-1/8" string spacing at the drop-in compensated bone saddle; custom tattoo fretboard inlay; Ditson style rosette; black binding; Schaller open-back tuners with "clover" buttons; Fishman Infinity Matrix electronics; signed interior label

"Simply put, this guitar sounds huge. Explosive chords burst into the room with near-concussive waves of power and punch, and relaxed, expressive picking lights up an expansive tonal chamber, as if by ballroom chandeliers."
Heavenly Mahogany
The D-18 Jason Isbell is the Dreadnought size acoustic-electric guitar made in a unique version of Martin's Style 18, which combines features from various iconic Martins made from tropical American mahogany, with some personal touches requested by Jason Isbell, the singer-songwriter whose working-class southern roots gave rise to gritty, unvarnished musical tableaus that are quintessentially American in mode and subject matter.
It has been Isbell's hope that the Martin model bearing his name would end up much loved by guitarists, including those who have no interest whatsoever in him or his music. And I do believe that will prove to be the case.
While the young star would be happy to see his new workhorse guitar in the hands of other musicians who see well-made instruments as artistic tools, the unique rearward-shifted Golden Era bracing and torrefied Adirondack spruce soundboard are just two features that set this guitar apart from the herd, while helping to create one stallion of a classic mahogany dreadnought.
It has exceptional dynamic power and sonic volume while projecting the sculpted fundamental clarity and woody warmth that is sought from the very best mahogany Martins. And it comes standard with Fishman's state-of-the-art Infinity Matrix undersaddle pickup system, to amplify all that meaty Martin tone from the largest sound systems or smallest amp. But believe me, this thing has plenty of volume when played unplugged.
Simply put, this guitar sounds huge. Explosive chords burst into the room with near-concussive waves of power and punch, and relaxed, expressive picking lights up an expansive tonal chamber, as if by ballroom chandeliers. The unwound trebles have that vintage chime of Adirondack spruce, dry and airy. Down below is a direct thump from the low E string, and the sonorous hum of a muscled mid-range, like thick, solid pillars of mahogany set deep into the woody bottom end to hold aloft that ringing treble.
The D-18 Jason Isbell achieves its enviable tone and dynamics from a combination of structural specifications inspired by three separate vintage reissue mahogany models; the D-18 Authentic 1939, the D-18 Golden Era 1937, and the Ditson 111, brought together for the first time in the same guitar. And the overall aesthetic design shares some elements with those reissue models, while the fretboard inlay is exclusive to the D-18 Jason Isbell. That much is apparent from the moment one lay eyes upon it.
click photos to enlarge
Traditional Roots Repurposed
The first mahogany dreadnoughts were made by Martin in 1916, for the Ditson musical department stores. The 111 was a precursor to what became the Martin D-18. The Jason Isbell signature model pays homage to the early Ditsons by way of its sound hole rosette, which is made of six concentric black rings of the same narrow size and separation. It was borrowed from a modern commemorative Martin named the Ditson 111. And that 12-fret dreadnought, the 14-fret D-18 Jason Isbell is one of the few Martin dreadnoughts made with an old-timey straight bridge, and this one has the carved pyramids seen on straight bridges of high-end Martins since before the Civil War. It also has no pick guard, another vintage Martin feature.
Martin first used mahogany back and sides on their own Style 18 guitars in 1918, but it wasn't until after the Ditson Company went out of business during the Great Depression that Martin offered a dreadnought for sale under their own brand, which they did in 1931. And thus arrived the D-18 with its enormous back and sides made from solid tropical American mahogany.
"I love mahogany." the Martin-loving guitarist said, when discussing the thought that went into the design of his signature model, and who can blame him? There is a straightforward simplicity to the sound of mahogany compared to the rosewoods, acacias, and walnuts, which puts the emphasis on the fundamental notes making up the chords and melody lines. But it is not just the sound that he finds so appealing. Jason Isbell makes what he calls working man's music, and he likes the fact that the D-18 was considered the working musician's Martin over the decades, compared to the pricier rosewood models.
He wanted a signature model that would be unique yet unpretentious, while being the sort of guitar today's working musicians could and would take on the road. But he also had something in mind for the look of this guitar that would include his own personal stamp, or in this case, tattoo.
The jet black ebony fingerboard is free of fret position markers, but blazoned between the 10th and 13th frets is an illustration of a bird in flight in front of an anchor, inlaid in abalone shell. It is taken from a tattoo that he shares with his wife, musician Amanda Shires. The anchor icon has been used in the past by Isbell, while bird imagery has often appeared in Shires' songwriting. The combination of the two represents their union and the birth of their first child. It seems fitting that the rest of the guitar is a combination of those various vintage reissue D-18s.
Built to Blast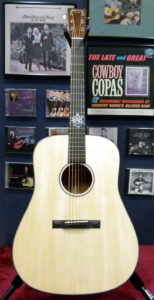 With volume and power in mind, much of this signature model comes from the D-18 Authentic 1939 that Isbell has been playing in concert for some time. He has performed and recorded with a variety of Martins over the years, but this one really stuck.
The features taken directly from his Authentic Series instrument include the shape of the hand carved neck. I have not played a D-18A 1939 for a long while, but I remember enjoying the neck more than any other Authentic dreadnought made to date. And like that model, the D-18 Jason Isbell has a profile with virtually no V to the shaping down in the cowboy chord area, just like my favorite vintage Martin necks. Instead, it has a gradual crescent that feels silky smooth thanks to the satin finish.
But it still has some notable mass to it, compared to Martin's modern Modified Low Oval Profile or their Low Profile necks. The amount of dense mahogany was a requirement of the traditional steel t-bar support rod that Martin used for many decades prior to their modern adjustable truss rods that appeared in the 1980s. But a larger neck feels better to many people, while others believe a big neck is related to why pre-war Martins sound the way they do. This is the first Martin model that had an Authentic Series neck shape with their modern two-way adjustable truss rod.
However, since it starts with a 1-11/16" width-at-nut, matched with 2-1/8" string spacing, I found playing the Isbell model is still quite comfortable compared to other vintage-style Martin necks. It is nowhere nearly as chunky as the D-28 Authentic 1937 or D-45 S Authentic 1936, for example. But it still fills the palm of the hand, and the vintage V sprouts about the 4th fret and increases in depth and girth the closer it gets to the heel.
Other Authentic Series features include the combination of Martin's thin finish package and hot hide glue construction, as well as an Adirondack spruce top treated with Martin's Vintage Tone System.
The high gloss thin finish replicates the lacquer found on vintage guitars, which is so thin it allows the tonewoods to "breathe." That means they flex easier when energized, creating and reflecting sound waves more freely.
As for the hide glue, it was the one feature Jason Isbell insisted be included, because he feels it makes a big difference in tone.
Martin switched to synthetic glues in 1966, which are cheaper and much easier to work with. But hide glue has made a comeback in recent years. The way it fuses deeply into the wood may allow the joinery to transfer kinetic energy more efficiently to and through various parts of the instrument, which ultimately translates into more energy making its way into audible sound.
The Adirondack spruce top has been conditioned with Martin's Vintage Tone System, the proprietary torrefaction Martin developed to thermo-treat new tops so they respond and sound more like wood that has seasoned for decades. Read more about Martin's VTS HERE. It has a lot to do with how those solid, powerful top notes reflect down inside the voice with such velocity and resonance.
Maximizing tone production is also partly why this guitar has a straight pyramid bridge, something Martin has rarely used on modern guitars of such a large size. It dampens less area at the center of the soundboard, compared to the belly bridge, while spreading out the ebony bridge further across the top. Besides which, it looks really cool.
The Adirondack spruce bracing and maple bridge plate are based on the D-18 Golden Era model. While the scalloping on GE braces is more extensive than standard Martins, they are carved to be a bit stiffer than the Authentic Series guitars, and the top braces and bridge plate do not tuck under one another like they do on a pre-war Martin. As a result, the Isbell model may require a bit more energy from the player to get that big dreadnought top moving, compared to the Authentic Series instruments. But it also holds up extremely well when under attack from serious strumming.
I absolutely love playing a guitar with all my might and this guitar loved it right back. As I have said about other Golden Era Series dreadnoughts, the D-18 Jason Isbell takes everything a guitarist with a thick flatpick can dish out and simply asks, "Is that all you got?"
But where all the GE guitars have a forward-shifted X brace, like the Martin dreads made between 1931 and 1938, this guitar has the main X brace in the rearward position, which Martin used on their dreadnoughts from 1939 through the late 1950s.
What a Difference an Inch Makes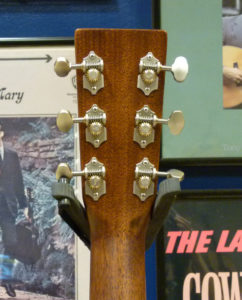 In 1939, 10 years after they invented the modern 14-fret steel string acoustic guitar, Martin moved the position of the main X brace about 7/8" closer to the bridge plate. Supposedly this was to give added support to the bridge area once players began using heavier strings. Later on, they brought that position about 3/16" forward, some dozen years after they stopped making guitars with scalloped bracing. It was only much later that people recognized how much the forward, standard, and rearward-shifted X brace position affected tone production.
Vintage-style scalloped, forward-shifted bracing results in a woofier, boomier bass compared to guitars made with the X brace in the modern standard position. Vintage-stye scalloped, rearward-shifted bracing has the opposite effect; it provides exceptional definition to the fundamental notes of the bass and low-mids. And while guitars made with such bracing may not actually be louder than those made with the X brace in the forward or standard positions, those clearly defined and projecting fundamentals certainly sound that way.
By combining the rearward X brace placement of the D-18 Authentic 1939 with the bracing construction and scalloping of the D-18 Golden Era, Martin has added a new and unique 14-fret mahogany dreadnought voice to the cavalcade of modern music. And by putting it in the hands of an artist like Jason Isbell, it is sure to be used to its full potential.
There is a deceptively modest and direct quality to the tone, when it actually is a voice of considerable strength and character. Funny how the same thing could be said about Jason Isbell and his music.
I should also take a moment to mention the Schaller Grandtune tuning machines on the headstock. Jason Isbell requested them after seeing the on 16 Series Martins. And after taking possession of his guitar, Michael Bethancourt, Isbell's Guitar Tech told my friends at Martin they were the best tuners he has ever worked with.
While a good ways from a utilitarian tool, this unique take on the venerable Martin D-18 retains the woody simplicity and relatively inexpensive price tag compared to comparable rosewood models – and much less expensive than the flashy pearl encrusted Martins. And like the utilitarian D-18s that have come before it, it is still made with top quality workmanship and unmatched Martin tone – only more so.
And that is one man's word on…
The Martin D-18 Jason Isbell
List Price: $5,999 – Ask your Martin dealer for their best price.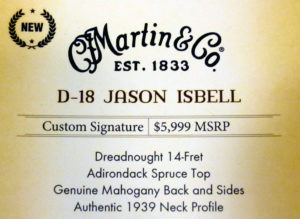 Related Reading
The New Martin D-28 (2017) Review
Martin Vintage Tone System – Torrefaction and its use in Luthiery
Understanding Martin Model Designations




~