Martin's Custom Shop Series and Authentic Series meet up in the CS-CFMartin Outlaw-17
Yesteryear mahogany dreadnought with the ultramodern, High Performance neck
Specs include: All-solid wood construction with hot hide glue joinery throughout, Vintage Gloss finish, Big Leaf mahogany back and sides; M1 Vintage Tone System torrefied Adirondack spruce top; torrefied, hand-shaped, forward-shifted Adirondack spruce bracing with Authentic Series scalloping; non-tucked, circa 1937 torrefied maple bridgeplate; fine herringbone top trim; Old Style 18 wood fiber sound hole rosette; Vintage Gloss mahogany High Performance neck, Modified Low Oval profile, 1-3/4″ at nut, 2-1/8″ at 12th fret; ebony fingerboard with bone nut and Old Style 18 dot markers of green Abalone; modern ebony bridge with compensated, drop-in bone saddle; Antique White binding; faux tortoise shell pickguard and bridge pin dots; Brazilian rosewood headstock face plate with Golden Era logo; nickel open-back Waverly 4060N tuning machines; 5-ply Harptone case; optional electronics available

This CS Series model is limited to 100 instruments
"Woody to be sure, it has an old dry box resonance that is accentuated by a torrefied spruce soundboard. The undertone remains open and uncluttered, yet with a glowing presence reflecting the hum of each string… At times, that tonewood combination had those singing trebles soaring through the room – and straight to my heart, as uplifting as sunlight streaming through the flawless glass of a spotless, squeaky-clean window."

Wanted for Breaking the Law
The CS-CFMartin Outlaw-17 is a limited edition instrument in the Custom Shop Series from C. F. Martin & Co. Its neck block stamp simply says "Outlaw" because its creation breaks strict rules governing specifications of their exclusive Authentic Series of vintage guitar recreations. It is available to dealers only in 2017.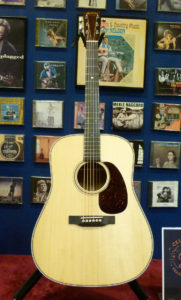 Before its official release at Winter NAMM 2017, the full name of this very special mahogany dreadnought appeared as CS-D18-Outlaw-17. That made sense to me, since it is more like a D-18 than anything else. In fact, it is almost a D-18 Authentic, but for a few significant differences. And that is the point of this model right there: Custom Shop Manager Jeff Allen has created a mahogany dreadnought for those who have always wished they could own a D-18 Authentic model without the Vintage V neck. While some may call that heresy. Those inside Martin just call this guitar the Outlaw.
"Outlaw came to me as a name because of the rules we have internally that protect Authentic Series guitars from being 'poached.' A great many customers request various Authentic specs on their custom order, but I am just not permitted to grant such wishes.
So, I thought we could offer a CS model that allows the most-requested specs to be placed on a Non-Authentic guitar.
This way, they get the modern benefits of many newer inventions like a truss rod and modern neck, but get the Authentic spec'd and braced body with the woods and the finish that allow the tone to be that of our Authentics."
And that is exactly what is accomplished in the CS-CFMartin-Outlaw-17.
It Got Dat Ring
After I posted a recent YouTube video of a lushly complex 000 made from rosewood, someone left a comment saying, "The overwhelming barrage of overtones from rosewood guitars does not appeal to me… I prefer the stronger fundamental tones and woodiness of mahogany." Well, that fella should be very happy to make the acquaintance of this limited edition Martin.
There is a forthright honesty in its voice. Each fundamental has a distinct identity that remains intact right through big strumming and fast fingerpicking. The A string has heft and depth, while the lower E string is broader and warmer. The midrange notes from the D and G strings are direct and to the point, with a solid report of great clarity. And the unwound b and e strings have a wonderful purity, which is precise and sometimes glistens in the air like a drop of water at the tip of an icicle. They had an almost Telecaster-like twang and bite when I dug into them. But when played just right? So they sing free and unencumbered by tension or resistance? And then meld with the swelling resonance they trigger from the tonewood and sympathetic strings? It is a purity of tone nothing short of breathtaking. Especially for a guitar that is less than a month old.
It is indeed a fundamental sound of an exceptionally well-made acoustic guitar. Each note from an individual string seems to be pared with a specific resonant tone, as if casting its own shadow down amongst the undertone, while the harmonic overtones exist primarily as a direct octave of the fundamental, without a lot of secondary angels mingling over the main voice.
That being said, I cannot imagine that even diehard rosewood fans would say there is anything plain jane about this voice. It is far too beautiful. It has such a musical ring, I was reminded at once of certain vintage Martin dreadnoughts from the 1930s and 1940s. If you think that is hyperbole, go find yourself some Youtube videos of David Grier, Billy Strings, or Chris Eldridge playing vintage D-18s and D-28s and hear how they compare, even if none of them have quite the same visual appearance and overall specs of this singular hombre. But then, neither does any other guitar for that matter.
Click on Photos to Enlarge
Hybrid Offspring
The CS Series is known for creative designs that make a point of combining Martin tradition with contemporary ideas. The CS-CFMartin Outlaw-17 has taken that concept in fresh directions. Even before one gets into the hardcore construction aspects of this Custom Shop Series limited edition, there are certain elements that are usually found on one sort of a Martin guitar or another, but never on the same one.
While this is not the first time that fine herringbone top trim and white binding, as that found on a pre-war D-28, has appeared on a guitar with the mahogany back and sides found on a D-18. Still, it is an unusual pairing, especially on an actual Martin. And this one also comes with the Old Style 18 soundhole rosette made from maple and black wood fiber, and Old Style 18 fretboard markers made from green Abalone, and yet the yellowish side dots have two dots at the 12th fret, when a vintage dreadnought would have only one.
Something that does make this 28/18 mashup truly unique is the debut of a new off-white Bolatron, used for the binding that holds the sides to the back and soundboard. To my eye, it looks more like vintage ivory than the grained ivoroid usually seen on this sort of guitar. But given Martin's serious commitment to the Save the Elephant movement, which is trying to eliminate the illegal trade in actual ivory, I can see why they named this new binding simply Antique White.
And while the aesthetics are attractive and subtly uncommon, it is the specs most responsible for tone production that make this model truly special. Never has a modern Martin been made available with their sleek, fast High Performance neck that is attached to a body with construction more like a pre-war Martin, and yet with its own unique twist.
It has hot hide glue used for all joinery, as was the case on all Martins made up until 1966. And it has their Thin Finish Package, which approximates the thickness of a Martin that has been around for so many decades its lacquer has settled in and off-gassed until it is very thin indeed. That certainly makes a new guitar "breathe" and resonate exceptionally well. And just like an Authentic model made in Style 18 or 28, the Outlaw has their special Vintage Gloss on the body and the neck, which they began using on Authentics after archivists found a letter from the early 1900s detailing exactly how Martin actually finished their guitars back in the day. This is the first guitar outside of the Authentic Series to have the Vintage Gloss finish.
Torrefically Authentic
Martin has been using torrefied spruce tops for a few years now. You can read more about the details of the ancient practice of wood torrefaction and its use in modern luthiery by going HERE.
But the gist is, new wood subjected to very high heat and air pressure is chemically transformed until it behaves like wood that has aged many decades. And the M1 level of Martin's Vintage Tone System is targeted to replicate wood some 80 to 100 years of age, right when Martin was making its coveted pre-war instruments, considered by many to be the finest sounding guitars ever built. It was originally developed for their Authentic Series, which attempts to replicate specific vintage Martins from that era, down to the shape of the bridge plate.
While various aspects of Authentic Series construction have been made available for custom orders and the occasional special edition model, one thing that remains off limits is the Authentic Series bracing, which, in addition to its specific shaping and layout, is made from torrefied wood, as is the bridge plate.
This guitar is the closest you may ever come to Authentic Series bracing without buying an actual Authentic.

There is another limited edition that Jeff Allen designed with a torrefied bridge plate and bracing, the CS-Bluegrass-16, which has Guatemalan rosewood back and sides and a subtle mixing of aesthetics taken from various Martin rosewood models. One might say these two CS dreadnoughts are cousins, if not siblings.
But as I was comparing the actual build sheets used at the factory to construct these two unique instruments, it was made obvious that they do indeed have different bracing. The Bluegrass has bracing used on the Golden Era/Marquis Series instruments, which are of certain sizes and with a specific kind of scalloping that sets them apart from the Standard Series, Vintage Series, and most modern artist signature models, etc. But the Outlaw's soundboard is supported by Authentic Series braces, which are of slightly different dimensions, and are designated on the build sheet to be hand-shaped.
And where the Bluegrass model has a GE bridge plate, the Outlaw has an Authentic bridge plate. And from what I could make out from the abbreviated jargon, it has a bridge plate similar to the D-28 Authentic 1937, rather than the D-18 Authentic 1939. But then, this guitar has forward-shifted braces, like a 1937 Martin, not the rear-shifted braces of one from 1939.
But where the Outlaw differs from an Authentic Series guitar is where the build sheet says (NO TUCK) next to the bridge plate and various tone bars.
Martins made after 1948 do not have the bridge plate tucked under the main X brace. That is where they cut a notch of about 1/8" into the brace, which then fits onto the extreme edges of the bridge plate. Instead, the bridge plate is truncated to butt up against the X brace. Likewise, the tapered ends of the various tone bars abut to any surface they encounter, rather than tuck under one another.
While it is impossible to say what effect tucked bracing or untucked bracing has upon tone production, the Outlaw has the distinction of having a torrefied bridge plate and bracing of the same size and shaping as an Authentic Series dreadnought, without the tucking. So it is a combination of bracing from two different eras. Well, actually three, when you add in the torrefaction.
Since Martin discontinued pre-war style scalloped braces some years before they stopped tucking the bridge plate and tone bars, this may mean the bracing on the Outlaw is unique in all of Martin history.
Whether or not the non-tucked bracing keeps it from having the exact same voice that the D-18 Authentic would have, if it had forward-shifted braces, the voice is absolutely killer. And since there is no D-18 Authentic offered with pre-1939 forward-shifted bracing, this is as close as one can buy.
Anyone passing on this guitar, because it is non-traditional in its matching herringbone with mahogany, or because it has the sleeker, faster modern High Performance neck rather than a vintage V neck, is missing out on one tremendous voice. Woody to be sure, it has an old dry box resonance that is accentuated by a torrefied spruce soundboard. The undertone remains open and uncluttered, yet with a glowing presence reflecting the hum of each string.
The forward-shifted bracing injects some extra umph in the bass and low mids, which here and there overwhelmed the large diaphragm microphone placed on the bridge side of the guitar. But to the naked ear in the room, they just sound full with the woody undertone cushion that traditional mahogany provides, while the top note stays well-defined thanks to the classic crispy clarity of Adirondack spruce.
At times, that tonewood combination had those singing trebles soaring through the room – and straight to my heart, as uplifting as sunlight streaming through the flawless glass of a spotless, squeaky-clean window.
There are but 100 lucky souls who are going to end up with what is essentially a D-18 Authentic, albeit with herringbone trim and Antique White binding, while getting a modern neck with a two-way adjustable truss rod, and a short, drop-in saddle that is compensated for better intonation, and will also easily accommodate any undersaddle pickup.
And they have my sincere envy.
One Dandy of a Maverick
I should be remiss if I fail to mention that this guitar is outfitted with three features that could have easily been left off, but add some real class to this unusual and unusually fine instrument.
The end piece where the sides meet under the lower bout is made of Antique White Bolatron, but it has the same narrow shape with black wood fiber inlay of a D-28 Authentic.
In addition, the interior of each side are supported with 8 ribbons, made of brown satin – a very cool touch. And, somewhat outlaw in its own respect, the face plate of the headstock is made from Brazilian rosewood, as it would have been in 1937.
Just a few more things that make this Outlaw one cool customer.
A new kind of bracing that mixes the pre-war techniques with that of the post-war. The modern neck that fits with today's industry standards, attached by a traditional, hand-fitted dovetail neck joint to the dreadnought body size that Martin used to revolutionize the acoustic guitar world, way back when hide glue, hand-shaped forward-shifted bracing, and hand-sprayed super-thin nitrocellulose lacquer was state of the art, and all of it brought together in harmony to create a unique guitar that is part Style 28 but mainly Style 18, and which plays almost like an electric guitar compared to fat vintage Martin necks, but with a voice that is right at home in the Authentic Series of traditional vintage Martin recreations.
Or as Jeff Allen put it, "It's the best of both worlds to me, and that's exactly what I was going for. The Outlaw name is just that; it's breaking some of our rules."
Many guitarists call their instruments their "partners in crime," and there is even some early Martin marketing material that uses that very phrase to go with a photo of Hank Williams Sr. and his old D-28. Well, there is certainly the spirit of a non-conformist troubadour in the CS-CFMartin Outlaw-17, which takes things past the pale, boldly stepping beyond what some may feel shouldn't be allowed. But it breaks such laws for a very good cause.
Merrily, it robbed the riches of Martin's Authentic Series and its spreading that wealth to those who want the modern playability of the High Performance neck. Perhaps they should have called this particular outlaw Robin Hood?
And that is one man's word on…
The Martin CS-CFMartin Outlaw-17
List Price: $6,999.00. Ask your Martin dealer for their BEST price!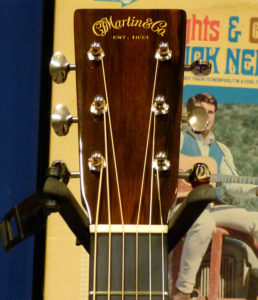 Related Reading:
Martin 000-30 Authentic 1919 Review
Torrefaction and its use in modern luthiery
The Dick Boak Interviews Part 1 – the Inside Out Guitar
~
Official CS-CFMartin Outlaw-17 Spec Sheet