Chris Martin Introduces a New Tonewood on the CEO-9
Magnificent Mango Martin Makes Marvelous Mellow Music
Specs include: 14-fret Slope-Shoulder Grand Concert 00L size; all-solid wood construction, including curly mango back, sides, and top, 1/4″ scalloped Adirondack spruce braces, Genuine Mahogany neck with Modified V profile and traditional hand-fitted dovetail neck joint; ebony fretboard with Standard Taper, 1-3/4″ width at the solid bone nut, 2-1/4″ at 12th fret, Corian Style 42 position markers; ebony pyramid bridge with 2-5/16″ string spacing at the compensated solid bone saddle; Liquidmetal® bridge pins; composite carbon fiber/VTS Adirondack spruce bridge plate; Antique white binding on body and neck; faux tortoise pickguard and headstock face plate; Mango Sunset Sunburst top shading; full gloss body finish and satin neck finish; copper-color vintage-style open back tuners with butter bean knobs.
"For having the warm, full-bodied undertone provided by a solid mango wood soundboard, the CEO-9 shows off clear and glistening trebles, mid-range notes that punch with distinctly defined edges, and a plump bass that can get quite throaty and as round as a bullfrog. But they never get lost in the depths of the rich, bulbous bottom end."
Beautiful Blues Machine
Martin's CEO-9 was designed by Martin's Chief Executive Officer, C. F. Martin IV, and is the 9th model in the CEO series. As with the previous models, the CEO-9 features established Martin guitar-making methods along with new and innovative design elements, in this case nontraditional tonewood, and some ultra-modern acoustic engineering.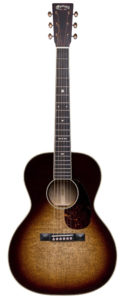 This new model is based closely on the immensely successful CEO-7, which was released in 2013 and introduced the long, slope-shoulder 00 body, now known as the Size 00L. Unlike the CEO-7  the CEO-9 debuted at the NAMM show as a limited edition of just 50 instruments. But dealer demand changed the minds at Martin. It is now an open-ended edition. I guess it just looks and sounds too good, with that figured curly mango wood, used for the back, sides, and top. But the wood is only partly responsible for giving this good-looking guitar its unique voice.
For having the warm, full-bodied undertone provided by a soundboard of solid mango wood, the CEO-9 shows off clear and glistening trebles, mid-range notes that punch with distinctly defined edges, and a plump bass that can get quite throaty and as round as a bullfrog. But they never get lost in the depths of the rich, bulbous bottom end.
This mixture of clear, chiming top notes and an expansive undertone full of colorful presence is enjoyable and more than a little fascinating. But, like some other special and limited edition Martins with unusual features, the combination of specs makes it difficult to pin down why it sounds like it does.
This is the first Martin made from mango, which is placed on the Janka Hardness Scale between Genuine Mahogany (Big Leaf mahogany from the tropical Americas) and Claro walnut, all of which are a good deal softer than Hawaiian koa or the African mahogany species like sipo and sapele. I can say in a broad way that this guitar has various tonal properties in common with guitars topped by mahogany, walnut, or koa, without sounding particularly like any of them.
This is also the first Martin made with a hardwood top that uses the 00L body size. The voice has the same sort of fatty chestnut in the undertone centered on the A string that is heard in the CEO-7 and the 00L-17 models. But in this case it is weightier and warmer.
And this guitar has the ultra-modern composite carbon fiber bridge plate and Liquidmetal bridge pins, which also appear on the guitars in Martin's new Modern Deluxe Series. Their combined influence on tone production increases the volume, sustain, and chime of fundamental notes, no matter what wood is used to make the top, back, and sides.
Everyone Loves Mango!
The use of mango wood at the otherwise staid Martin Guitar Company fits well into its current CEO's commitment to world-wide environmental conservation and exploring the potential in alternatives to the traditional tonewoods that are rapidly vanishing from the world's tropical forests. The fact these woods are endangered because of agricultural expansion and furniture makers only adds insult to injury. Anything can be used to make an office desk or elevator paneling, but natural materials with the inherent tonal properties necessary to create a world-class musical instrument are rare and are now getting dangerously scarce. Mango is the most plentiful and sustainable species in its genus (Mangifera.) And it actually makes guitars that sounds good, while also having a visual beauty wood lovers can appreciate.
I have seen several of the fifty CEO-9 instruments, and the wood grain is all over the place. Generally, it tends toward the dispersed, peppery grain of mahogany that looks like it has been stretched or elongated. The base hue is that of pale buckskin, adorned with figuring of black and browns that can take on the appearance of some sort of animal pelt. Then again, it can look rather blonde more than beige or brown, when set alongside guitars made from mahogany or rosewood. But many of the sets show off luminescent swathes and shimmery stripes, and rays glinting with reflected light, which makes the mango appear more like members of the acacia genus, which includes koa and Tasmanian blackwood. But it does not have any of the apricot pigment or gold threading of koa, even if some lighting can make it look that way. And some sets have much more wild grain patterns than others.
I have been assured it is entirely coincidence that the guitar photographed for the Martin website (below) is among the most conservative-looking sets, and not as koa-like as the prototype I reviewed at the Martin factory.

And this all-mango sound chamber puts out a voice that sounds a bit like koa as well, with some higher sprites glimmering at times across the overtones. But they are not as effervescent and ethereal as koa overtones, even if they are not as simplified as those from an all-mahogany guitar.
I might say it is closest to walnut in terms of the ratio of bright string notes to interior warmth, that space-filling presence in the heart of the voice. But it has much more going on above and below the fundamentals than any walnut guitar I have heard that also had a walnut top. While the interesting tone might be just about the mango wood, I suspect it is also due to the special technology installed above and below that hardwood top.
The bridge plate is made from a thin piece of Adirondack spruce treated with Martin's proprietary Vintage Tone System of tonewood torrefaction. So the cellular interiors have crystallized, allowing it to process physical vibrations as efficiently as wood that has seasoned for decades. And it is further stabilized by two very thin plates of carbon fiber, which weigh very little but will remain impervious to weather effects like humidity and years of metal string anchors trying to chew through it, like they do to wooden bridge plates. All in all, the composite bridge plate is lighter than traditional maple plates and has less of a dampening effect on the energy making its way from the strings to the soundboard and bracing.
The Liquidmetal bridge pins have been used on a variety of limited edition Martins before they appeared on the Modern Deluxe models this past January, alongside the CEO-9. Made from a metallic glass that does not have the rigid molecular lattice of normal metals, the material has almost zero effect upon the energy passing through it, which leads to an increase in both the sustain of the initial fundamental notes, as well as how long they remain audible as they decay and fade away. And that extended tone will only sound better and better as time goes on, since hardwood tops take longer to play-in than spruce tops. But it is usually worth the wait. In the meantime, this new technology gives it a nice head start in clarity, chime, and sustain, so it already sounds very pretty.
The neck is made from solid Genuine Mahogany. And it has the same Modified V profile, 1-3/4" nut width, standard fretboard taper, 2-5/16" string spacing, and vintage-style straight pyramid bridge as the CEO-7, along with the same scalloped 1/4″ Adirondack spruce braces. But it differs in the cosmetic styling.
The CEO-7 was decorated with a melding of Maritn's Style 18 with something vaguely Gibson in origin. The CEO-9 has drawn its aesthetic from various vintage Martin styles. The closest thing to an actual pre-war Martin motif would be Style 30, as it has that colored wooden marquetry top trim, as well as a bound fretboard with snowflake position markers now called Style 42, versions of which have been used on guitars made in Styles 42, 40, 34, and 30 from various decades. These CEO-9 markers are not made of luminous seashell, however, but rather white Corian – another effort to conserve a valued but imperiled natural resource.
Other differences between the two CEO models include the use of Antique White binding instead of the 7's grained ivoroid, a faux tortoise face plate on the headstock similar to Style 17 Martins from the mid-1930s, which matches the pickguard, and copper-color open back tuners with butter bean knobs, instead of the cream-colored plastic knobs on the CEO-7. And the Mango Sunset Sunburst reveals much more of the curly mango grain pattern than the Autumn Sunset on the older model. Even the headstock logo is unusual, with decorative lettering that does not actually connect to one another like on the usual script logos. It also gets the nice-looking Zig-Zag back strip seen most often on Vintage Style 28 guitars, which stands out in the center of that blonde curly mango wood.
(click on photos to enlarge)
Rounded Shoulders Come Full Circle
While Martin uses the Grand Concert size designation "00" for this body shape, the physical dimensions do not quite fit with the other Martins. Compared to the 12-fret slope-shoulder 00, the body of the 00L is 3/16" shorter and but it is 5/8" wider and 1/16" greater in depth. Compared to the square-shoulder 14-fret 00, the body of the 00L is 9/16" longer and 1/4″ wider. And it's actually 1/16" longer than the square-shoulder 000, although it is a full 1/4″ narrower at the widest part.
That is according to the published specs on the Martin website. The measurements on the actual mechanical drawings are 14.764″ width at the lower bout, 8.635″ at the waist, and 10.589″ at the upper bout. With a body length of 19.428″. And its maximum depth is the same 4.25" used for the 14-fret 00 and 000.
The

reason the dimensions are unusual for a Martin is because the silhouette of the top and back is based on the Gibson's L Size from the Depression Era. Chris Martin always liked the looks of the L-00 from around 1934. And he based his design for the popular CEO-7 model upon that same shape and aesthetic appearance. But it doesn't sound much at all like an L-00 from any era, and this CEO-9 even less so.
Gibson's Size L originated as a 12-fret archtop guitar with a circular lower bout. It changed to a flattop design in the 1920s, and went through an evolutionary progression of varying depths and silhouettes, acquiring a more Martin-like shape by the time the first 14-fret version appeared in 1932, with a floating fretboard – a couple of years after Martin's first 14-fret Orchestra Models hit the market. But by and large the L-size Gibsons had deeper sides than this modern Martin 00L configuration.
The famous Gibson sunburst finish also appeared around this same time. Its original purpose was to mask unattractive wood grain, which is why some vintage Gibson tops have much more black than others, with only a small orange burst near the sound hole. The Martin Company of today sets aside certain spruce tops as "burst grade" for the same reason. But that is not the case with the CEO-9. Again, the unique Mango Sunset top shading is made less opaque to insure more of the mango grain shows through, so it becomes a primary visual feature, rather than being covered up.
Cool Customer
I was quite taken by the CEO-9, much more than I expected. It is attractive and would make a good addition to any guitar collection, particularly if they are looking for a hardwood top and the special tone that comes with it. And like all the 00L Martins, it has a satisfying throb in the low-mids that has a notable fullness even by Martin standards, but it retains good note separation out in the room, sounding much less boomy to the audience than the performer. But that full and throaty quality across the bass and low-mids is intensified by the mango soundboard.
The tonal palette provided by a hardwood top is not for every ear. The CEO-9's colorful sound is quite round and thick, and much warmer than the clear, clean, dried out wood box sound of the CEO-7. But the combination of that mellow warmth mingling with the gleaming steel of long-sustaining trebles and high overtone angels is why some people will be drawn to it.
It is out of the ordinary, which makes it exotic, even if it has lots to connect it to traditional Martins, Gibsons and other Depression Era guitars. Just as I said in my review of the CEO-7, the CEO-9 is like a vintage reissue of a pre-war Martin that never actually existed. Had Martin been into copying slope-shoulder Gibsons back in the day in the same way Gibson was into copying square-shoulder Martin dreadnoughts, I could see something like the CEO-9 being made at Martin out of Hawaiian koa wood in the 1930s. And they would have likely marketed it for the Hawaiian music genre popular at the time, played with slacked strings and a metal slide.
Guitars with hardwood tops work very well with slide, and they are also favored by players of Blues and Americana music in general. Had Martin made this guitar decades ago, I suspect the late-great Leon Redbone would have had one in his harem of cool old guitars.
I don't even play slide guitar, but after five minutes with the CEO-9 I was ripping through some fingerstyle Blues in an alternate tuning and wishing I had the kind of cash flow that could grant my long-time wish to own a Martin made with a solid-wood top.
And that is on man's word on…
The Martin CEO-9
List Price: $4399.00 – call your Martin dealer for their best price!

Related Reading
Martin OM-42 Deep Body Slot Head Review
~