Torrefied mahogany debuts on the Martin 00-17 Authentic 1931
The most affordable Authentic model yet, and perhaps ever




Specs include: Standard 12-fret 00 body size; All-solid tonewoods with hide glue construction throughout; mahogany back and sides; torrefied mahogany top; scalloped torrefied Adirondack spruce bracing and torrefied maple bridge plate shaped to 1931 specifications; short-scale one-piece mahogany neck with ebony support rod and accurate 1931 V neck profile; Brazilian rosewood fretboard with 1-7/8" width at bone nut, 2-5/16" at 12th fret; Brazilian rosewood straight bridge with long bone saddle and 2-3/8" string spacing; thin Vintage Gloss finish; vintage Style 17 appointments, including white micro dot position markers, faux tortoise pick guard, slotted headstock with Martin brand stamped in back, three-on-a-plate Golden Age relic tuners with black knobs.
"This 12-fret 00 generates tone that expands in all directions, filling the room with clearly defined notes and woody sympathetics, while creating a soundscape of inner depth that seems far greater in size than the physical dimensions of the instrument should allow."
A Value-Heavy Light Little Charmer
The Martin 00-17 Authentic 1931 is a modern recreation of a Depression Era Martin guitar that was built in their 12-fret 00 body size, with Style 17 materials and appointments, exclusively for their Authentic Series of guitars made more like pre-war Martins than anything they've produced before, and is a close copy of one particular 00-17 from 1931.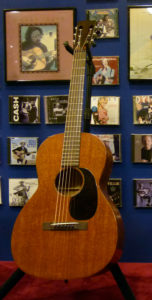 The Martin 00 size was also called the Grand Concert, because it was deemed large enough for acoustic performances in the concert halls of the 1800s. Frank Henry Martin, who ran the Company from 1888 until after World War Two, felt the 12-fret 00 was the perfect guitar design in terms of the balance between bass, mids, and treble. The size was first made in Style 17 in 1930.
By today's standards, it is considered a relatively smallish guitar. But this short-scale 12-fretter has a marvelously large, full voice, due in part to the construction techniques used to create the Authentic Series instruments. And it has the tonality unique to guitars made with a mahogany soundboard.
I have always liked the sound of a mahogany top, with its woody bass and delicate, pretty trebles that have a straightforward sustain. There is a unique velvety mellowness at the center of the voice, compared to the pinging ringing brightness of spruce-topped guitars. But new guitars topped with mahogany usually sound compressed, as if much of the tone is trapped in the hardwood and will take years to set free. Not so with the 00-17A 1931.
This mahogany top that has been treated to Martin's Vintage Tone System of wood torrefaction. And that has done marvels in opening up that brand new hardwood voice. This 12-fret 00 generates tone that expands in all directions, filling the room with clearly defined notes and woody sympathetics, while creating a soundscape of inner depth that seems far greater in size than the physical dimensions of the instrument should allow.
Before I revised this review I sat in a room for a couple of hours, playing four vintage Martins with mahogany tops, three 14-fret 00s and an 0, built between 1940 and 1961. The depth, openness, and resonance of this new Authentic model has more in common with those older Martins than it doesn't, especially compared to the sound of non-torrefied mahogany tops from Martin's modern 15 Series.
Never have I heard a new guitar with a mahogany top that had this much capacious depth and detail in its voice. Ringing trebles echo across an open cavern to reflect off its mahogany boundaries, and waver inside them, ethereally, until the full-bodied bass fills up that same space with greater gravity, substance and weight, yet all without getting muddy.
Worth The Wait
The very first Martin "Authentics" turn 13 this year, and the Authentic Series has grown into an impressive family of vintage guitar recreations, with over twenty different models. Since it took Martin ten years to get around to making an Authentic version of the storied OM-28, I guess it is not all that surprising it took them even longer to offer an Authentic Series model with a mahogany top. It was worth the wait.
The lowest-priced Martins in the 1800s were built in Style 17, with a spruce top and rosewood back and sides. After 1900 the Style was switched from rosewood to solid mahogany, and then it disappeared in 1917, and was reborn with a mahogany top in 1922. The pre-war 17s represent the Company's efforts to offer a most-affordable Martin to the general public during the Great Depression. With modest utilitarian appointments, or a lack thereof, they were otherwise made with the same quality as the more expensive Martins. And the 00-17A 1931 is made by the Martin Custom Shop with the same meticulous construction techniques as the rest of Authentic Series models, but priced well below them.
It is the first Authentic with a List Price south of $6,000, which means a street price well below $4,000, if one knows where to shop.
This is also the first time Martin has offered a guitar with a mahogany top treated with their Vintage Tone System. That is the official name for their proprietary method of torrefying wood through extreme heat applied in an environment of low-oxygen and high air pressure; effectively changing its molecular structure until it behaves similar to wood that has seasoned for many decades. Read more about Martin's Vintage Tone System HERE.
The day I played the prototype of this new model at Martin, I asked Tim Teel, Martin's Director of Instrument Design, what took them this long? He replied that they could have done this the first year they introduced the VTS guitars, "but the people who were in charge back then didn't want to invest the time required to develop torrefied mahogany tops." They had a long list of Authentic models awaiting their turn, while releasing only a small number each year.
And now, finally, the time was ripe for a 1931 00-17 to be closely examined and its vintage mojo recreated in a new Authentic Series model. Fortunately, they had already made the 00-18 Authentic 1931, so the due diligence of exactly where they laid out the bracing that specific year and other specifics had been completed, reducing R&D costs and the final sticker price. And they had already perfected the Vintage Tone System to zero-in on how to treat wood so its molecular structure was closer to that on Martins approximately 80 years old, rather than timbers hundreds of years old, like other torrefaction methods provide. And thus the 00-17A 1931 has come into fruition.
One thing that did require special attention was finding the right formula for the mahogany toner used on the backs and sides. Torrefied wood is darker in hue than before it is treated. And since Martin does not add toner to their Authentic tops they had to do considerable testing to get the back and sides to have the same nut brown mahogany shade as the VTS mahogany soundboards.
Click on Photos to Enlarge
Tuneful Time Capsule
The 00-17A 1931 represents a crossroads period for Martin. The 00-17 debuted in 1930 as a new Grand Concert model, which had been their most popular size up until that time.
This was the same year Martin introduced to the world their first 14-fret Orchestra Models, created from their even larger Auditorium size, aka the 000, which had yet to catch on with the general player population. The 14-fret version became the single most influential guitar design in history. In 1934 Martin converted their entire catalog of guitars to 14-fret models and the rest of the American guitar world followed suit.
The original 12-fret Martins were made for traditional gut strings, similar to the nylon strings used on Classical guitars today. In fact, the 12-fret 00 Martins with gut strings were the preferred instrument for the top American concert professionals who performed the Classical repertoire, well into the steel string era.
C. F. Martin Sr. had invented the now-ubiquitous X bracing in the 1840s. But it wasn't until the advent of steel strings in the early twentieth century that the full potential of X bracing was realized. By the time the 00-17 appeared in 1930, Martin's Standard 12-fret models were being built to take advantage of the extra tension and power provided by steel guitar strings, which had finally come into prominence.
But while Martin had fully embraced steel strings as the future of the American acoustic guitar that they had invented a century earlier, they had yet to start building their guitars even heavier to protect against the extra stress brought to bear by steel strings.
When I most recently chatted with C. F. Martin IV, he reiterated his opinion that the Company had often built guitars that were right on the cusp between where they achieve maximum resonance and where they are going to explode, "because that is where you get the best tone." And while his grandfathers were shoring up against the unknown steel-string seas they were sailing into, history has shown how the lightly-built Martins from the mid-1920s to the mid-1930s have survived in healthy numbers and have proven to be some of the best-sounding acoustic guitars ever created.
One example of this transitional period is the neck's ebony support rod placed under the fretboard. Many Martins prior to this period had no neck support at all, while those made only a few years later have a steel bar. The wooden rod has a lot to do with why this instrument is so feather-light compared to modern guitars. And with the ebony rod the neck assembly is made entirely of wood, and is light enough that vibrations injected into guitar from the played strings are quite noticeable in the neck. That physical energy does not enter the guitar only at the bridge plate, but at the nut as well, where it makes its way down the neck to enter the sound chamber through the traditional, hand-fitted dovetail neck joint.
As with all Authentics, the joinery is achieved entirely with traditional hot hide glue, providing a superior bond that gets down into the wood fibers and facilitates the transfer of sound-producing energy from one part of the guitar to the next.
It also has the ultra-thin finish that was developed for the Authentic Series, as well as the slightly less-shiny Vintage Gloss exclusive to the Authentic Series. This Martin's thin-finished soundboard, back, and sides respond to all vibrations better, and reflect sound waves more freely than can be achieved with thicker modern finishes. The fretboard and bridge are made thinner than modern guitars, and the bracing and bridge plate are shaped to be as identical to that on the example 1931 00-17 as possible, all contributing to the overall result: a musical instrument that generates as much tone and resonance as possible.
But before I heard the 00-17A 1931, I felt it. The first thing that came to mind as I took it in hand was how wonderfully light of weight it is. Mahogany guitars always feel lighter than something built from rosewood. But not this light! As if it might float away like a balloon if one did not hold onto it. It really does feel like a very old Martin in this respect.
And it sounds a lot like an old Martin too. The top, braces, and bridge plate have all been torrefied through the Vintage Tone System, so this mahogany-topped Martin is the aural equivalent of putting on 3-D glasses at the cinema.
While I can't say this guitar has more depth or openness than a Martin with a torrefied spruce top, that 3-D effect is more noticeable in the 00-17A 1931 because of how compressed mahogany-topped guitars usually sound when brand new.
 As Easy On the Hand As In The Ears
Something else that makes this guitar feel like an old Martin from back in the day is the shape of the solid mahogany neck. My favorite vintage Martin necks were carved from 1929 to 1931. While they do vary, there are certain necks from this period that have a V shape that grows smaller as it gets farther from the heel, until it utterly vanishes between the third and fourth fret. So, the neck profile in the Cowboy Chord area down by the nut is shallow and has an smooth V-less curve. And such necks are also not as thick farther up the frets as others from the same era.
This neck was copied from one those necks. It is shallow and relatively flat down by the nut and it does not turn into a tree branch as the heel forms to meet the body. And like Martins made before the 14-fret era, it is so nicely shaped that it is almost hard to believe it has a 1-7/8" width at the nut. That becomes a bit more apparent when making full barre chords higher up the neck, in terms of fingerboard width. But the neck shape never feels bulky.
All in all, they did a wonderful job; it is recognizably a 1931 Martin neck, even more than the OM-28A 1931, which has a pointier V than many early OM necks.
Value Laden
Although some people might walk into a guitar shop and see such an unadorned all-mahogany guitar and wonder if it could be worth the asking price, I will make a value-laden statement by saying I feel the 00-17A 1931 is laden with value.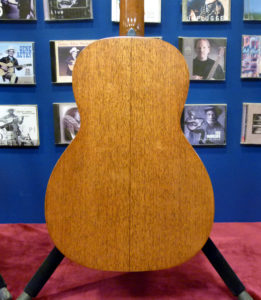 Like vintage Martins made in Style 17 and modern and vintage Martins made in Style 18, this guitar is made from Big Leaf mahogany from the American tropics (Swietenia macrophylla,) which is often called Honduras mahogany, even if most of it comes from father south.
Fewer and fewer guitars are being made with that wood, as it has all but vanished from the wild rain forests. As a result, mahoganies from Africa are more commonly used to make acoustic guitars these days.
No other mahogany sounds quite like S. macrophylla, with its combination of fullness and uncomplicated clarity, not even S. mahogani, aka Cuban mahogany or Floridian mahogany, which was the original "mahogany" before it was practically cut to extinction before Martin started making guitars in the 1830s. That fabled mahogany has only come back in recent years to the point that some small-shop luthiers occasionally make guitars with it. And to my ear it sounds drier and with less bottom end than the Big Leaf mahogany used to make classic Martins.
The bridge and fretboard on this Authentic are made from Brazilian rosewood, which is itself a rare commodity, in fact a finite one, so long as that exotic hardwood remains an endangered species. As with all Brazilian rosewood used by Martin, it was culled in the era before international treaties banned further harvesting of that coastal lowland wood from the wild.
Not only is the bracing scalloped with more mass removed than non-Authentic Series Martins, which increases flexibility, they are "tucked" just like they did back in the day. That means notches are cut into braces so the edge of the bridge plate fits under the X brace. And the ends of the braces and smaller tone bars tuck into each other wherever they abut, and into the cedar kerfing that supports the boundary where the sides meet the top and back. And that all adds up to maximizing the sound-producing potential in the physical energy coming from the strings and making its way through the bridge, bridge plate, bracing, and the mahogany back, sides, and top.
Combine all those features with the Martin's Thin Finish Package, the VTS treatment on not only the top but the bracing and bridge plate, and the wonderful neck with a shape that comes straight out of a rarefied segment in Martin history, and this is a very fine vintage reproduction for a very nice price.
The price point that Martin chose for this instrument was based partly in how it compares to other Authentic Series guitars with fancier appointments and more-expensive materials. But according to Tim Teel, it was also set with an eye on how much it would cost to buy a truly vintage 00-17 12-fretter in decent to mint condition.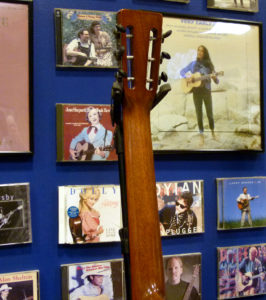 While a 00-17 from the appropriate era would not command the same prices as a Martin made in Style 18, 21, or 28, there is one major hitch in acquiring such a guitar – they are nearly impossible to find.
The 12-fret 00-17s are out there, owned by guitarists who are quite fond of them. But they do not appear on the open market like the 14-fret 00-17 that replaced them in 1934.
Style 17 is one of the oldest Martin Styles. It was originally available only in Size 3, and more-commonly in Size 2-1/2 for $17, hence the style name. When Style 17 reappeared in 1922 with a mahogany top, back, and sides, it was made only in Size 2. They introduced the 0-17 and 00-17 in 1930, making 161 of the latter. They made 151 in 1931, when the pickguard became available as an option.
A 17 was always the least expensive Martin you could buy – until the all-mahogany 14-fret 0-15 entered the Martin catalog in 1940. And now this 12-fret 00-17 Authentic 1931 is the least expensive Authentic Series guitar ever made. And that puts it in reach of more players who have always wanted a 12-fret 00 Martin, and always wanted an Authentic Series Martin, and those who have always liked mahogany-topped Martins but wished they would offer one with the same level of construction as their very best models. And that description sounds an awful lot like me.
Wait, what? Oh. I guess my 2018 finance budget may have to be adjusted as a result.
And that is one man's word on…
The Martin 00-17 Authentic 1931
List Price: $5,999.00. Call your Martin dealer for their best price!

More Photos HERE
Related Reading:
Martin 000-30 Authentic 1919 review
Martin 00-18 Authentic 1931 review
Martin OM-28 Authentic 1931 review
Official 00-17A 1931 Spec Sheet
~