A mature version of the classic islander, Talisker 18 is a sophisticated, sumptuous and satisfying single malt scotch.
Region: Island – Skye
Strength: 45.8%
*Malt for the Common Man Hall of Fame*

– One of the Best at Any Price
Tasting Notes:

Overall: Dense, complex and satisfying
Color: Bright gold with amber edges.
Nose: A piquant snoot that quickly opens up, full with flowers, spice, fruit, and smoke that expands over time.
Palate: Lush, but the tropical fruits and malty sweets are balanced by the savory influence of peat and wood. Water brings out the citrus and peppery spice, while the sweeties fade. And draped across the shoulders is a cape of peat smoke, steadfast, lengthy and luxurious.
Finish: Stretches out long legs in front of the warming fire and blows smoke rings.
"A smoky, full bodied whisky. Starts off subtle and mellow, finishes greatly complex and effortlessly penetrating."
Full Review
Color: Pale golden honey mid-tones, like a dark sauterne, with amber shadows. It is virtually identical to the 10 year old, but maybe a touch darker.
Nose: Like the 10, the first whiff has a piquant punch, almost like smelling salts. But it is not so feinty as the younger Talisker. It is more like polished leather. And then… the bouquet opens.
What others have thought were plums, to me come off as florals. This stuff should attract bees. There is a flourishing with thistle and heather over rich greens, a nip of gingery spice leaps up before dark peat rises more slowly, along the moist skin of an unsliced grapefruit. And there, calmly smiling amidst all that busy nose is burnt vanilla. And as it continues to open up, the genuine smoke appears.
The fruit and florals in Talisker 18 are much more out front compared to the standard 10 year old version, which is considered one of the great single malts, certainly within the Malt-for-the-Common-Man price range. I always expect to find 18 year old Talisker not all that much "better" than the classic 10 year old (or even the rougher 8 year old of bygone days.) But this has a lot going on that simply doesn't show up in the 10 year old.
The sea tang, pepper and oak are all there in the 18, but well married, and the fruity florals bring a certain fullness to the overall experience, and a greater depth.
And that is all before one even tastes the whisky from the glass.
Splash: Peppery fruit rides at the front of the vanguard, with a big, smoky blast on its tail, but not much in the way of heat. This is officially "smooth scotch." It does not bring the sucker punch Wow! of the hotter, rawer 10 year old Talisker. Talisker 18 makes a suave entrance and starts to reveal an elegant form with a smoldering heart. This is a very sexy whisky.
Palate: There is not so much of the obvious bourbon-cask flavor palette one finds in the younger version. Any tropicals like coconut and banana are delegated to accents. In their stead is citrus-infused honey, with a smart tang that runs off into a watery base slicked with oil spots.
Vanilla emerges over time and very much the saltwater taffy variety, drizzled with honey, followed by orange liqueur, which fades into liquorish root. The peat rolls in with soft, drying herbs, before oily clouds bloom and float to the top of the mouth after separating from the watery base.
The palate is even fuller than the nose, and it mellows into a chewy aftertaste of kale and smoky roasted chicory. While flirting with oranges, the main squeeze is grapefruit, and the coconut that emerges out of the 10 year old is here too, but as a pale background shade, detected more in the nose and only after things settle in.
This is a prime example of full bodied malt whisky. It just goes on and on. Six or seven layers dusted with peppery spice. Besides black pepper, unsweetened cinnamon is the main spice, and it is quite woody at that.
A pause to let the first glass settle in brings to mind an old pickle barrel, woody with some brine and a faint sourness – like salted lemons. A breath of air tastes of a winter's night in a spruce forest. Something minty invades the outer gums, but any dryness stays on the tongue. All younger tannins are gone. No mature bitter tannins have yet appeared. There is no waxy buildup, but a faint taste of paraffin frames the more colorful flavoring. And smoke is steadfast.
This is reminiscent of the blend Johnnie Walker Gold, the youngest component of which is also 18 years old. I realize now it must contain a good portion of Talisker along with that blend's centerpiece, Clynelish. [review coming soon]
A second pour brings with it the scent of living roses on a rainy day near the seaside. The waves keep rolling in. Fleeting butterscotch across the tongue gives way to a biting bitter vein of green mulch peat, chased on by sweet malt with a dash of pepper, and sugarless cinnamon, then tree sap and Grapefruit rind.
Water: a splash in the glass conjures up a waft of laundered bed sheets drying in the wind on a sunny lawn, while a pitcher of cool lime-aid sits next to a freshly turned plot of garden top soil. Wonderful, warming treacle rises from the glass, bitter herbs intruding on the edges.
The addition of the water focuses the citrus, while diluting the sweets into creamy vanilla custard, leaving a firm smoky frame on a malty canvas, with drying oak, woody spice and citrus zest as the primary pigments out front.
Lemon rosewater presides over the long nose, a surprising sweetness remains at the heart of the palate which falls away after each pull, leaving the peat and pepper. Smoke takes over in the finish, with plant stems, some mature tannin, liquorish, and of all things, garlic.
Finish: A well-integrated ghost of the main palate: salty sea air with citrus rind, birch bark or spruce cones, wildflower honey essence, wearing a shroud of earthy smoke that hangs around like a foggy morning.
The Dry Nose: Someone made a fire of bark covered twigs in my whisky glass, and there incinerated rose pedals, wildflowers, grapefruit rinds, liquorish root and banana strings.
I enjoy this very, very much.
Conclusion: It is the classier rendition of a true classic.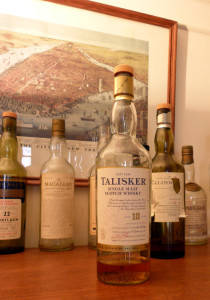 A smoky, full-bodied whisky. Starts off subtle and mellow, finishes greatly complex and effortlessly penetrating.
There is less fresh wood than the 10 year old Talisker, but more aged wood. There is less peaty intensity but more smoky richness. The tide has receded, leaving sea salt rather than seaweed. And there is a bouquet of blossoms that greets me every time I cross the threshold.
This is a malt that fully satisfies with one small glass, and is perfect for savoring over a good book, a philosophical fireside meditation, or to celebrate a hard-earned accomplishment. Some "one and done" whiskies are impressive over the short course, but quickly become too much of a good thing. This elegant yet vigorous malt is an ideal all-night immoderation, never overstaying its welcome, at least for those who can afford the indulgence.
For malts just over the $100 line, Talisker 18 is a worthwhile investment that never disappoints.
And that is one man's word on…
Talisker 18 year old single malt scotch whisky
$120 – Super Buy Rite, Jersey City
Other Talisker reviewed at One Man's Malt
(more to come…)
Talisker is one of Diageo's Classic Malt Selection of single malt whisky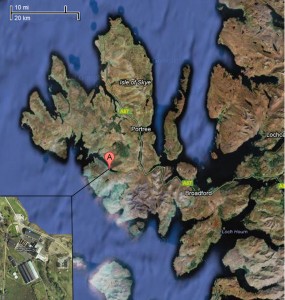 Talisker is one of Diageo's Classic Malt Range