Talisker Distillery is owned by Diageo and operated by United Distillers and Vintners.
Region: Island – Skye
Size: 2 Wash Stills, 3 Spirit Stills, 3.5 Million Liter Capacity
Water: Springs directly above the distillery
Notes: Talisker is the only distillery on the Isle of Skye, west of the Scottish mainland.  Originally triple-distilled, Talisker moved to two distillations in 1928.
Modern day malted barley is acquired from Glen Ord Maltings.
Talisker malt is peated to +/- 22 parts per million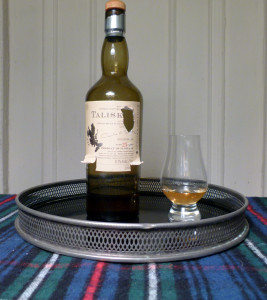 The distillery itself is based in Carbost, on Skye, and was built in 1831 by Kenneth and Hugh MacAskill, and then rebuilt fifty years later. The distillery was destroyed by a fire in 1960. The five stills, with their unique reflux system, were recreated in exacting detail.
Talisker is a member of Diageo's Classic Malt Selection of single malt whisky, and plays a role in the Johnnie Walker blended scotch expressions, most noticeably in the now retired Green Label, and Gold Label.
 "The king o' drinks, as I conceive it, Talisker, Islay, or Glenlivet."  –  Robert Louis Stevenson
In those days, Islay and Glenlivet were terms used for certain regional styles. But just like today, Talisker was alone unto itself.
Talisker Reviewed at One Man's Malt
Talisker Storm (coming soon)
Talisker Distillers Edition (coming soon)
Talisker 175th Anniversary Edition (coming soon)
More to come…