Tasting notes for Campbeltown Loch
Overall: Fresh, sassy, and sweet with heat. It is mild and pleasant, if spicy, and great for mixed drinks. That is not faint praise. Campbeltown Loch is very good for what it is: young whisky of high quality.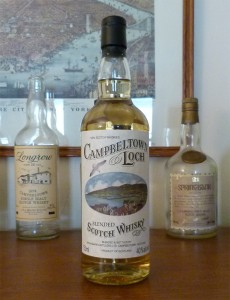 Campbeltown Loch is new to America, but it has a cult following in Scotland with good reason.

Color: The palest translucent gold.
Nose: Fragrant with pungent peat and sweet florals, some milk chocolate, a twinge of seaweed, and faint smoke.
Splash: Fiery sweet, like cinnamon candy.
Pallet: Golden syrup and juicy fruit are slapped on the back by chili powder, with clean, sweet grain sweeping up at the end of the line. Smoke comes out over time, but overall it has a notable flavor of fresh pears, reminiscent of pear mead.
Water cools it off and ice brings out the fruit. This makes for a great summertime scotch on the rocks, or whisky and soda.
Finish: Grandma's dish of hard candies, orange, and raspberry, and lemon-lime, with some old fashioned cinnamon Red Hots. Then there comes the young, green peat with some nice smokiness that stays around a good while. The end game is about oak boards freshly sawn, along with cloves and licorice.
Full Review
There was a time when you could only purchase Campbeltown Loch blended Scotch whisky in Campbeltown, the small city on the Kyntire peninsula of Southwest Scotland. And even there, you could only buy it at the Springbank distillery, from whence it comes. It is their house blend and like most blended scotch it is made with 40% single malt and 60% grain whisky.
But this blend features only the Campbeltown malts, Springbank and Longrow, both made at the same distillery. It is uncertain if any Hazelburn ends up in it. In any case, the only malt whiskies made in Campbeltown today are owned by the same company, J and A Mitchell.
Now, Campbeltown Loch is generally available, over there. I was shocked to see it in a shop in New York City. I acquired the last bottle on their shelf, to make sure it was set safely on the shelf.
Color: Pale as sunlight. You may find malt whisky this translucent from some of those ultra-traditional, independent bottlers' single-cask expressions. But I cannot remember seeing another commercially produced official bottling with such a Chablis color, at times it looks like silver mercury when the light strikes it.
Nose: Just as one might expect, it has a nose that is part Springbank, malty, fruity, earthy, peaty, and part Longrow, which is extra peaty and smoky, along with a breakfast cereal sweetness that plays off the sea salt tang for which Campbeltown whisky is known. There is American oak all over it, with vanilla and banana notes. But like everything in this whisky, it is subdued and congenial, and very easy going.
Well, everything except the chili peppers.
Splash: Delicious malty sweetness sets up a big, hot chili-spiced blast. This tastes like what it is: young scotch aged in refill bourbon barrels, but young scotch of very good quality. The heat adds an exotic, almost tequila dimension to it.
Pallet: Malty sweetness is at the center of each sip. It turns fruity, like Juicy Fruit gum, and then, ole! Here comes the rushing charge of the chilis, which fades into cinnamon toast as the grain sweetness comes through in the aftertaste. After a half a glass, fresh, ripe pears emerge with honey, like the pear mead from Germany.
It has a light body, and there is nothing waxy about it. There is a touch of Campbeltown oil, but really quite mild compared to the single malts from Springbank.
Water: A splash of water takes the edge off the chili powder and some ice brings the fresh fruit ever forward.
Finish: Surprisingly long. The 5-year-old-malt and fruit pallet drops off quickly, but the smoke, spice, and tannins from the young oak keep one company for a good long while.
Dry Nose: the empty glass is peaty, with some butterscotch sugars and grass in the seaside dunes.
Conclusion: A soloist among the blended scotch choir, Campbeltown Loch is an interesting change of pace from other well known blends and comes for a price that makes it a no brainer, everyday malt-for-the-common-man.
This perky blend is a great summertime scotch. I find the fruit refreshing. My late father would have loved the spicy, smoky character for his scotch on the rocks. My brother will likely enjoy this in a whisky and soda (Happy birthday, by the way!) For me, it works great for both, and especially in with ginger ale. But I also take mine with just a splash of water.
Apparently, there have been two attempts to import Campbeltown Loch in the past three years. The first was half-hearted. The second has met with great success. While still hard to find, it should be showing up in more markets soon. It is most welcome. Now if they will only import the 21 year old version!
And that is one man's word on….
Campbeltown Loch blended scotch whisky.