Fortunate Fans of Special Spirits Convene to Consume at WhiskyFest 2013
Times Square, New York City – The Broadway Ballroom at the Marriott Marquis was the place to be, on the evening of Saturday, October 12th, as drinks companies around the globe offered up tastings of over 500 of the world's best spirits, namely single malt and blended whisky from Scotland to Japan, along with the ryes and bourbons from America and Canada, and even gin and other grainy spirits. Such was WhiskyFest New York 2013, presented by the folks that bring you Whisky Advocate magazine.
The crowd was electrified by anticipation as they waited for the doors to open and the VIP hour to begin, which cost extra, but was expected to include some of the best whisky from the highest shelves.

It would take a month of Saturday nights, if not a couple of months, to adequately sample and assess every wonderful offering being poured out across the display tables at WhiskyFest 2013 by all those cheerful brand ambassadors and their often fetching assistants. So I focused almost entirely on the malt whiskies, settling on the brands I do not often get to sample or expressions from old favorites that are new or exceptional.
A good portion of the latter happened during that VIP Hour, which costs an additional $50 on top of the $200+ fee for just walking through the door.
That may seem prohibitively expensive, but when one considers how even the best whiskies in the world do not suit every palate, and that I was able to taste over one dozen whiskies priced over $300 and at times well over $400 a bottle, and many more costing over $100, it was a privilege worth paying for. Had they been ordered by the glass at the hotel's penthouse bar, the bill would have been greater than the GNP of some third world countries.
Not a Bad Dram in the Place
A musician playing a pre-war Martin guitar costing $50,000 may appreciate why those who can will pay such prices, but they may also learn that their new Martin D-18 retains the family resemblance for a fraction of the cost. And such it is with high priced whiskies.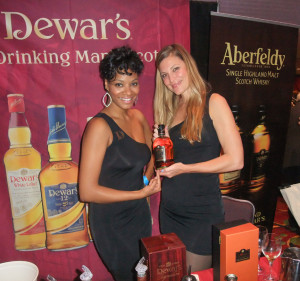 For example, when sampling them side by side, Aberfeldy's core 12 year old single malt expression had all the sweetly honeyed notes juxtaposed to the ghostly botanical feinty notes of their famed 21 year old, even if the older version was certainly deeper, smoother and more complex. And for that matter, it was instantly recognizable how Aberfeldy is a primary flavor component of Dewar's White Label blended scotch, as well as their lofty blend, Signature, featuring velvety smooth whiskies 25 and 30 year old. Rarely does one get to sample and compare all of them in one place.
Another good example of the WhiskyFest experience was found at BenRiach's station, where multiple and notably different tastes were found on the same table. This was a mothballed member of Chivas' Speyside distilleries before it was purchased in 2004 and revived by Scotsman Billy Walker and his South African investors, who immediately went through the warehouse stock and started releasing some very good whisky.
I thoroughly enjoyed the flavorsome 16 year old BenRiach reviewed by the 8 Men of Malt a few weeks ago, and I was looking forward to trying some of their other offerings.
In addition to the 12 and 16, they had the 10 year old Curiositus, their rather purposefully peated expression. I was surprised that it did not strike me as all that much more peated than the 16. Although it definitely has a peaty profile across the range of the tasting experience, it was restrained and nicely integrated, rather than being the elephant in the room found in malts from places like Islay.
As nice as it was to have the three core expressions laid out at Whiskyfest, it was trumped by the exclusive opportunity to sample some BenRiach that hasn't even been priced for the American retail shops, as of yet.
Both were single cask expressions. One was aged in a bourbon barrel, and the other in a sherry barrel. Nosing them side by side was like having to choose between a pineapple-coconut-banana cream pie in a vanilla wafer crust, or a yuletide plumb pudding with a spiced berry sauce on a platter of holly leaves.
But when I got down into the palate of each, I found that solid malty BenRiach center of garden herbs, burnt toffee and savory orange peel. Would that I could bottle such a lesson in how a first-fill cask that had previously held sherry or bourbon imparts a different, delicious influence upon quality malt whisky, and share it with you all.
I cannot; but BenRiach did bottle it, and you should see the results available for sale at a specialty retailer sometime soon. Similar experiences were had at every station throughout Whiskyfest.
Peat and Sea-Peat
Heading west across Scotland, or to the left of the Broadway Ballroom, I found two peaty whiskies I had been looking forward to trying for some time.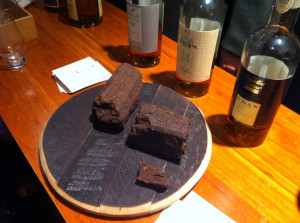 The 12 year old Lagavulin Cask Strength was every bit as robust as I had hoped. The 12 year old of the 1980s was a personal favorite, and today's 16 year old has found calmer waters in recent years. Not so the 12 year old CS. It must have been cut mighty low in the still to render such a full and bulky maritime palate, which may be a bit sweeter in a "sugar water" way than the 16, but which is more than compensated by the mulled wine spices and a heady smoke that starts out peaty and then turns meaty, like drippings sizzling in a barbecue pit.
Perhaps the most anticipated whisky was Storm, by Talisker, which was making its American debut at Whiskyfest, and shall be priced slightly higher than their core 10 year old. Reports from Europe about this non-age statement expression have been all over the place, with tasting notes from the same blog going from "the smokiest Talisker made" and "best Talisker I've had" to "less smoke than the 10 year old" and "a tepid tempest not recognizable as Talisker."
The choice of the name Storm is at the heart of such varied comments. It suggests a turbulent powerhouse and immediately brings to mind the non-age statement gems produced in recent years across the water at Bowmore and at Ardbeg on Islay. All of those are in fact extremely peaty and powerful whiskies, as one might expect.
But Storm isn't Talisker trying to out Islay the Islay whiskies! Nor is this Talisker 10, only better. This is an effort to return to a classic Talisker style from the days when the core expression carried a big red 8 on the label, and had a briny, edgy seaward identity.
Talisker Storm is made from vatting younger whisky with some that is considerably older, to add depth and weight to the palate. A similar approach was used to create the 175th Anniversary expression. But where that pricier whisky seemed to be aiming for a comfy drawing room easy chair, Storm is going for the brisk and salty seaside.
I did not find a storm in my glass, let alone the Corryvreckan whirlpool. But I did find a ripe and raucous Talisker, which had a craggier topography and a brinier emulsion at its core than the rounder, and perhaps fuller bodied 10 year old. And the finish and waft from the dry glass revealed that the wildflowers haunting Johnny Walker Gold Label didn't all come from the East Coast of Scotland.
This is Talisker all right. I am looking forward to my first full bottle of the stuff, and this site will provide a full review once we have time to turn our bow into that particular storm.
Who's to say if they captured the Talisker of old? This is probably less raw then the Lava of the Cuillins from bygone days. But I enjoyed it very much. It is a slap on the back and hearty handshake kind of dram.
Men of Spirit
I was introduced to Storm and to the folks at the Talisker booth by Diageo's Spike McClure. Spike is as enthusiastic about his profession and its Scottish products as he is the Scottish music he performs on a musical saw in a local band, and he was just one of the colorful characters roaming the aisles or manning the stations. Amongst the roamers were members of the Malt Maniacs, including Whisky Advocate's own Dave Broom, author of one of the true bibles of whisky faithful, The World Atlas of Whisky, and the soon to be released Whisky: A User's Guide, for which he held an exclusive tasting event on Friday afternoon.
Near the sumptuous gourmet supper buffet, I spied a true legend of the American spirit, Jimmy Russell, Master Distiller at Wild Turkey. His Kentucky accent was as smooth and jovial as the whiskey he makes. And during my visit to the BenRiach – GlenDronach station I met a most spirited Scotsman in Stewart Buchanan, who started work in a Burn Stewart stillhouse over twenty years ago, but most recently was Manager at BenRiach.
I was surprised to see him at Whiskyfest, but he is now acting as Brand Ambassador, which takes him around the world promoting BenRiach and GlenDronach. He was very pleased that the on-site floor maltings are back in operation at BenRiach, but he was most enthusiastic about the recent acquisition of Glenglassaugh, another unique eastern distillery that was only recently brought back to life and will now be afforded a renovated infrastructure and broader distribution. Buchanan had just completed the finishing touches on the Glenglassaugh 30 year old expression. He didn't have any with him on this journey, but he proudly proclaimed that those who have sampled it in Europe declare it the best whisky they ever tasted.
As I approached Laphroaig, Master Ambassador Simon Brooking was indeed masterful, as he led several attentive tasters through the various expressions in the core range, and enlightening them with the how's and why's of whisky that separate Islay from the mainland by more than just a two hour ferry ride.
To impress his points further, he produced a torch, which he fired up and then held to a chunk of peat, educating all the while, until a tendril of peat smoke rose and then wafted into the crowd as he passed it to and fro.
He recognized me as I approached and asked me to wait until he was done with this latest performance, and then he reached into a green rubber boot and pulled out a bottle of Laphroaig's Cairdeas, their limited edition created for Fèis Ìle 2013, the Islay whisky festival.
All of the distilleries on Islay do a special bottling for the festival. This year Laphroaig's offering was aged in Maker's Mark bourbon barrels for 8 years, and then finished in a port pipe for between 14 and 16 months. So, this Laphroaig is young and cask strength at over 51% APV, but the port finishing does a fine job of smoothing off the youthful edges and the high alcohol content.
With a deep rosy color, it is atypical Laphroaig, being very sweet and fruity up front, without much of the medicine kit smell. The mouth is full and rich, and while it has a center that is all Laphroaig, the soft roundness from the port cask makes it seem like it is wearing this full, warm goose down winter coat. It did a number on the usual Laphroaig style, but it is a thoroughly enjoyable one. I think port finishing may do more for hardcore peaty whiskies than it does for the lighter Glenmorangie, or Balvenie styles.
 
 
 
 

Wild Turkey's Jimmy Russell
or vice versa

BenRiach's
Stewart Buchanan

Laphroaig's Simon Brooking
turns up the peat

Rough Rider's Richard Stabile
at the end of a long night

 
 

Spikeo & Daveo Marx

Spike McClure & Dave Broom
Another affable personality belonged to Richard Stabile, president and founder of Long Island Spirits, located in Baiting Hallow, New York. He too was understandably proud of the high quality of the very young spirits currently offered by Long Island's first craft distillery. They have been gaining a positive reputation for their LiV, a 100% potato vodka, and their flavored Sorbetta, a "liqueur" that infuses their vodka with fresh fruit. But they have also recently entered into whisky making.
Their Pine Barrens label is malt whisky, approximately 1 year old via "petite" new American oak barrels (see photo above.) For being so young, I found it had a very nice flavor without seeming particularly raw, compared to some other artisanal whiskies out there.
American law declares that even malt whisky must be aged in new oak barrels, which can have too strong an influence on its more delicate chemistry. So, American distillers compensate by using a stronger and more flavorful wash than their Scottish counterparts. One interesting feature of this spirit, it is distilled from a finished ale with a high hop content, rather than the raw pure-malt wash typically used. Stabile began making Pine Barrens by distilling the barley wine from the nearby Blue Point brewery. But now he is brewing his own ale to create his malt whisky.
I would not mistake this product for "scotch" but I do not think that is Stabile's goal. Long Island Spirits is looking to make a name in the world by creating unique spirits out of traditional methods and materiel, and they seem to be heading very much in the right direction to accomplish this. There was something rather Irish about it. But instead of that fresh and very "green" flavor unique to that isle's malt spirits, there was a different kind of crisp, planty taste, which is likely related to the hops. The fledgling spirit in my glass was absolutely potable, and I look forward to seeing how it takes to genuine aging.
LIS also had their Rough Rider straight bourbon on hand, which is a corn whisky featuring about 35% rye and 5% barley, and their Rough Rider three-barrel rye, which is aged in new oak, then spends time in Rough Rider bourbon barrels and finally in Pine Barrens malt whisky barrels. I was pleasantly surprised at how smooth and flavorsome they proved to be, and the rye especially so. I was not alone in my assessments. During my brief stop, the Rough Rider table received multiple visitors who were already familiar with the brand and came to shake Stabile's hand and tell him how much they enjoy his whisky.
Best In Show


There were so many whiskies to explore and enjoy, from companies large and small, old and new. I made no attempt to try them all, but here were my favorites from the evening, not already mentioned:
Blended Scotch Whisky: Johnie Walker Platinum. I was relieved that this non-age statement blend replacing Johnnie Walker Gold in the just under $100 price range is a very fine whisky. It is smokier up front than the Gold, but less smoky in its lengthy, woody finish. It was also spicier and less flowery. We will be doing a full review of this soon!
Single Malt: Glenlivet 25 yo, and Glenlivet 21 yo Archive. Both are rich and rounder than the blossoming, fruity 12 yo expression. But at their heart is that red apple-rich Glenlivet distillery character. I tend to take Glenlivet for granted and usually only have it on airplanes. I am happy to be reminded of what a classic Speysider it is, especially in the higher ages.
The Archive is a traditional blending of bourbon-aged spirit and refill sherry casks. It has a big tropical burst of American oak, then the sherry influences rise wonderfully. The 25 yo has a similar vatting ratio of refill sherry casks to bourbon, but then spends its final two years in first-fill Oloroso sherry casks, which results in a lively waltz of the two influences from the get go, before all the European figs and almonds and Christmasy spices kick up their heels, yet they remain firmly in the grasp of a skeletal American oak structure. As indulgent a 43% whisky as I can remember.
Best in Show: Samaroli independent bottlings are simply out of this world. The Italian Silvano Samaroli was the first foreigner to buy and bottle scotch malt whisky for an independent label, when he began in 1968. But he has only started selling in the USA over the past two years.
The quality of these small batch, cask strength offerings is only found in bottles costing hundreds of dollars. The distillery character came through every time, be it the plump and malty 23 year old Glen Garioch, a tarry 17 year old Caol Ila, or the earthy garden in the 21 year old Glen Scotia, and yet there was this overreaching quality to them that kept them related somehow, in a sort of vanillin or sweet malt sugar aroma to the nose. I assume it is related to the fact they were all aged in the same microclimate in Italy. But I also wonder if he re-casks (French oak?) Yet in every case, the character of the distillery remained so very there, and each seemed to have a palate with all the pigments or flavors or bands on the equalizer tweaked to amazing perfection.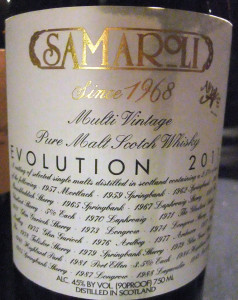 But the cat's meow was Samaroli's Evolution 2011 – a vatting of 40 single malts, from the 1950s through the 1980s, with each providing 2.5% – 5% of the mixture. A production of 300 bottles worth was vatted in Scotland, using a traditional method abandoned by the modern industry as being too expensive.
Basically, it is done in batches, which are re-blended every couple of months or so, with some additional water, "so that it is gradually absorbed by the whisky's various organoleptic components." At well over $400 a bottle, it should be spectacular, and it truly was a thing of complex and deeply moving beauty.
The components on this particular vatting included 1957 Mortlach, 1959 Springbank, 1962 Springbank, 1963 Bruichladdich sherry cask, 1967 Laphroaig sherry cask, 1971 Glen Garioch sherry cask, 1971 Glenlivet sherry cask, 1973 Longrow, 1976 Ardbeg, 1977 Ardmore, 1978 Talisker, 1981 Port Ellen, 1988 Lagavulin, well you get the idea. Let's just say, there is very good blended scotch, and then there is the kind served on Mount Olympus.
Yes, it is a pretty penny to get into such an event, and it costs considerably more if you wish to take part in the private seminars where the master distillers share some extremely rare expressions. But if you have a true love for the art of fine whisky, you simply cannot match the tasting opportunities found in events like Whisky Advocate's Whiskyfest, or Whisky Magazine's Whisky Live!
Look at it this way: My ticket price for a very full evening's entertainment was a good deal less than the better seats at a rock concert or major sporting event. And they don't come with a 4-star all you can eat buffet and Glencairn tasting glass!
Such events take place in various cities around the globe, so search the internet for the next one nearest you.
And that is one man's word on…
WhiskyFest New York 2013
Click HERE for More WhiskyFest Photos
~
Official WhiskyFest 2013 Exhibitors (I will complete the links eventually)

***