Whisky Live New York 2013 a Rousing Success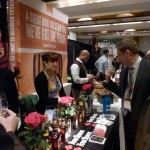 Whisky Live New York took place Wednesday night, April 3, on Pier Sixty in New York's famous Manhtattan, one of 16 cities around the globe that host the "World's Premiere Whisky Tasting Show." And it was a rousing, educational and entertaining success. Those attending were greeted and treated to countless varieties of malt whisky by more than sixty exhibitors, representing ten nations. There were also several incarnations of America bourbon, Canadian ryes, along with brandies, rum, gin, beer, and even cigars.
Many of the foremost experts in the craft of distilling were on hand to share their wisdom and humor, along with priceless insights, and some of the finest drams available anywhere, many of which cost hundreds of dollars per bottle at a liquor shop, if one can find them at all.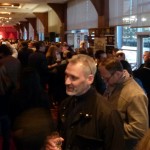 While ticket prices were on par with a Broadway show, I found the investment well worth it. Even the extra $30 for the VIP ticket paid off handsomely, due to the exclusive first 90 minutes, when the various "brand ambassadors" had more time to spend with individual questioners, and the very best whiskies were available for tasting, before the doors were opened to the teeming masses that flocked three-deep around the most popular stations.
Prior to exploring new brands, I sought out some labels I knew well in the past, but which have had their recipes altered in recent years, as more and more distillers move away from the tradition where each expression is basically the same whisky, only a few years older than the next lower price point.
In its place, some companies have embraced a revolutionary system where traditional aging and finishing methods are used to make each expression stand out as a distinctive offering unto itself, and how the tactic is now employed along a brand's core range of whiskies, rather than only with limited editions.
A label that has been well improved by this new philosophy is Glen Garioch, which in the tight-lipped dialect of the eastern Highlands is pronounced simply "Glen Geery." I sampled two of their small batch releases, the 1986 and the 1994, which had varied, increased and impressive amounts of spice, malt and florals compared to the Garioch of a decade ago. But it was the core 12 year old expression that was one of my Best in Show whiskies, certainly in its class. It had considerable body for an east-Highlander, with a juicy yet judicious use of sherry that enriched the Garioch spices and florals rather than swamping them. Of the traditional single malts getting a modern makeover, it was the one I found most surprising in a positive way.
Overall, it was not the champion single malts of renown that stood out during Whisky Live New York. I expect them to be first rate, satisfying and delicious, and many, such as the 21 year old Auchentoshan and the 25 year old Bowmore were all of that. But the greatest impressions were left by the genuine surprises. I happily found several worth revisiting.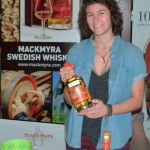 There were the single malts from outside of Scotland, such as Sweden's Mackmyra. With 95% aged in fresh Jack Daniels barrels, it has a serious bourbon character and a sweetness that was cut nicely by the acidic trace from the 5% aged in virgin Swedish oak. Amrut is from India and likewise uses bourbon barrels to get a lot of flavor into its young single malt whiskies. They too are sweet and gentler than their youth might suggest, but their 6-1/2 year old Fusion expression mixes their main whisky with some made from peated grain, and received the highest marks.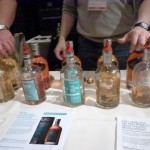 I wasn't exactly surprised the peaty Port Charlotte was enjoyable. But I was not expecting the opportunity to try this fledgling label from Bruichladdich. I never tasted whisky from the extinct Lowlands distillery Inverleven, whose stills were transplanted to this Islay location, but this new Port Charlotte was very good and has excellent potential for future, older expressions. The smoke was prevalent, but it was not as all-about-the-phenols as you get from Bunnahabhain's peated label. Instead, the peat rose from a cushion of toffee, and it shared the non-medicinal, malty quality that makes its sister whiskies from Bruichladdich stand apart from other Islay scotch.
The pricy Usquaebach is the blend lover's blend, being a smooth and gentle, subtly complex solution of highland malts and well-aged grain whisky. But I found their Special Reserve to be quite lively and enjoyable for half the price of its more famous brother. This was my favorite new nose of the night, delicious. A bit hot perhaps on the tongue, it was none the less a great blend for drinkers accustomed to hardier pure malts. And their 15 year old vatting of 15 single malts was lush and mouth-filling, with some real meat on the bone. Douglas Laing & Co. Ltd continues to combine ingenuity with levelheaded thinking when putting together blends and blended malts such as these (See my [forthcoming] review of their Double Barrel vatting of Highland Park and Bowmore.)
Also in the blended whisky department was Black Grouse. I was always a fan of the Famous Grouse, the most popular blend in Scotland. But I liked the Black Grouse better. Although it struck me as a less integrated entity, this actually worked in its favor. The addition of smokier, brinier malts (Bowmore? Talisker?) allowed the succulent fruit of the Macallan to stand out, just as the Highland Park retained more of its own tightly woven identity as well, and the grain whiskies are set farther back into the picture compared to the Famous Grouse. A bottle of Black Grouse should find a place on the shelf sometime soon.
I guess it shouldn't be too big a surprise that I find it to my liking, as I have always placed the traditional expressions of the Macallan and especially those of Highland Park at the very top of my shortest list. So it is with some regret that I passed up the Highland Park/Famous Grouse booth until late in the evening, as there I met Nicola Riske, Brand Activation Manager for Edrington America.
With such a radiant smile, and her disarming dimples, I confess I mistook her for one of the many professional spokesmodels populating the exhibits, after they were given a crash course in the basic talking points of each liquor they were pouring. When detailed information was required, they would pass the taster off to the official ambassador representing the brand.
Only when I overheard Ms. Riske addressing a group did I realize her keenness for the whiskies was notably genuine, and that she was in fact the resident expert for Highland Park. When she turned her attention my way I found her expertise as great as her enthusiasm. She treated me to some Black Grouse and a short chat before I left her to the mob of other questioners. I am on a first name basis with various members of other large whisky concerns, but I know no one from Edrington. I very much enjoyed connecting with another Highland Park "geek", however briefly, and one with some inside information to boot.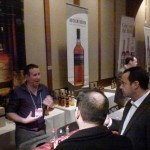 As nice as it is to sample so many fine whiskies in one setting, for me the real treasure of Whisky Live is found in the opportunity to converse with such knowledgeable insiders. Some of those at the booths knew their stuff quite well, but were clearly polished marketers performing at a gig, while others like Ms. Riske loved their job, and showed genuine affection for the spirit and heritage they represent.
Special mention needs be made of David McNicoll who manned the three exhibits for Morrison Bowmore moving from one to the other when beckoned by his assistants, and rarely getting a moment to catch his breath. A former distillery worker, the Scotsman knows the whisky making process through and through, has a most congenial manner and a seemingly inexhaustible wealth of knowledge, including how to share even the most esoteric facts through concise and accessible answers. Far from jaded, he took great care and exhibited unaffected pride in the traditions of Scotch whisky, and a zeal for sharing them with others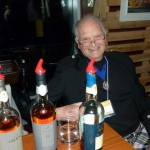 And then there was the gentleman from Diageo, Evan Cattanach. The retired master distiller who left his thumbprint on whiskies from Islay to the Highlands, to Speyside and beyond, Cattanach practically invented the role of whisky ambassador. After decades in the business, he could hardly contain the obvious pleasure he finds in his profession, as he took in the goings on around him with the broad, satisfied smile of a family patriarch at a festive Christmas Eve party. No hard sell from the folks at the Classic Malts booth. But then, when the range includes Oban, Talisker and Lagavulin, along with their sumptuous Distillers Editions, they vend themselves just fine.
I wish I could have visited all the stations, tables and booths. But there simply wasn't time. My biggest regret was not meeting Michael Heads, Distillery Manager at Ardbeg. I was tempted to take his master class, which featured some single cask tastings brought from Islay, but it was an extra $56, and two nights previous I had been immersed in a private tasting of five Ardbeg expressions and a custom vatting of three of them.
But at least I wanted to introduce myself and offer a handshake to a man viewed by many as a star in the single malt industry, and to congratulate him on Ardbeg's outstanding quality from their entry level 10 year old expression, right up through the core range and many stellar special editions.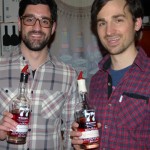 I was able to meet some of the proprietors of new companies, including two local operations from right here in Brooklyn, participants in the renaissance of the artisanal distilling that was once a thriving cottage industry in Civil War era New York.Breuckelen Distilling Company was founded by Brad Estrabrooke in 2010, and currently offers a wheat whiskey, and a whiskey made from a mash of rye and corn, as well as their own gin.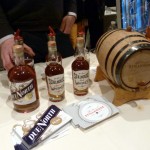 Daric Schlesselman's Van Brunt Stillhouse is about to celebrate its first year in business and had on hand a multi-grain whiskey that tasters said had the fruit notes of scotch, but with rye, wheat and corn reflected in its new-barrel sweetness, and a single malt made with Canadian barley and aged in oak from Canada and Minnesota. The malt was surprisingly genteel, yet seriously woody at the tender age of 9 months. They also make moonshine, and even a grappa using grape skins from Brooklyn wineries.
Given the amounts of scotch that passed my lips, I choose to stick with malt whisky exclusively, so I did not try any of the various bourbons, beers or other spirits available. But there was plenty of variety none the less. My final stop was the French single malt whisky, Brenne. Owned by American Allison Patel, Brenne is made from French barley, double-distilled in an alembic cognac still, in Cognac, and aged for five years in charred virgin barrels of French oak, before being transferred for finishing in cognac barrels. I must say, it was unlike anything I have ever tasted before, but I liked it. I will keep an eye out for this label as it develops, and revisit its many flavors, from barley pilaf, to oat porridge, woody spice to citrus zest, to the pink bubble gum sold in packs of Topps baseball cards back in the day. It is the first wholly unique whisky I have found in a long time.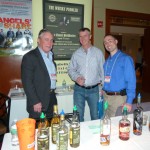 I never came to Whisky Live before, due to scheduling conflicts. I am sorry it must come but once a year, and already I look forward to its return in 2014. I hope the exhibitors I missed shall return as well. One thing I will do for certain, try more of the independent bottlers' fare than I did this year. I simply ran out of time.
But, I did manage a wee taste of some Glenturret, courtesy of Gordon and MacPhail. It was a mellow dram, on the lighter Highlands side of things, but I cannot say I recognize it from the Famous Grouse blends. And I had the Old Whisky Peddler single cask Highland Park, aged 15 years in a bourbon barrel, thanks to Bayway World of Liquors, from Elizabeth, NJ. Unusual it was, to find bourbon notes all over that particular malt. It was among the tastings that have stayed with me the longest. And it will be remembered when I review the latest distillery expression of 30 year old Highland Park, which arrived today from Scotland.
Learn more about Whisky Live at their website http://www.whiskylive.com/
And that is one man's word on…
Whisky Live New York