BenRiach is owned by the BenRiach Distillery Company Ltd.
Region: Speyside – Elgin
Size: 2 Wash Stills, 2 Spirit Stills, but they run well below their actual 2,800,000 liter capacity, focusing on quality over quantity.
Water: "The Burnside Springs" drawn from underground.
Notes: The traditional floor maltings were closed in 1999, but are back in operation beginning in 2013. Although they claim some 10% is peated malt, their officially "unpeated" expressions still have a smoky character, especially compared to other Speyside scotch.
Established in 1898 by the John Duff, the distillery produced spirit for less than two years before it was shut down and became the malting facility for Duff's nearby Longmorn distillery.
Glenlivet recommenced whisky making at the site in 1965 and sold the distillery in 1977 to Seagram's, owners of Chivas Brothers. They released the first modern distillery expression in 1994. In 2001 Seagram's was engulfed by parent company Pernod Ricard, which cut production at the distillery to almost nothing.
Fortunately for us, in 2004 BenRiach was reborn into the hands of scotch whisky expert Billy Walker and his investing partners, Geoff Bell and Wayne Keiswetter, both of South Africa.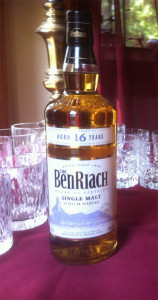 With stock going back to the 1960s, Walker set to work as the new master blender, reputedly beginning in his garden shed, and eventually sampling every cask and coming up with with today's core expressions, specialty vintage releases, and a projected calendar for a long-term lifespan that will take advantage of the unique character produced at this Speyside distillery.
Walker also had the good sense to appoint veteran whisky men Alan McConnochie and Stewart Buchanan to manage at BenRiach, with McConnochie focusing on the GlenDronach distillery, purchased a few years later.
Buchanan has since been kicked upstairs to the position of brand ambassador, representing BenRiach and GlenDronach at trade shows and festivals around the world. But he still has time for hands-on involvement at BenRiach, and now at the newly acquired Glenglassaugh, on the coast, just outside the southeast boundary of the official Speyside region.
One Man's Malt Reviews of BenRiach
Single Cask samplings at Whiskyfest 2013
More to come…