Martin takes the western motif guitar tradition to new heights with their LE-Cowboy-2016
A stallion of a 12-fret 000 melding new technologies, Martin tradition, and a Western Americana aesthetic
Specs include: 12-fret 000 body size; all-solid woods including quilted American mahogany back and sides; Sitka spruce top with VTS torrefaction and adorned with an image by western artist Mathew Williams; scalloped braces with 5/16" X brace and 1/4" tone bars; long-scale mahogany neck with simple dovetail neck joint, slotted headstock, Modified Low Oval profile; ebony fingerboard, 1-3/4" at nut, 2-1/4" at 12th fret; ebony straight bridge with bone saddle, 2-1/4" string spacing; ebony bridge pins; Style 30 colored wood purfling and back strip, Golden Era short pattern diamonds and squares fret markers; grained ivoroid binding, mother-of-pearl rider's saddle headstock inlay; Golden Age relic side mount tuners with ivoroid buttons
"This guitar has such character and depth to its voice, with the resonant response reaching way down inside to create a more 3-D soundscape, which quivers with colorful sympathetics lit by the clear and present fundamentals firing off the played strings."
~

One Right Smart Mahogany 12-fretter – Boy Howdy!
Martin's LE-Cowboy-2016 is a Limited Edition homage to the classic Cowboy motif guitars of the 1930s and 40s, available to dealers only in 2016. While the vibrant cowboy artwork stands out visually, this guitar is first and foremost an outstanding musical instrument of quality tonewoods and the sort of handmade craftsmanship the world has come to expect from C. F. Martin & Co.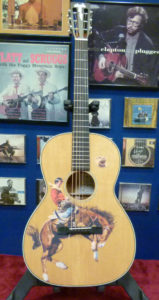 It combines classic, pre-war features like their traditional 12-fret design in the 000 Auditorium body size made from traditional Big Leaf mahogany, with beautiful quilted figuring, and throw-back Style 30 trim, with twenty-first century technologies like their Vintage Tone System of torrefaction, their simple dovetail neck joint, and the ability to recreate decorative fine art directly onto a soundboard of solid Sitka spruce.
The tone glows from this guitar until it engulfs the guitarist with a sonic aura, centered on a midrange saturated with undertone presence, and buffeted by a warm bass and pure, radiant trebles that ignite sympathetic harmonics that waver and swell like limpid lamplight filling a peaceful cloister.
It just sounds so pretty, when coaxed and caressed by the player. But it also has the kind of clarity and woody character that make mahogany 12-fretters a great choice for players of traditional fingerstyle blues.
American Icons – Western Cowboys and Martin Guitars
One hundred years ago Martin was embracing a new century of promise and progress. Their largest guitar size ever, the 000, was starting to get some notice after 15 years on the market. And they were in the verge to moving to solid mahogany for their necks, and for the back and sides of guitars made in Style 18, which switched from rosewood (and in some cases maple) in 1917.
About the same time, the nation was embracing its new coast to coast reality, having added 15 states through western expansion, 10 just since 1889. After turbulent decades of Indian wars and lawless outlaw gangs, what was once the woolly Wild West of legend became the great American West filled with the great American ranches, where real-life hardworking cowboys ride the range and break in new stallions to this very day.
The rugged individualism embodied in the American cowboy was admired across the twentieth century, and honored in movies and on television, in our Country and Western music, and many guitars embellished with cowboy imagery. Most of those instruments were inexpensive novelty items or even toys for children. Few if any were in the exclusive class of truly excellent musical instruments as Martin's LE-Cowboy-2016.
Like the LE-Cowboy-2015, this guitar features reproduction artwork from famed Western artist Mathew Williams.
Click on Photos to Enlarge
I just love the detail that made it over from the actual oil painting, especially the 3-D quality to the hat!
Harmony of Features
While this guitar comes with the Modified Low Oval profile used on Martin's High Performance Neck, it does not have the High Performance taper and required string spacing.
Instead, it has Martin's traditional taper to the ebony fingerboard, with a 1-3/4" width at nut and a full 2-1/4" width at the 12th fret, matched with 2-1/4" string spacing. This is actually the taper and spacing used for years on their modern OM models, and still found today on the OM-42.
And this 12-fret 000 also has OM bracing, but the kind found on an actual pre-war OM. Where modern OMs have scalloped 1/4" bracing across the entire soundboard, this guitar combines 1/4" tone bars to maximize flexibility with a main X brace that is 5/16" wide, for added strength and power. This same combination was used on the first Orchestra Models of the early 1930s, and is now seen on the Authentic Series OMs as well.
For decades, some people wished Martin would release a modern 12-fret 000-18 in either the Vintage or Standard Series, but they never did. And while this guitar does not have the styling or traditional dovetail neck joint, it does offer the kind of killer mahogany – Sitka 12-fretter tone we have longed for.
It shows off just how well Martin's modern Simple Dovetail neck joint performs when it comes to tone production, especially in combination with the large 12-fret 000 sound chamber, and the vintage OM bracing.
Putting that bracing on this VTS 12-fret 000 top was an inspired choice. The guitar sounds so good I had a hard time giving it up and moving on to other instruments under review that day at the Martin factory. And the VTS has a lot to do with why.
Martin's Vintage Tone System makes a new guitar sound broken in and opened up right out of the factory door. And I feel Sitka spruce tops benefit from the VTS treatment wonderfully well. This guitar has such character and depth to its voice, with the resonant response reaching way down inside to create a more 3-D soundscape, which quivers with colorful sympathetics lit by the clear and present fundamentals firing off the played strings.
Read more about Martin's Vintage Tone System HERE.
Mighty Fine Details
The purfling inlaid around the top is a rope style, befitting the Cowboy motif, made of brightly colored wood. This is the same inlay used on modern Style 30, soon to appear on an Authentic Series 000 model as well. The back and sides have a high gloss finish, while the neck has a super-fast satin finish. No photo can do justice to the inlay artistry of the headstock logo, which depicts a saddle, made of mother-of-pearl which appears white, until the light brings out wisps blue and soft rose colors. And I very much love the little side dot position markers, which are yellow, like the yellow in the rope purfling and colorful Style 30 back strip.
I can understand why some folks won't be partial to a guitar with a big ol' horse bucking the hat off a classic cowboy. But those who do will be getting a right fine musical instrument, when they take possession of one these mahogany 12-fret 000s. Mighty fine, indeed.
And that is one man's word on…
Martin LE-Cowboy-2016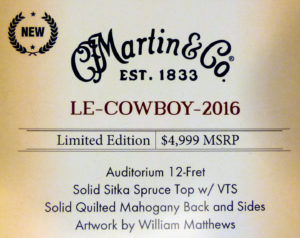 More Photos HERE
Related Reading:
Martin 00-18 Authentic 1931 Review
~
Official Spec Sheet
Model:  LE Cowboy 2016
Construction:  Simple Dovetail Neck Joint
Body Size:  000-12 Fret
Top Material:  Sitka Spruce with VTS
Top Detail:  None
Rosette:  Multi-Stripe
Bracing Pattern:  X Brace
Brace Shape:  Scalloped
Brace Material:  Sitka Spruce
Brace Size:  5/16″ with 1/4″ Tone Bars
Back Material:  Genuine Mahogany
Back Detail:  Quilted
Back Purfling/Strip:  Style 30
Side Material:  Genuine Mahogany
Side Detail:  Quilted
Endpiece:  Grained Ivoroid
Endpiece Inlay:  Multi-Stripe
Binding:  Grained Ivoroid
Top Inlay Material:  Style 30
Side Inlay Material:  N/A
Back Inlay Material:  Multi-Stripe
Neck Material:  Mahogany
Neck Shape:  Modified Low Oval
Neck Taper:  Standard Taper
Plek:  Yes
Nut Material:  Bone
Headstock Shape:  Slotted with Square Taper
Headplate Material:  Ebony
Headplate Detail:  N/A
Headplate Logo Style:  Custom Inlay
Headplate Binding Material:  None
Heelcap:  Grained Ivoroid
Fingerboard Material:  Ebony
Scale Length:  25.4″
Neck Joins Body At:  12th Fret
Number of Frets Total:  20
Fingerboard Width at Nut:  1 3/4"
Fingerboard Width at 12th Fret:  2 1/4"
Fingerboard Inlay Material:  Abalone
Fingerboard Inlay Style:  Golden Era Style Diamonds and Squares Short Pattern
Fingerboard Binding Material:  N/A
Side Dots:  Yellow
Back and Side Finish:  Gloss
Back and Sides Color:  Dark Mahogany
Finish Top:  Gloss
Top Color:  Custom Ink
Finish Neck:  Satin
Neck Color:  Dark Mahogany
Bridge Material:  Ebony
Bridge Style:  Straight Line – Drop in Saddle
Bridge String Spacing:  2 1/4"
Saddle:  Compensated Bone
Saddle Radius:  16″
Tuning Machines:  Golden Age Relic Nickel Side Mount
Recommended Strings:  SP Lifespan 92/8 Phosphor Bronze Light (MSP7100)
Knob:  Ivoroid
Bridge Pin Material:  Ebony
Bridge Pin Dots:  N/A
Pickguard:  N/A
Pickguard Inlay:  N/A
Case:  Ply Hardshell
Label:  Paper Label
Electronics:  None
Left Handed Availability:  No