Inspired by the 1965 original, the Martin D12-35 50th is a modern interpretation of grandeur.
A limited edition, 183 instruments will be made, equal to that first year's production.
Specs include: All solid-wood construction; 12-fret dreadnought shape; Indian rosewood sides and three-piece back; European spruce top with M1 level Vintage Tone System treatment, including maple bridge plate; 5/16" Sitka spruce bracing; grained ivoroid binding; bound mahogany neck with solid headstock, 24.9" scale, 2-13/16" width at nut, modified low oval profile, hand-fit dovetail neckjoint; ebony fingerboard and bridge with 2-5/16" string spacing; Waverly nickel open-geared tuners with butterbean knobs.
"This is the Harley hog of guitars, agile but oh so powerful. I love how it handles across intricate fingerstyle passages and wide open straightaways of full out strumming."
One Great 12-String
This is everything one could wish for in a rosewood 12-string – meaty and sumptuous.
The prodigious sound chamber of a 12-fret dreadnought amplifies the lush harmonic complexity, with its rich rumble of Indian rosewood topped by the bright peaks that European spruce projects above a textured undertone. The whole voice is saturated by a warm and creamy glow that radiates softly, like the many-hued shadows in a watercolor. The open, responsive dynamics of the special VTS treatment provide so much definition to the notes popping off the strings, and such incredible detail down inside the busy voice, that it becomes an engrossing wonder to try interesting chord voicings, just to hear them hover there in the room like beautiful apparitions.
This is the Westminster Abby of guitars, with a voice glorious and cavernous, dark yet glittering, graced by the harmonic angels of a boys' choir caroling at the tomb of Henry VII in the Lady Chapel.
Improvements Upon a Classic Design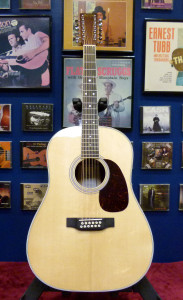 I love the fact it has a short-scale neck that is narrower and less bulky than the original D12-35 it emulates. Those 1-7/8" full thickness necks were always playable, for me, but felt like they required all kinds of sacrifice in terms of what I could not do on them. What a difference 1/16" can make!
But then, the shallow, gently C'd shape of the modern Modified Low Oval profile allows the hand to cup more, so it is easier to reach around to the strings, making various chord shapes easier to achieve.
And while the 1-13/16" width at nut should place the strings a bit closer together, the spacing of the strings over the soundhole makes fingerpicking possible, compared to the old 12-fret Martin 12-strings, which felt like one unbroken wall of strings, at least to my brain-eye-hand.
But I am glad they retained the short-scale neck, as it requires less stress and effort when stretching across multiple frets for chord voicings or fancy fiddly licks with the pinky finger, etc. That is especially appreciated on a wider neck, as a 12-string guitar requires.
And better yet, just like the very first D12-35s, it has a solid headstock! Most 12-fret Martins of any sort have slotted headstocks, which makes re-stringing a daunting proposition, with twice as many strings involved.
Although I like having at least 14-frets available for high-wire acrobatics, Martin's original slope shoulder dreadnought design from 1916 provides additional CCs in the rosewood engine, which purrs with bottom end presence during even light playing, and pushes so much air when the pistons of that extra-large spruce top start to pump and fire under vigorous strumming, that it is worth fewer frets for such a vigorous ride.
This is the Harley hog of guitars, agile but oh so powerful. I love how it handles across intricate fingerstyle passages and wide open straightaways of full out strumming.
This is the 12-string guitar that could make me own a 12-string guitar for the first time in my life. But then, there are already a lot of firsts associated with this special edition Martin.
History Revisited and Revised
2015 marks the 50th Anniversary of Martin's Style 35, which debuted with the 14-fret D-35 and the 12-fret D12-35 12-string guitars. The 12-fret 6-string D-35S did not appear until 1968.
But 1965 was also the year a 12-string guitar was included in the Martin catalog for the first time ever.
The earliest known 12-string Martin was made in 1913, using the 12-fret 000 size. A few others were made in the 1930s as special orders, using Martin's archtop body. But it was not until 1965 that Martin offered an official 12-string model, and used the 12-fret dreadnought body to achieve a mammoth sound.
Offered the same year was the D12-20, with mahogany back and sides, and slightly fancier trim than Style 18. But the new rosewood D12-35 was the real flagship Martin.
Style 35 is recognizable by its iconic three-piece back and was the first Martin made in Style 30 or above to come with the bound fretboard but without an abalone soundhole rosette. Martin had stopped all abalone trim in 1942, yet the new style was being placed above Style 28. So it was given the bound neck as a symbol of its status as Martin's top of the line.
This historic debut arrived in the year that the Great Folk Boom merged with Rock n Roll, and this 50th Anniversary model certainly booms and righteously rocks.
Six Course Feast
The 12 strings are set up as 6 courses. The wound strings have one at normal pitch and one an exact octave above it, as found on a mandolin. The unwound treble strings are tuned in unison. When played, the courses give the guitar a unique sound of multiple voices spreading across three octaves in one position on the fretboard.
Since the extra notes are higher up, 12-string guitars have a considerable steely jangle in their voice and can come off as quite bright and vibrant, typically shifted away from the bass part of the tonal spectrum. So having a large sound chamber helps promote the bottom end.
Some people tune their 12-strings down to as much as a step and a half. But another way to fill out the voice and counter the extra brightness is accomplished with the right choice of tonewoods. The combination at work here was an inspired choice indeed.
Click on Photos to Enlarge
Tone-full Wood
European spruce is known for its clear ring, with a fast, distinct "ping" to the fundamental note leaping off the string. But unlike the ring of Adirondack spruce, European spruce also has a warmer undertone, with fundamental sustain and sympathetic harmonics glowing smoothly in and through each other. So there is a lamp light aura radiating around those focused top notes and hovering between them and the deeper sympathetic undertone. My ear hears the phenomenon as "creamy" since it is has no edges, peaks, or delineating facets, while increasing overall richness like butter in a recipe.
It is a very good match for Indian rosewood, with its inky depths and succulent harmonic coloring. The high velocity ping helps the fundamentals stand out from the complex undertone, while that creamy pastel glow increases the woody rosewood undergrowth from lush to luscious.
The combination endows the extended harmonic range of a 12-string guitar with a most fertile color palette from which to conjure spectacular soundscapes. And the spruce on the prototype I reviewed had lovely hazelficte markings. Sometimes called bearclaw, these are naturally occurring anomalies in otherwise straight and even grain, which makes each top one of a kind. And here, it shimmers off the buttery European spruce like coconut bits in creamy frosting.
This is the German chocolate cake of guitars, sweet but not too sweet, substantial and oh so rich and delicious.
Vintage Tone System
Another very special feature to this particular 12-string, the European spruce top has been treated with the exclusive level of VTS normally reserved only for the Adirondack spruce used on the Martin's Authentic Series of meticulous vintage Martin recreations.
Known as M1 torrefaction, the spruce top and maple bridge plate were treated with high heat and pressure in a low oxygen environment to prevent combustion, just long enough to alter the cellular interior of the wood until it appears and behaves like spruce that has been seasoning since the first decades of the twentieth century, when Martin was inventing and perfecting the modern flattop acoustic guitar.
M2 torrefaction used on most VTS Martin models does not have a particular age associated with it, but when undergoing the "candle test" used to assess the age of precious violins, it comes out somewhere between 200 and 300 years of accelerated aging.
Treating new spruce in such a manner crystalizes the resins and breaks down the fibers deep inside, which then allows for a freer flow of physical energy as it arrives from the strings and neck and is transformed into audible tone.
In practical terms, it hones the high end ring to startling clarity, while the overall resonance is increased in both duration and depth. In guitarist lingo, it opens up the top and the guitar sounds like it has broken in already, straight from the box it was shipped in.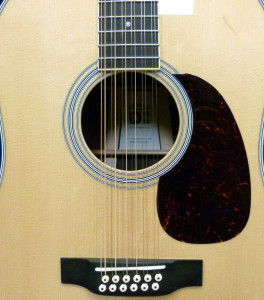 And while that description can be applied to any Martin with a VTS top, here the increased texturing to all those sustained tones – each fundamental and harmonic note triggering countless sympathetics, all rising and falling or melding into that disembodied chorus of angles humming on as the main voice dies, is simply a wonder of sonic grandeur.
As great as non-VTS Martins can sound, this M1 stuff adds a new dimension, if not more than one, that make non-VTS guitars seem shallow and tight, like a 2D cartoon after viewing 3D CGI, with most of the tone skipping along the surface and only glimpsing the depths that the Vintage Tone System brings into play. Every note and every strum effortlessly reaches way down inside the voice of this tremendous 12-string and just as easily sends all of that warm and complex color scheme out into the wider world.
The D12-35 50th Anniversary and its 6-string cousin the HD-35 CFM-IV 60th birthday guitar are the first official Martin models to offer the M1 torrefaction treatment on a European spruce top. Both guitars are exceptional tone machines.
Fine Features
I am very pleased with the way Martin kept the look of the 1965 D12-35, while adding subtle changes that make a positive difference. It has the tortoise coloring for the pickguard, like a 1965 Martin, set off by tortoise dots on the white bridge pins. But the binding has been changed to grained ivoroid. Stark white binding was in use in 1965. But here we get the fancier grained binding similar to pre-war Martins. And that seems fitting, given the sconic boost of the Vintage Tone System.
The fret markers on the jet black ebony fingerboard are of classic argent Mother of Pearl, just like the vintage 35s, rather than the colorful abalone showing up all over the modern Martin line. While pure white in hue, it is almost magical in the way MoP subtly reflects light in all sorts of rainbow colors.
The D12-35 was built with a solid headstock for only a short time. The closed tuners in that era proved far too heavy, and the model was refitted with a slotted headstock and six-on-a-plate tuning machines. This 50th Anniversary model solved that problem by using light-weight Waverly opened back tuners, as found on many vintage reissue models approximating the pre-war era Martins.
And, missed at first, the strings are reversed at the bridge pins from the old Martin 12-strings. The strings with the lower pitch are anchored in the front row holes, nearer the saddle. The octave strings are delegated to the back row. This is the opposite configuration from that found on Martin 12-strings from the 1960s and later.
It remains unknown as to whether Martin chose to make this change because the current setup is used by all other guitar manufacturers, or if they found there was some practical advantage to it. After all, the thickest strings are getting a slightly shorter length, which requires slightly less tension. But that is a guess on my part as to the reason for this change.
Finally, one of my favorite features is the ornate mosaic of colored wood inlaid between the matching outer wings of the Style 35 three-piece back, and the contrasting center wedge. It adds a classical touch of Old World charm to this very modern makeover and improvement upon the historic original.
Put most simply, this is one of the best 12-string guitars available in the world today.
And that is one man's word on…
The Martin D12-35 50th Anniversary Limited Edition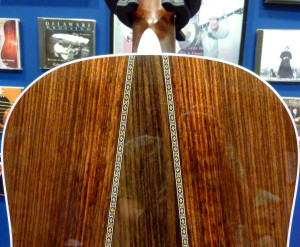 More Photos HERE
Related Reading:
Martin HD-35 CFM IV 60th Birthday Guitar
Other Martin guitars reviewed at One Man's Guitar
Torrefaction and its use in luthiery
Official Spec Sheet
Model: D12-35 50th Anniversary
Construction: Dovetail Neck Joint
Body Size: D-12 Fret
Top: Solid European Spruce w/VTS
Rosette: Style 28
Top Bracing Pattern: Standard "X" Non-Scalloped
Top Braces: Solid Sitka Spruce 5/16"
Back Material: Solid East Indian Rosewood Wings w/East Indian Rosewood Wedge
Back Purfling: Mosaic
Side Material: Solid East Indian Rosewood
Endpiece: Grained Ivoroid
Endpiece Inlay: Black/White Boltaron
Binding: Grained Ivoroid
Top Inlay Style: Multiple Black/White Boltaron
Side Inlay: Multiple Black/White Boltaron
Back Inlay: Black/White Boltaron
Neck Material: Solid Genuine Mahogany
Neck Shape: Modified Low Oval
Nut Material: Bone
Headstock: Solid/Square Taper
Headplate: Solid East Indian Rosewood
Heelcap: Grained Ivoroid
Fingerboard Material: Solid Black Ebony
Scale Length: 24.9"
Number of Frets Clear: 12
Number of Frets Total: 19
Fingerboard Width at Nut: 1-13/16"
Fingerboard Width at 12th Fret: 2-5/16"
Fingerboard Position Inlays: Style 28
Fingerboard Binding: Grained Ivoroid
Finish Back & Sides: Polished Gloss
Finish Top: Polished Gloss
Finish Neck: Satin
Bridge Material: Solid Black Ebony
Bridge Style: Belly – 12 String
Bridge String Spacing: 2-5/16"
Saddle: 16" Radius/Compensated/Bone
Tuning Machines: Nickel Open-Geared w/Butterbean Knobs
Recommended Strings: Martin SP Lifespan Phosphor Bronze Extra Light Gauge (MSP7600)
Bridge & End Pins: White w/Tortoise Color Dots
Pickguard: Tortoise Color
Case: 540 Geib Style
Interior Label: 50th Anniversary Paper Label